Stella's litter of Labradoodle angels
Stella sired by Edison born 1.18.19 . This is a standard multi generation Labradoodle, with both american and australian lines. Pups will average between 55-75lbs as an adult.
EVERY pup in this litter will be non shedding and either curly or wavy, with thick shaggy coats

.
Last update 6/10/19 9:01 AM Click on photo's to enlarge
Ready for their homes now
---
Connor
Became available ! Contact me for a visit and I will update some new pictures soon!
He has a fleece non shedding coat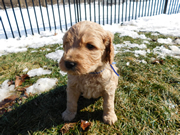 4.5 weeks old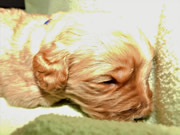 Younger connor just a few weeks old
---
Winston - male
Spoken for

dark apricot color, shaggy wavy non shedding coat

Big Boy!

Curious, observant very good boy, and very cuddly, but all ready getting hard to pick up. Looking for a big fluffy doodle, he is it! I think he will be between 70-90lbs as an adult. Gentle giant!
---
Kennedy
(orange dot lace)
Spoken for
cream shaggy super soft non shedding coat. Kennedy is really a gentle soul, he is sweet, one of the calmer pups. He is so mild mannered that we have to protect him from the other pups picking on him sometimes. I think he would be a great choice for a family with young children. He is pretty tolerant!
---
Darwin
- male
Spoken for
caramel wavy non shedding shaggy coat. All around good puppy, not to shy, not to active, super cute! He and Lennon look so much alike, Darwin has no white tips on his toes, and that is how we tell them apart. We call them the twins. Darwin is a very good boy, and sits patiently for attention.
---
Plato
Spoken For

curly/wavy apricot shaggy non shedding coat. All around good boy, not shy, not to active, sweet boy. We say he is under the radar because he isn't demanding of attention. He is content and easy going, and deserves a wonderful family who has the time to love on a really soft cuddly pup!
---
Lennon
- male
Spoken for
Caramel wavy coat Good boy, friendly, Very well behaved! And is even cuter in person! He looks like a teddy bear that came to life. Perfect non shedding coat with white tip feet, tail, and snout. His very best friend is Darwin, and they are both very well behaved, they sit nice and wait for attention instead of jumping, which is pretty impressive for a pup.
---
Nelson
(black lace)
Spoken for
---
---
Contact me for information, or my Policy & Payment Page may answer a lot of questions. Our Family of Angels page has photo's of our parents. Please go to my puppy care page for recommended supplies and products you might need for bringing your puppy home, including what food to buy.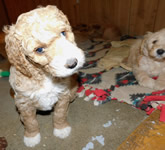 3.6.19 Lennon & Kennedy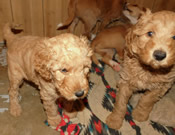 Plato & Winston 3.5.19
1.27.19