Lacey's litter of Labradoodle angels
Last update 10/23/19 1:00 PM Click on photo's to enlarge
---
Lacey sired by Jack born 9.9.19 . This is a medium size multi generation Labradoodle, with both american and australian lines. Pups will average between 30 - 45lbs as an adult. Pups are $1800, we are now accepting $400 deposits. Next deposit will have 5th pick, 4 pups to choose from.
5 boys & 3 girls, All chocolate except for one caramel, and some of the chocolates have some dark markings.
Ready for their new homes Oct 28th. Contact me with questions
10.17.19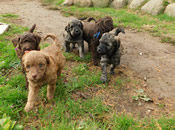 ---
Henry
(blue lace)

Chocolate male with a fluffy coat, might end up a little thinner than some of the others. His fur is cotton soft

.

Henry is a smart observant puppy. He loves attention and loves to explore, all around good boy!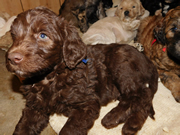 10.23.19
---
Arthur
(aqua lace)
Spoken for - Kim
light
chocolate male with black markings. He has a fluffy shaggy coat. He might be the biggest in the litter. Smart, observant, playful, and patient for attention (sometimes :)
---
Lucille
(purple lace)
Spoken for - Jodi
chocolate female with a wavy/curly
coat. She is a sweetie pie, playful and fun but loves to snuggle up too!
Good girl!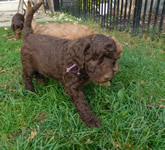 10.23.19
---
Stuart
(green lace)
caramel male, with a shaggy soft fluffy coat. He is the ham of the litter. He LOVES attention, and feels he should be in the center at all times. Stuart would do well in a household with another dog to be pals with, or with a family who is looking for a very close companion. Very smart lovable pup!
---
Chloe
(red lace)
Spoken for - Deb
chocolate female with black markings, She has a shaggy fluffy coat. Very good girl, so sweet and laid back! She certainly has her playful moments!!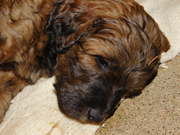 10.23.19
---
Lydia
(yellow lace)

Spoken for - Nicole

chocolate female with a wavy/curly coat

.

She is a good girl, loves to be held, but not demanding of attention. She is an angel.
---
Wesley
chocolate male with light chocolate highlights

.

He is the smallest pup in the litter, very petite, but doing great! Lovable, playful, happy lil guy. Wesley will have a thinner coat, not as thick, and shaggy as everyone else. His coat will require less clipping, but I still expect him to be non shedding like his mommy.
---
Ryder
(black lace)
Spoken for - Calla
chocolate male with black markings, really beautiful color! He has
fluffy soft shaggy coat. He is laid back, a sweet and gentle guy.
---
10.11.19
10.3.19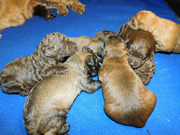 lil guy doing Fantastic! having some alone time with mommy while everyone is napping.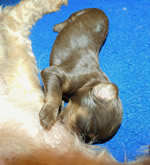 9.21.19
---
video taken 9.13.19 Video's are always dark, pups look darker than they actually are