Lacey's litter of Labradoodle angels
All of Lacey's pups have gone to their new homes. Congratulations to all of my new families!!
Our next litter of Medium size Labradoodle's are due Dec 1st. Charlee sired by Little Jack
Last update 11/25/19 9:52 AM Click on photo's to enlarge
Lacey sired by Jack born 9.9.19 . This is a medium size multi generation Labradoodle, with both american and australian lines. Pups will average between 30 - 45lbs as an adult. Pups are $1800, we are now accepting $400 deposits to hold a pup. They are ready for their new homes now. Contact me with questions
---
Stuart
(green lace)
spoken for!
caramel male, with a shaggy soft fluffy non shedding coat. He is the ham of the litter. He LOVES attention! Plays well, cuddles woderfully. Stuart would do well in a household with a family who is looking for a very close companion. Very smart lovable pup!
He is really starting to listen and mind very well, good boy !
---
11.11.19
---
Henry
Spoken for
---
Wesley

Spokend for
---
Arthur
Spoken for
---
Lucille
Spoken for
---
Chloe
Spoken for
---
Lydia
Spoken for
---
Ryder
Spoken for
---
10.17.19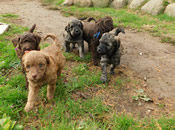 10.11.19
10.3.19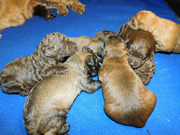 lil guy doing Fantastic! having some alone time with mommy while everyone is napping.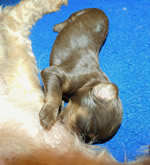 9.21.19
---
video taken 9.13.19 Video's are always dark, pups look darker than they actually are