Our Family of Angels

Puppies

Labradoodle's



Boarding/Just visiting

Grooming

Information


Home

Charlee's litter 0f Labradoodle's! 8 pups born on Friday Nov 29th, 2019, sired by Jack.This is a medium size labradoodle, Pups will average between 30-45lbs as an adult. All of my pups are always current on Vet Administered vaccines, they are microchipped, you will get their medical record from my vet. I guarantee their health in writing. I am always here for help with training, babysitting, or grooming.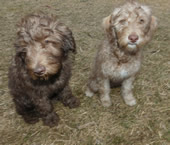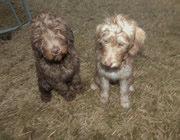 All of Charlee's pups are spoken for
Contact me to schedule a visit, or with any questions
---
Hazel -
Spoken for

female apricot color, wispy coat. Thinner and will require less grooming than a thick coated Labradoodle. She is playful, but sensitive if someone plays to hard, very good girl, loves children. She is so precious, pictures do not do her justice. I think she will be about 35lbs as an adult

.
---
Zoey -
Spoken for
---
Mabel -
Spoken for
---
Greta -
Spoken for
---
Quincy -
Spoken for
---
Sophia -
Spoken for
---
Hector -
Spoken for
---
Jagger -
Spoken for
---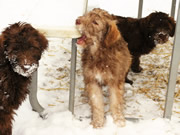 Zoey, Hazel, Greta 2.13.20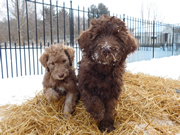 Hazel & Zoey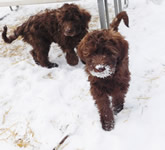 Zoey & Greta
2.18.20
2.10.20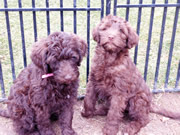 Mabel & Greta 2.4.20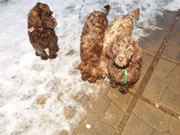 Mabel,Greta,Hazel, & Zoey 2.10.20
1.14.20 Mabel & Hector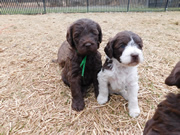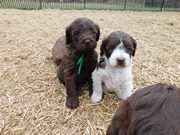 Zoey & Sophia 1.3.20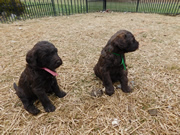 Mabel & Zoey
1.1.20
1.1.20
1.1.20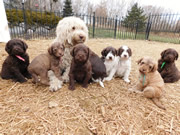 As always contact me with questions
I will start letting pups go to their new homes at 7 weeks old. I believe this is the perfect time to take your puppy home and start their training. They are not benefiting from staying here until 8 weeks, they only learn more "pack rules" here, and they need to learn house rules, and potty training. They are completely weaned from mom at 6 weeks old. With in the litter there is competition for everything, food from mom, toys, and mostly attention. The more competition the more conflict you will have, and a chance for bad habits to develop, such as alpha behavior. This is why I like to see them to start going to their homes at 7 weeks old. If you need me to keep them for longer, that is fine too. The most important thing is that it is a good time for you to bring home your new family member. We welcome visitors, just contact me to schedule a day and time. I am happy to plan my day around a visit, I just ask that you are on Time, PLEASE! I pack a lot into my days and have a tight schedule.
Please visit my Puppy Care page for a list of supplies and suggestions, including food. Things you should bring on your pick up day ~ a leash, blanket, paper towels & a small trash bag in case you need to clean up (pups tend to get car sick when they are young), if you have a long drive home bring some chew toys, and a dish for water. It is best that your pup ride home on a lap instead of alone in a crate and scared. Only if you are traveling alone should you bring a crate. If you still have a balance due on pick up day, please bring cash, or if you prefer to pay via credit/debit card please process that before you arrive, there is a button on the bottom on this page. I do not accept checks or money orders on pick up day.
All of my pups are seen by the vet. Their first visit is between 3-5 days old, when they have their dew claws removed. Their next visit is at 6 weeks old, they go in for a check up, their first set of vaccines, and micro chipping (I use HomeAgain micro chipping.) My vet administers all vaccines, and the micro chip, you will receive a medical statement from my vet. Puppies are always current on vet check ups and vet administered vaccines. I will also provide you with CKC papers if you would like to register your puppy. All pups are sold as pets with no breeding rights. You will receive a Pro Plan puppy kit, your micro chip registration form, and a 2 year money back Health Guarantee.