Our Family of Angels

Puppies

Labradoodle's



Boarding/Just visiting

Grooming

Information


Home

Penelope's litter of Labradoodle angels!
Born June 13th Sired by Edison.
I will be taking this page down soon, if my families want any pics, copy and paste!
Pups are $1500, a $400 deposit is required to hold a pup. Please contact me right away for details if you are interested.
7.12.18
Contact me with any questions.

Click photo's to enlarge

9/20/18 3:44 PM last update

Recommended supplies/Food
---
Sullivan
---
Tucker

Edward

(black lace)

Spoken for - Tanya

Male cream/caramel parti

.

Although I can promise all the pups will be playful and active, very active, Tucker acts more like an adult than a pup sometimes. He is dignified and mature for his age! Smart!
---
Viola

(purple lace)
Spoken for! - Teresa
Female Red or caramel color coat with some white markings Smart and observant, likes to be with people or other dogs.
6.28.18
---
Lucas

Otto

(orange lace)

Spoken For! - Stephen

Male red coat with white markings. Very Cute, always seems to be in front of the camera! He knows he is cute, and everyone must look at him! He is a good boy
---
Cooper

Rex

(lt. blue lace)

Spoken for! - Sue

Male cream with caramel markings. Likes attention a lot! Wants to be held and loved on. But likes his play time and exploring too.
---
7.12.18
---
Isabel
(lt green lace)

Spoken For! - Shawna

female parti, cream/apricot

wavy/curly coat

.

Friendly girl! This little angel is always the first one to notice when I am near, and wants attention. She is the smallest pup, and very friendly!
---
Josie

Harley

(red plaid lace)

Spoken for - Dani

wavy/curly parti coat. She is an angel, one of the calmer pups, gentle soul. Sweet and content.
---
Marci

Abby

(pink lace)

Spoken For! - Dana

Caramel or dark Apricot color coat. All around good girl, likes attention but not demanding of it. Goes with the flow.
---
7.12.18
---
Annie
(teal lace)
Spoken For! - Barb
Female Caramel or dark Apricot color coat. Very content and easy going little girl. She doesn't like to be crowded at the food dish, always waits until the crowd clears. A bit of a loaner, she would do well in a home as the only dog. Sweet!
---
Vera

Toffee

(red lace)

Spoken for! - Joy

Female Caramel or dark Apricot color coat. One of the calmer pups so far, seems to be easy going and content.
---
7.9.18 Evening
7.9.18
6.22.18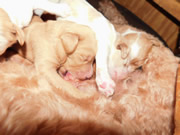 The girls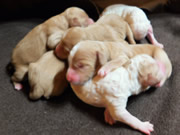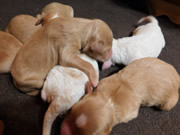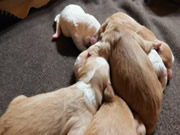 6.15.18 - boys on left in this pic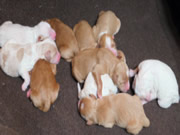 ---
As always contact me with questions
I will start letting pups go to their new homes at 7 weeks old. I believe this is the perfect time to take your puppy home and start their training. They are not benefiting from staying here until 8 weeks, they only learn more "pack rules" here, and they need to learn house rules, and potty training. They are completely weaned from mom at 6 weeks old. With in the litter there is competition for everything, food from mom, toys, and mostly attention. The more competition the more conflict you will have, and a chance for bad habits to develop, such as alpha behavior. This is why I like to see them to start going to their homes at 7 weeks old. If you need me to keep them for longer, that is fine too. The most important thing is that it is a good time for you to bring home your new family member. We welcome visitors, just contact me to schedule a day and time. I am happy to plan my day around a visit, I just ask that you are on Time, PLEASE! I pack a lot into my days and have a tight schedule.
Please visit my Puppy Care page for a list of supplies and suggestions, including food. Things you should bring on your pick up day ~ a leash, blanket, paper towels & a small trash bag in case you need to clean up (pups tend to get car sick when they are young), if you have a long drive home bring some chew toys, and a dish for water. It is best that your pup ride home on a lap instead of alone in a crate and scared. Only if you are traveling alone should you bring a crate. If you still have a balance due on pick up day, please bring cash, or if you prefer to pay via credit/debit card please process that before you arrive, there is a button on the bottom on this page. I do not accept checks or money orders on pick up day.
All of my pups are seen by the vet. Their first visit is between 3-5 days old, when they have their dew claws removed. Their next visit is at 6 weeks old, they go in for a check up, their first set of vaccines, and micro chipping (I use HomeAgain micro chipping.) My vet administers all vaccines, and the micro chip, you will receive a medical statement from my vet. I will also provide you with CKC papers if you would like to register your puppy. All pups are sold as pets with no breeding rights. You will receive a Pro Plan puppy kit, your micro chip registration form, and a 2 year money back Health Guarantee.