Our Family of Angels

Puppies


Labradoodle's

Boarding/Just visiting


Home

Policy & Payment

Grooming

Information

Last update 3/20/19 4:56 PM

Click on photo's to enlarge
Penelope's litter of Labradoodle Angels
Born 1.17.19 Penelope sired by Jack. This is a multi-generation Labradoodle with both American and Australian lines. All of Penelope's pups are girls, no boys in the litter. This is a medium size Labradoodle. Pups will average between 30-45lbs as an adult. Jack is 35lbs, and Penelope is 40lbs. EVERY pup in the litter will be shaggy, wavy - curly, thick and non shedding. Penelope's pups are $1800. Deposit to hold a pup is $400 All of Penelope's pups are spoken for, Congratulations to all of my new families! Ready for their new homes !
---
Aretha
Spoken for - Christy
---
Britney
Spoken for - Nicole
---
Cher
Spoken for - Curt
---
Dolly

Lilo

(red lace)

Spoken for - David
---
Ella
Spoken For - Paige

---
Fiona
Spoken for - Dan
---
Gwen
Spoken for - Jenna
Jill (aka Gwen) with her brother Jack, what a cute couple of babies!!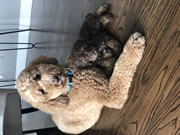 ---
Janis
Spoken for - Kelly
---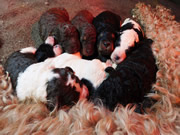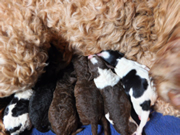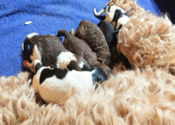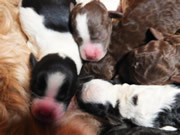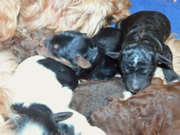 1.18.19 penelope pups 1 day old
Please take a moment to visit my puppy care page, it will show you everything you need including what food to buy.
I will start letting pups go to their new homes at 7 weeks old. I believe this is the perfect time to take your puppy home and start their training. They are not benefiting from staying here until 8 weeks, they only learn more "pack rules" here, and they need to learn house rules, and potty training. They are completely weaned from mom at 6 weeks old. With in the litter there is competition for everything, food from mom, toys, and attention. The more competition the more conflict you will have, and a chance for bad habits to develop, such as alpha behavior. This is why I like to see them to start going to their homes at 7 weeks old. If you need me to keep them for longer, that is fine too. The most important thing is that it is a good time for you to bring home your new family member. We welcome visitors, just contact me to schedule a day and time. I am happy to plan my day around a visit, I just ask that you are PLEASE on Time! I pack allot into my days and have a tight schedule.
All of my pups are seen by the vet. Their first visit is between 3-5 days old, when they have their dew claws removed. Their next visit is at 6 weeks old, they go in for a check up, their first set of vaccines, and micro chipping (I use HomeAgain micro chipping.) My vet administers all vaccines, and the micro chip, you will receive a medical statement from my vet. I will also provide you with CKC papers if you would like to register your puppy, but the papers are only provided after you have had your pup spayed or neutered. All pups are sold as pets with no breeding rights. You will receive a Pro Plan puppy kit, your micro chip registration form, and a 2 year money back Health Guarantee.