Our Family of Angels

Puppies

Labradoodles

Future Litters


Boarding/Just visiting

Grooming

Information

Home

---
My Angels 
The Boys  Stud service is available. Please Contact me for details.
Sawyer Brown
He is a Chocolate F1 (first cross 50/50) American Labradoodle. He was born January 2013, so he is now ready to be a sire! Sawyer is 80lbs. We are offering him for stud service for a limited time, and he throws chocolates. Sawyer has a thin fleece coat, easier to maintain, but he has very low shedding a couple times a year. We have had his PennHIP testing done with a 90% in his breed, which means excellent hips!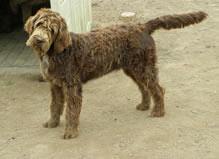 with some dirt. Sawyer has a nice straight tail.
---
This is Leo
His registered name is Southern Doodlin Dragon Flame and he comes to us all the way from Texas. Thank you Southern Doodlin! Leo has a very friendly temperament! Leo is a F1b American parti Labradoodle, his pups are cream, light to dark shades of apricot, and reds with white markings. Leo is 52lbs
---
North Country's Jesse James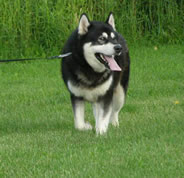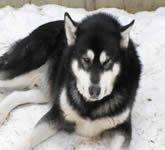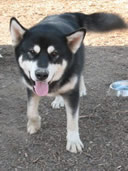 He has a wonderful temperament!
Jesse is an AKC Black/White w/full mask Alaskan Malamute OFA hips & Elbows normal/DNA profiled.
He loves to talk and we love to listen! Beautiful Malamute! Everyone Loves Jess when they visit.
---
  The Girls   
Princess Penelope 2 weeks old
She is a pup we kept from Stella and Leo, she is a red with white markings and we hope she will be giving us some Beautiful pups in the future. She is a multi generation Labradoodle, her mom is 1/2 american and 1/2 australian. Her dad is a F1b Labradoodle. She has a fleece soft non shedding coat.
---
Miss Molly Mae
Her dad is Leo and mom is Penny, She is a multi generation American labradoodle. She is our smallest only weighing about 38-42lbs. We hope to have a litter with her soon. She looks like a little lamb, so sweet!
---
North Country's Paris Puppy
Paris

at 2 weeks old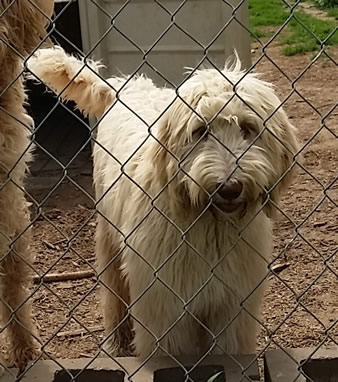 At about a year old
Paris is a Multi Generation Labradoodle, her mom is Ginger and Dad is Leo. Her coat is very silky soft, easier to maintain than a fleece cotton soft coat, and she is non shedding. Her photo's do not do her justice, she is gorgeous! She is a big girl at about 62lbs. Paris was a handful as a pup but just because she is so smart, she got bored easily when no one wanted to play with her. She has turn out to be one of the best behaved in the pack.
---
North Country's Penny Lane
Penny is a blond F1B Labradoodle, from Abbey & Winchester. She is a beautiful girl, with a thinner coat, Much easier to maintain. Penny lane is 20.5 inches from floor to the top of her back, and weighs 50lbs. She has her OFA Certifications Hips are certified - Good and Elbows are certified - Normal
---
This is North Country's Stella Rose.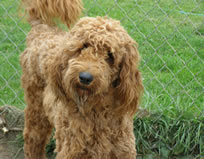 September 2013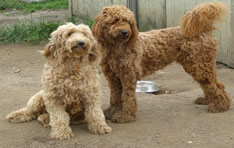 With her momma Ginger
Stella is a Multi Generation Labradoodle with my American line, and the Australian line. She is red, with a Beautiful soft fleece non shedding coat. She is a pup from Ginger and Remmy's litter born in June 2012. Stella is 60lbs 
---
North Country's Ginger Spice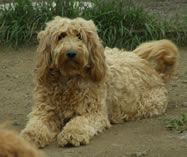 September 2013 ~ Ginger is our Beautiful F1B Labradoodle. She has a dark apricot with a Fluffy Fleecy coat. Non Shedding. Ginger has Multi generation Labradoodles, and is very Beautiful. She is Abbey & Winchester's pup. Ginger has the prettiest pups!
---
This is our Beautiful Lacey Lou
She is a Multi Generation Labradoodle, Penny Lanes pup sired by Remmy, and australian red Labradoodle. So she is a great mix of my american line, and the australian line. She is 45lbs and has medium size Labradoodle pups. She is my best mommy right now!
---
 Suki
Suki is an AKC Alaskan Malamute. Beautiful Black/White with full mask, really nice markings! She is a talker and very charming! Gentle soul!
---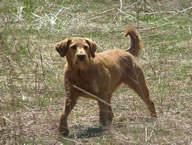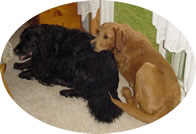 Abbey is my angel forever. If you have a Labradoodle from me, very likely they are Abbey's grand baby, are you are very lucky to have an Abbey Rose Labradoodle. She was a very special angel, and I am lost without her. Abbey is the whole reason I continued to breed the Labradoodle!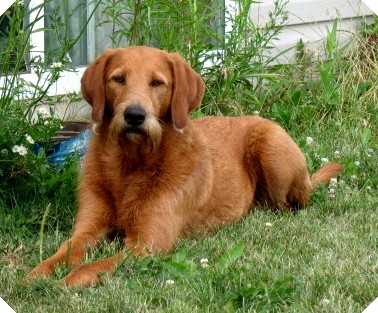 My Angel, Abbey Rose 4/19/2005 - 3/15/2016
My best friend, my companion, I miss you each and every day. I love you Abbey Rose, always and forever!!!!
---
North Country's Miss Sophie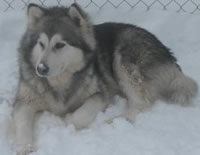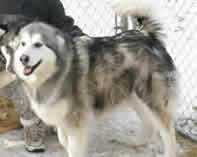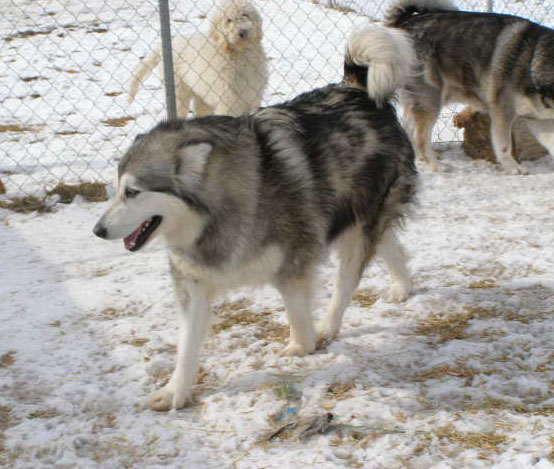 Our Beloved Miss Sophie 4/9/06 - 10/2/12
My heart is broken, I am in so much pain and would give anything for another Sophie hug. I know you are in peace, and no more medicine, and no more feeling sick, just rest. I love you Sophie, you are in our heart and soul forever my angel.
---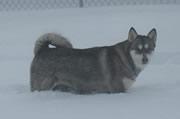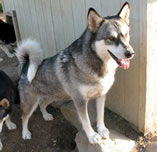 Anna Rosanna Sindi's Angel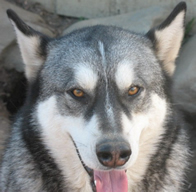 Anna is an AKC Alaskan Malamute with a Gray/White coat and a partial mask.
My Beautiful Anna Rosanna, So strong and Dignified, the Best Malamute I have ever owned and that is saying a lot, We miss you terribly! Rest in Peace my love.
---
Indi is an AKC Alaskan Malamute with a Black/White coat, w/full mask.
   Indi is always happy!       She is Beautiful! She is retired, and getting up there in years, but still happy!!
---
Rest in peace my angel Maggie Mae. We miss you terribly, but you gave us all some wonderful memories and you are always part of our family, in our hearts forever my special girl! August 1999 - December 2013
---
Amber Lee Baby Angel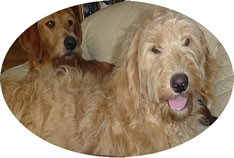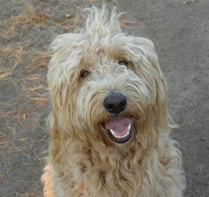 Goldendoodle
Amber is retired from breeding, and in a new home with a wonderful family, keeping their pillow warm!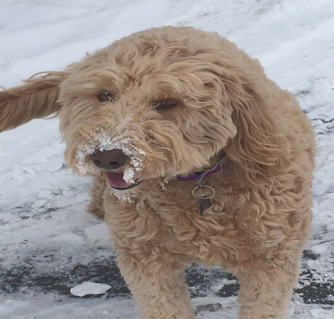 ---
North Country's Sir Winchester 
He has a great  Pedigree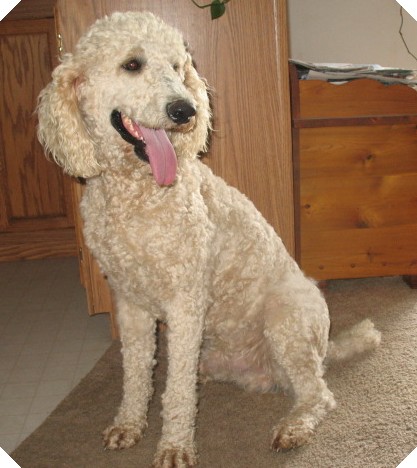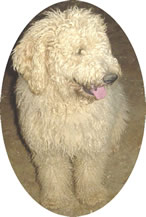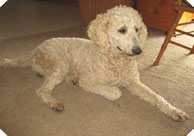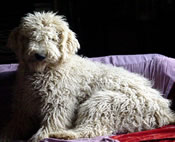 Winchester is an AKC/CKC Standard Cream Poodle. He is Ginger and Penny's dad, and retired living in PA Miss you so much Winny PooPoo.
---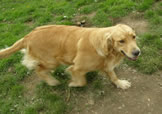 Lola is an AKC/CKC Golden Retriever, with a Golden coat. She has the sweetest disposition! Very friendly and loving. She is retired and with Jo Jo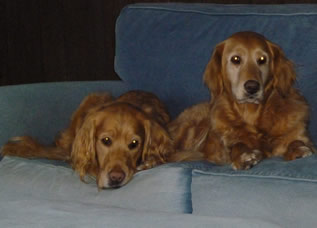 March 2014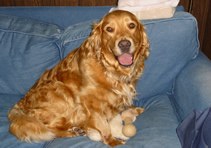 7.22.13 Our Beautiful Lola Bear is retired and has gone to her new home, she is so happy and has so much attention she could just kiss everyone all the time, and she does!! We miss you but are so happy you are with Jo Jo and part of the Vosk family
 Lola & Jo Jo, holding down the sofa, tuff job but somebody has to do it!
Gone but never ever forgotten! You gave so much love and joy to so many of us. You are truly an angel forever, my dear Jo Jo.
Jo Jo Sindi's Angel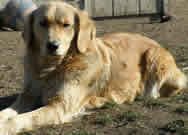 is retired, and now part of the Vosk family.
We miss you but know how happy you are!