Our Family of Angels

Puppies


Labradoodle's

Contact


Boarding/Just visiting

Grooming

Information

---

Home

Puppy Names

Future Litters

Puppy Care

Policy & Payment


January 21, 2019 10:49 AM Last updated

 Click on photo's to enlarge

Scroll down for pics & lots of INFORMATION
We are accepting $400 deposits on each litter.
Lacey is having her pups today 1.21.19
Stella has a litter of 9 pups, born 1.18.19 , 7 boys 2 girls
Mom and Babes are doing great!

New pictures!
---
Penelope has a litter of 8 pups, born 1.17.19. Mom and babes are doing great! All of Penelope's pups are girls, no boys in the litter.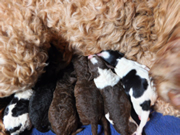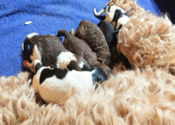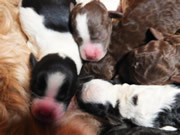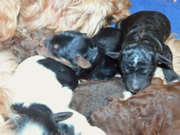 1.18.19 penelope pups 1 day old
This is a medium size multi generation Labradoodle. Pups will average between 30-45lbs as an adult. Jack is 35lbs, and Penelope is 40lbs. EVERY pup in the litter will be shaggy, wavy - curly, thick and non shedding. We are very excited about this litter!! Pups will be ready around mid March. We will have available pups from this litter. penelope's pups are $1800
---
Rose sired by Edison - Puppies are here!
Rose has a beautiful litter of 6. 4 girls and 2 boys. Mom and babes are doing fantastic! Born 1.12.19, they will be ready for their homes March 2nd . Pics below
This is a standard size Multi generation Labradoodle. Pups will average between 55-75lbs as an adult, girls on the lighter side. Rose has a straight low shedding coat (easy to maintain!), and Edison has a thick curly non shedding coat. This is the first mating with these parents, my best guess with coat type for their pups, would be some like Rose, some like Edison, and some that are in between, wavy and shaggy. I can NOT state with certainty what their coat types will be until they are older (around 5 weeks), although they are starting to look wavy all ready. They will be low shedding or non shedding. We will see. Rose's pups are $1200. We are accepting $400 deposits for this litter.
all together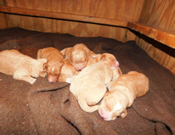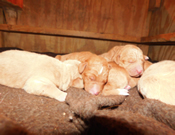 boys in back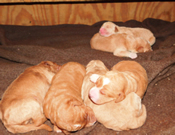 1.16.19
If you are on my reserve list, after each litter is born you will need to decide if you want a pup out of that litter. You will need to decide which litter you want to place your $400 hold deposit on, so I can hold your pup/pick order. I CAN NOT hold a pick order in every litter from one deposit, I would have no way of knowing how many pups will actually be available. You can always change your mind as to which litter you want and move your deposit, your deposit can be used for any pup at any time. Families on my reserve list will get top picks in the order I received your first deposit.
Lacey's , Sired by Edison is having her pups today 1.21.19! pups will be ready for their homes around March 11th. Lacey's pups will be on the smaller side of standard. Depending on gender. These pups should average between 45-65lbs as an adult, the boys are always bigger. Lacey will have creams, and dark to light shades of apricot, or strawberry blond. MOST of Lacey's pups will be non shedding, however she might have 1 or 2 with a thinner coat. I will be able to state coat types accurately before "pick" time with this litter. We will have available pups from this litter. Lacey's pups are $1500.
These will be our last litter's until fall 2019. Busy spring to come!
Our Family of Angels

Pictures of our pups from previous litters

Contact me for info on placing a deposit or click on my policy & payment page
---
Contact me with questions. Email is best or you can call or text 810.728.827
If you are considering buying one of my puppy's PLEASE read the information below and all the information I provide on this web site. It is a huge commitment to bring a pup into your life, don't make a commitment you can't keep. Do the research! Ask Questions! Make sure you have the time and are completely committed to the work of a puppy. They will need constant activity and training in their first year. I would be happy to answer any questions promptly and HONESTLY!! 
All of my pups have Vet check ups, their dew claws removed, 1st set of vaccines, and are micro chipped before leaving my home, all done by my VET. Puppies are wormed at 4,5,6, and 7 weeks old. I provide their medical record from my vet and all vaccines are administered by my Vet. Please visit my Puppy Care page for more information.
More Labradoodle pictures? click on my Labradoodle & previous Labradoodle pages.
---
My Puppies are sold with a 2 year health guarantee PLEASE READ IT. The pups have their dew-claws removed (not de-clawed). Some breeders do offer longer health guarantees, but if you look at the fine print you will realize that there are a lot of strings attached to that guarantee, and they are usually not money back.
I take great care of all of my angels! They are all well cared for, healthy, clean, a little spoiled, and definitely socialized! 
I will always be here for help! Whether you have questions about training, or you need a puppy sitter. The caring does not stop when you leave my home with your new angel. MY pups always have a home here, NO questions asked. You never know what life will bring, if for any reason you can no longer care for one of my pups please contact me, I CAN HELP! I will always take them back, even if you are out of state, I can help!
If you are thinking of buying a puppy from someone who is selling them for a much cheaper price, be careful. Do some research. Buying a puppy is a big commitment. They become part of your family. Plus, you have to remember that you are supporting, and sustaining a breeders program when you buy a puppy from them. Be sure that you feel that your breeder should continue breeding. Most pups that are sold at a reduced rate come from puppy mills. Puppy mills breed their bitches every cycle! The mothers are not healthy and are kept in terrible conditions, with little to no human contact! This means the pups are not healthy, usually do not have a strong immune system, and they are not socialized. Brokers buy the pups from mills by the litter. Then they take them into another state and advertise them at a reduced price, or they are sold to pet stores. DO NOT buy a pup from a pet store!! They are into quantity NOT quality! Puppy mills treat their dogs like a cash crop. Please do not contribute to them.  Please just do a little research, know your breeder and know where your pup is coming from.
Boarding
If you are thinking about getting a pup but you are worried about taking a vacation. Don't worry!!! I will take care of your puppy while you're away.  I charge $15 per day - you provide food.  Click on Just Visiting/ Boarding If you have any questions, please do not hesitate to contact me