Home ~ Contact us ~ Puppies ~Deposit/Payment and Waiting list information ~ Puppy care page
---
Charlee has a litter of 8 Labradoodle angels!
Born on Valentines Day Feb 14th, 2021.
We have 5 girls and 3 boys. This is a Medium multi generation Labradoodle, sired by Jack . Charlee's litter have been to the vet for dew claws, and their next appointment is March 31st when they will get their 1st set of vaccines, and their microchip.

The pups will be ready for their homes Easter weekend, April 3rd. I require a $400 deposit to place a hold on Puppy, and they are $1500 total.
Please visit my puppy care page to prepare for bringing home your new puppy! If you haven't contacted me with your pick up plans please email me. I have had some things come up, and I haven't had time to post on the website. I do have new pictures for you and will get them posted as soon as I can.
Charlee's pups will average from 35-45lbs, a boy could be as big as 50. Coat type in this litter will vary. Most will have fluffy non shedding coats. There may be a few that have the thinner coat like Charlee, and all of her pups will be thinner than Penelope's, which means less maintenance. This thinner coat has the possibility of a very low shed. Charlee has this coat type and does not shed, but some pups with this coat type might low shed a couple times per year.
All of Charlee's pups are spoken for, Congratulations to all of my new families!!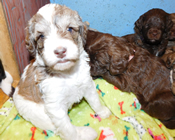 3.18.21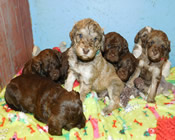 Herman front, Alfred, Bernard, Judith, behind Judith is Faye, Thelma, Matilda, and Harriet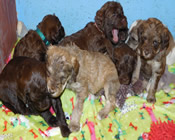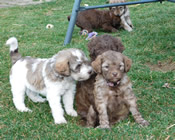 3.24.21
---
Harriet

(dark pink collar)
Spoken for - Lynette
female She is caramel with shades of shinny copper, also some chocolate in there. Just a beautiful unique little girl, with big pretty eyes! Harriet is a very sweet and friendly little girl. Not to active, not timid, just perfect! Her coat is shaggy, and fluffy, but a little thinner. I think she will be non shedding
---
Bernard

(lt blue collar)

Spoken for - Lawan

Male, several shades of caramel/chocolate/apricot. Another unique color! He is a big boy so far. Bernard is fluffy and shaggy, with a little wave, but his coat is a little thinner. I do expect him to be non shedding. He is brave, playful, and very friendly. I think he could be 45-50lbs as an adult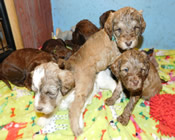 3.18.21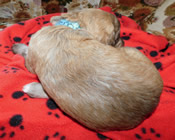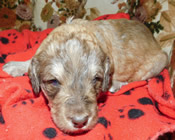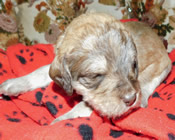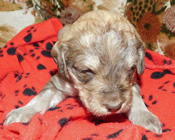 3.8.21
---
Faye
(lt. pink collar)
Spoken for - Patti
female
Her coat is a blend of caramel and chocolate. Pretty as a penny! She is sweet and gentle, loves attention and to be held, also has her playful moments. One of the more laid back pups. She has a shaggy soft coat, a little thinner, but I still expect her to be non shedding.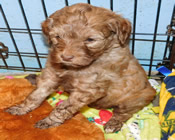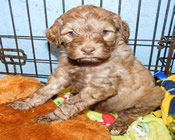 3.24.21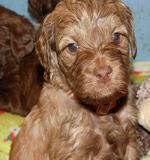 3.18.21
---
Thelma
(purple collar)
female
Spoken for - Ryan
She is dark chocolate with white toes and a blaze on her chest. One of the bigger girls. She is showing some wave and I expect her to be non shedding and shaggy. She is a very smart girl!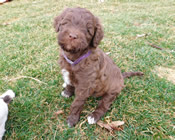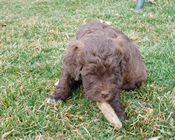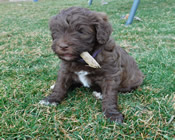 3.24.21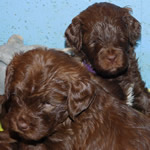 3.18.21
---
Matilda
female
Spoken for - Jackie
She has so many shades of caramel chocolate and gray with white abstract. Her pictures do not do her justice, she is stunning! First one in her litter to start using those legs and trying to walk vs belly crawl. All around good girl, friendly, not to active, smart, and sweet! So soft! Non shedding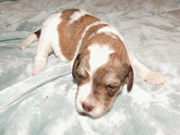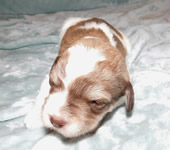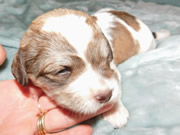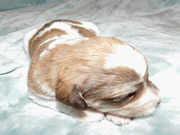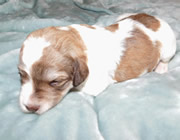 3.3.21
---
Herman
( green collar)
Spoken for - Dana
male
solid chocolate soft and fluffy. Very well behaved boy!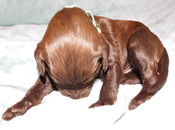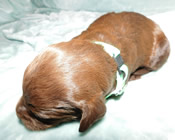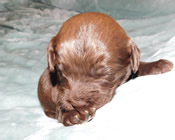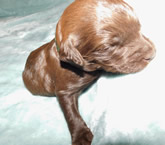 3.3.21
---
Judith
( pink collar)
Spoken for - Robert
female
She has a chocolate thick non shedding shaggy fluffy coat. Judith just goes with the flow. Very good girl. Playful and fun, but loves to be held.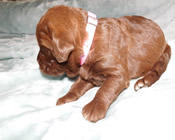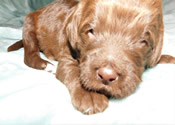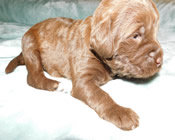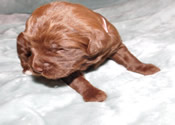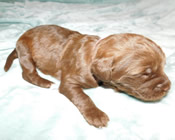 3.3.21
---
Alfred
(teal collar)
Spoken for - Kelsey
male He has a solid chocolate coat and I think he will be non shedding and shaggy. He is a little more cautious and careful with new things, but is playful and fun when he is comfortable, and loves attention! One of the calmer pups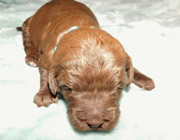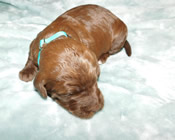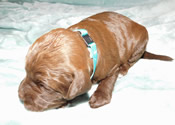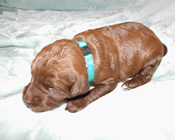 3.3.21
---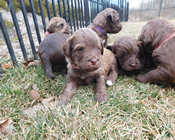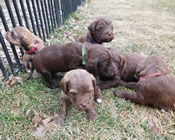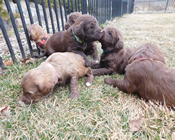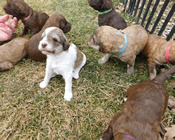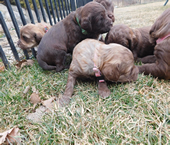 3.10.21

3.10.21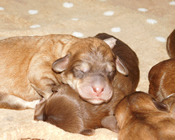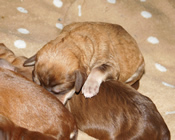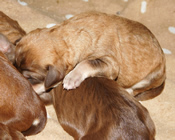 2.18.21

Contact me for information, or my Policy & Payment Page may answer a lot of questions. Our Family of Angels page has photo's of our parents.

Please go to my puppy care page for recommended supplies and products you might need for bringing your puppy home, including what food to buy.
---
All of my pups are seen by the vet. Their first visit is between 3-5 days old, when they have their dew claws removed. Their next visit is at 6.5 weeks old, they go in for a check up, their first set of vaccines, and micro chipping (I use HomeAgain microchip service.) My vet administers all vaccines, and the micro chip, you will receive a medical statement from my vet. I will also provide you with CKC papers if you would like to register your puppy, but the papers are only provided under the agreement you have had your pup spayed or neutered. You will receive a Pro Plan puppy kit, your micro chip registration form, Medical Statement from my vet, and a 2 year money back Health Guarantee.
I will start letting pups go to their new homes at 7 weeks old. I believe this is the perfect time to take your puppy home and start their training. They are not benefiting from staying here until 8 weeks, they only learn more "pack rules" here, and they need to learn house rules, and potty training. They are completely weaned from mom at 6 weeks old. With in the litter there is competition for everything, food from mom, toys, and attention. The more competition the more conflict you will have, and a chance for bad habits to develop, such as alpha behavior. This is why I like to see them to start going to their homes at 7 weeks old. If you need me to keep them for longer, that is fine too. The most important thing is that it is a good time for you to bring home your new family member. We welcome visitors, just contact me to schedule a day and time, and I require a mask! I am happy to plan my day around a visit, I just ask that you are PLEASE on Time! I pack allot into my days and have a tight schedule!!