Home ~ Contact us ~ Puppies ~Deposit/Payment and Waiting list information ~ Puppy care page
---
Last update 4/13/21 11:01 AM

Click on photo's to enlarge
Penelope's litter of Labradoodle Angels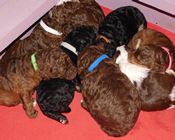 Born Friday 2.26.21 This is a litter of Medium multi generation Labradoodle's, sired by Jack. They will be ready for their home on April 17th. This litter will average between 30-40lbs as adults, but can be smaller. All of Penelope's puppies will be non shedding with thick wavy or curly shaggy coats. I require a $400 deposit to hold a puppy, and they are $1500 total.
All of Penelope's pups are spoken for. Our next litters will be late summer early fall Contact me with questions.
To my families: Puppies are ready for their homes this saturday April 17, if you haven't scheduled your pick up day and time yet, please contact me with your plans. Purina Pro Plan chicken & Rice puppy food, listed and pictured on the Puppy care page is what they are eating.
It is very important to me that you take the time to read the puppy care page. There is a lot of information that will help you, and help your puppy acclimate to a new home. There is a lot of information I want you to have. If you have the time to raise a puppy, you have the time to read the information. Thank you :)
---
Beatrice
(green collar)
Spoken for - Kara
female curly/wavy chocolate coat. She is an all around good girl, not super active, not timid. And loves to cuddle.
---
Zeplin
(blue collar)
Spoken for - Samantha
male chocolate wavy/curly coat
Big Boy!
He is getting better each day, but was a bit shy at first. Starting to explore. He is a laid back boy so far.
---
Vivian
(purple collar)
Spoken for - Jacob
female wavy/shaggy dark/milk chocolate coat. She is pretty easy going, starting to explore and play. Friendly girl!
---
Sebastian
Spoken for - Elizabeth
(brown collar)
male black/caramel two tone wavy/curly coat. He is a big softy! Soft fur, soft heart. He plays really well with Lilith, who is half his size.
---
Iris
Spoken for - Joseph
(white collar)
female chocolate with white markings, wavy/curly coat. She is a very observant girl, alert! Every time I try to sneak around, and not wake a baby, I look and she is watching me.
---
Georgia
Spoken for - Dani
female wavy/shaggy chocolate/white abstract. All around angel.
---
Lilith
(yellow collar)
Spoken for - Lishba
female. She is the smallest pup by far! She eats well and is doing good, she is just petite. I think she will be around 25lbs as an adult. Lilith has a chocolate wavy/curly coat. Gentle soul and very sweet girl!
---
Ronan
(gray collar)
Spoken for - Jeff
male Black/chocolate highlights, wavy/curly coat. He is the smallest of the boys. And very sweet and gentle. He is cautious with new things, but is exploring more and more. He is one of the calmer pups
---
Daphne
(pink collar)
spoken for - Marrisa
female chocolate/caramel two tone, wavy/shaggy coat. She is ready to play, and always the last one asleep. She behaves as if she is a week older than everyone else.
Smart, confident and active.
---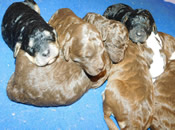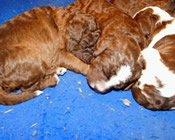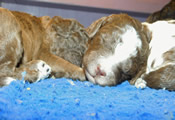 3.9.21
---
The pictures below are from Penelope and Jacks first mating, just to give families an idea of what this years pups will look like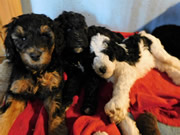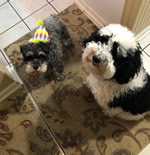 puppy in hat is not one of our labradoodle's, the one on the right is a Penelope/Jack pup. This is a good example of what most of their puppies coat types will be. Wavy/curly shaggy fluff balls!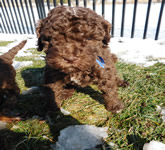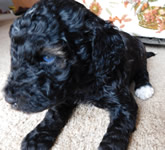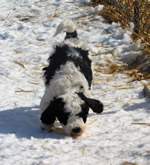 Yes some of Jacks pups have brilliant blue eyes, usually just one eye.
Contact me with any questions
Please take a moment to visit my puppy care page, it will show you everything you need including what food to buy.
I will start letting pups go to their new homes at 7 weeks old. I believe this is the perfect time to take your puppy home and start their training. They are not benefiting from staying here until 8 weeks, they only learn more "pack rules" here, and they need to learn house rules, and potty training. They are completely weaned from mom at 6 weeks old. With in the litter there is competition for everything, food from mom, toys, and attention. The more competition the more conflict you will have, and a chance for bad habits to develop, such as alpha behavior. This is why I like to see them to start going to their homes at 7 weeks old. If you need me to keep them for longer, that is fine too. The most important thing is that it is a good time for you to bring home your new family member. We welcome visitors, just contact me to schedule a day and time. I am happy to plan my day around a visit, I just ask that you are PLEASE on Time! I pack a lot into my days and have a tight schedule.
All of my pups are seen by the vet. Their first visit is between 3-5 days old, when they have their dew claws removed. Their next visit is at 6 weeks old, they go in for a check up, their first set of vaccines, and micro chipping (I use HomeAgain micro chipping.) My vet administers all vaccines, and the micro chip, you will receive a medical statement from my vet. I will also provide you with CKC papers if you would like to register your puppy, but the papers are only provided after you have had your pup spayed or neutered. All pups are sold as pets with no breeding rights. You will receive a Pro Plan puppy kit, your micro chip registration form, and a 2 year money back Health Guarantee.