A little more info and what the day to day is like here at North Country Kennel Club :
Starting around 7am Everyone goes out into the big outdoor kennel for potty and morning recess. Depending on the weather, they might be allowed a couple or hours, or only a few minutes. Each boarding dog will come in for breakfast according to the schedule that works best for each visiting dog. After breakfast and a little rest, we will take your pup outside again and make sure all business is done and energy is burned. Then back into our indoor kennel, which is our basement. They can play, or nap. We will go in and out through out the day, usually every couple of hours. We usually end the day around 9pm, sometimes later in the summer, and earlier in the winter. But we make sure everyone has had plenty of potty breaks and playtime, so they are ready for bed, and anxious to get to their rooms at night. They will spend the night in our basement and will get their own kennel, usually 6x12'. So if you like to bring a couple of toys or blanket for your pet that is fine, but not necessary. We have everything your pup could need! Always lots of clean blankets, beds, and lots of toys.
You must bring your dogs food, and always pack a little extra! We also provide a lot of good treats (whole real foods, as well as some doggy treats). At night your pup will get what my pups get. Which can be anything from oatmeal with peanut butter, or rice and hamburger with spinach and carrots. Or perhaps eggs, apples, yogurt, or even a real marrow filled soup bone. We always give small portions for visitors that are have sensitive belly's, but be sure to let me know if your pup gets soft stool easily. I do have video surveillance on the property and through out the basement so I can always keep an eye on everyone! But I am with them a lot!! They are only kenneled up at night to sleep, they are part of our family!!!! We really do want your pet to like it here, and they will! It is important to us.
---
We had so many doodle's in the play pen, and they were all running through the pools, and all around the pen. Chasing who ever was "it" at the moment. I went and grabbed my camera to capture the fun on video. But they all stopped playing to see what I was doing.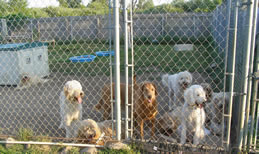 Left to right Penny, Murphy, Amber, Abbey (lola behind Abbey, can't see her face), Belle laying down, Bailey in the back, Chamo sitting in front, Ginger laying in the back, and last but not least, Winchester laying far right
 We love to Baby sit! I really can't call it boarding.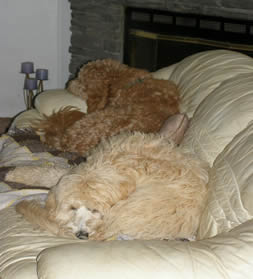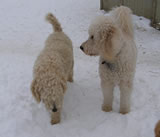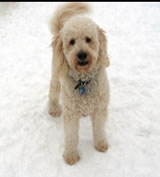 Brodie in the play pen with dad and friends.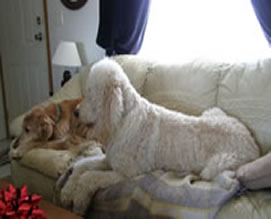 Brodie the Labradoodle and his big sister Katie the Golden Retriever are here for a visit.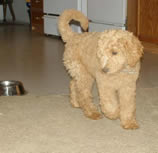 Abbey's angel Lola stayed the night. We sure enjoyed her, what a doll!!! She loved the playpen!!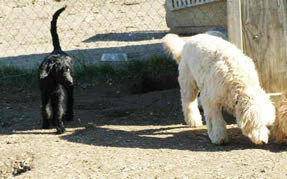 Mindy Sue is back, her and Missy are great playmates! Missy love's Mindy!! 
Murphy & Mindy -  Goldendoodles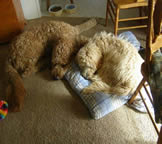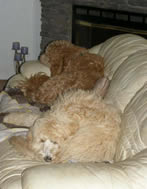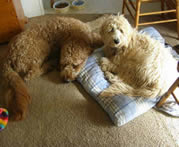 Murphy is an F1 and Mindy and F1B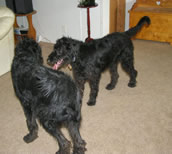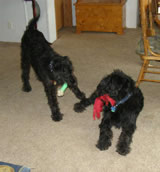 Sadie & Rudy -   F1 Labradoodle's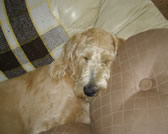 Luke F1B Labradoodle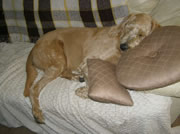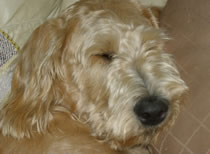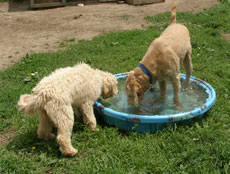 Mindy and Luke taking a dip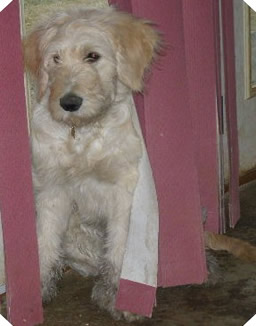 Baxter is about 5 months old and he loves to play with the little ones! He is Jo Jo & Winchester's F1 Goldendoodle.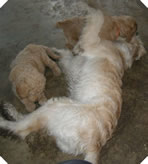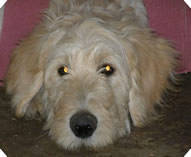 4/8/08 Here for babysitting
Are you coming for a visit??
We love to have visitors! However, We can not have people just drop in. If I am in the middle of doing something with pups, or perhaps I have dogs loose outside without a leash, because we are training or simply getting some exercise I can not have people pull in without causing me problems. Please do not drop in.  
Having visitors is great for my pack, and for litters of pups who are learning social skills. . Everyone will bark when you get here because you are a stranger, and when they are together as a pack, they act like a pack. But they will settle down after you are here for a bit.  We live in the country, dress accordingly, nice clothes and nice shoes are not a good idea. 
I am happy to arrange my day to visitor's just let me know when to expect you, and please do not be late.
Also remember, we have a schedule around here, I often arrange our day and routine around visitors. However when people are late it causes us all problems. I have had many visitors be as much as an hour or longer late. I can deal with 15 minutes late, but anything later requires a phone call. Please!!