---
 Grooming
I have a small clientele and only schedule 1 dog a day. I take my time and allow your dog to lay down during most of the clipping. Taking a walk and calming down, maybe playing with friends before grooming is the norm. You can drop off for the day and pick up on your way home from work. . Or if you only have 3-4 hours I can accomidate that too. We are not far from Frankenmuth and a lot of our families like to go for the day while their pup enjoys a day playing and getting a spa :) Although I do make some exceptions I prefer grooming appointments are Monday - Friday. If you need a weekend appointment, just ask, I will accomidate if I can.
Approximate pricing for Members:   dogs  35lbs - 75lbs - Full grooming for most medium/large breed dogs is $60, this includes a full body clipping, scissors trimming around face, paws and under body, ear cleaning & plucking if needed, nail trimming, plus a nice bath combing and brushing.
For just a bath and some scissor trimming, ear cleaning, nail trimming, and brush out it is $35-$40 depending on the size or your dog.
Non members add $10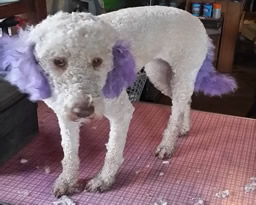 Molly with some color, add $20 to your grooming for color. We have nail polish too, add $5 for nails.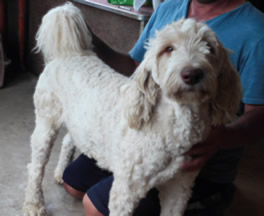 This is the way I normally groom a doodle, a clean short cut on the body, keeping a top knot, long ears and tail. teddy bear cut face. body is about a 1/2 inch. It grows back fast!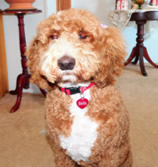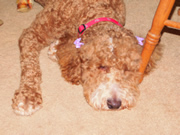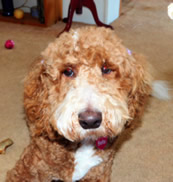 Bella is a Stella puppy, she comes for boarding and gets groomed before she goes home.
If your dog is very matted, I will have to strip them, it will grow back! If it takes me longer than a normal grooming because your dog is heavily matted, I will charge more! If I start grooming and notice heavy matting, knowing it will take me longer, I will call you, tell you it will cost more and give you the option to stop grooming and pick up your dog. I am fair and honest and will work hard, but I have to be paid for my time, if it takes longer it will cost you more. It is really best for everyone if you don't wait to long in between appointments.