Labradoodle Puppies from North Country Kennel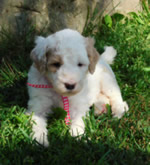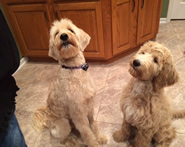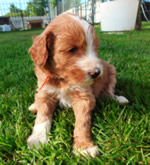 Thank you to all of my families who send me updates and photo's, Please keep them coming!!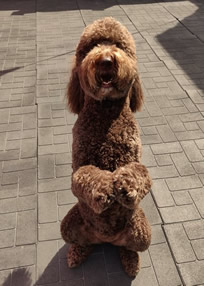 This is Sadie, curly coated Labradoodle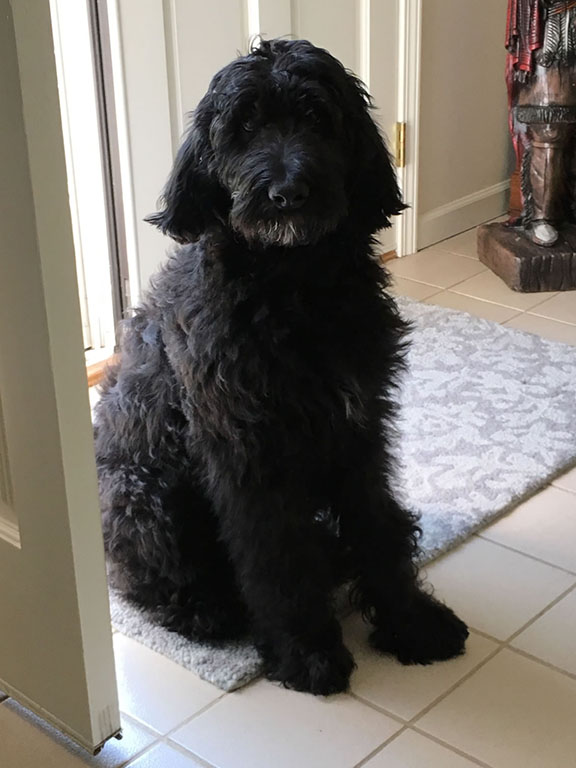 This is Oliver Ginger & Sawyer litter. This is a thick fleece non shedding coat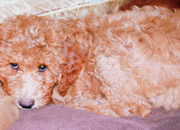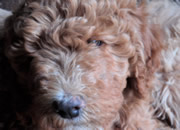 sitting in the sun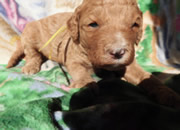 Penelope Edison pup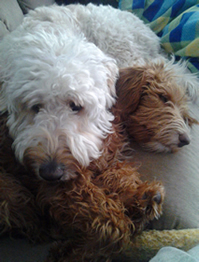 Penny & Badger penny pup. And this is a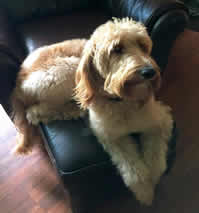 Lacey pup
Harvey

Ernie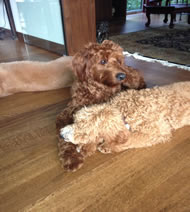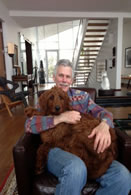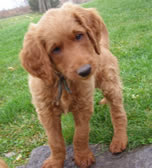 These pictures are all the same pup, Ernie is just 3 weeks old in the picture far right, then 8 weeks old, and a couple as an adult. It is a good example of what pups look like young before their coats get long and have more time to grow. Ernie has a thick fleece non shedding coat.
Previous Labradoodle's pups from Penny, sired by Leo.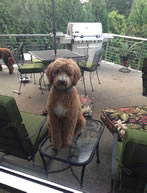 Ernie's new sister!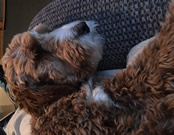 This is Percy, from Stella & Leo, he has a fleece thick fluffy non-shedding coat.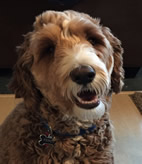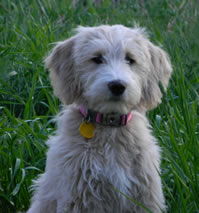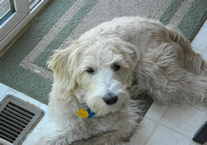 This is Suzy, her coat is thinner/shorter, she is a Penny pup.
This is Winston He has a curlier coat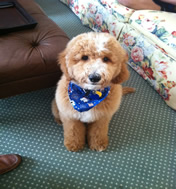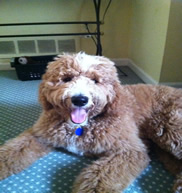 Ginger\Leo pup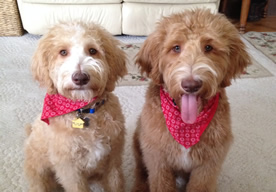 Amos & Max after their first hair cut, Penny&Leo pups, both have a fleece non shedding coat. Their coats in this photo look thinner, but that is only because they are young. This coat type does thicken up!!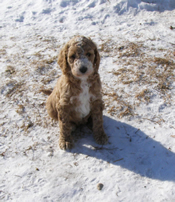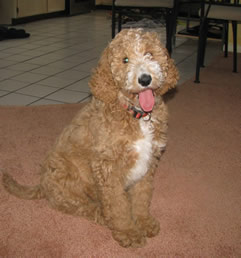 Mabel , notice her coat at 6 weeks, if there coats look wavy at an young age they are considered curly. Mabel has a curly coat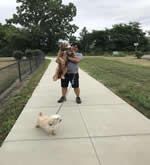 Penelope & Edison puppy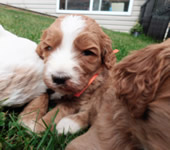 @ 5 weeks

Sullivan 9.6.18 7.24.18
Jenny
Paris & Sawyer
Elliot Ed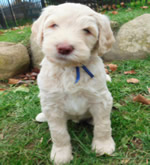 Archie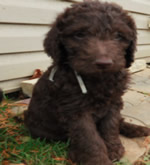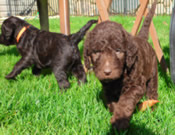 Annie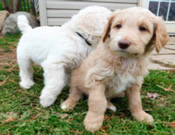 Nellie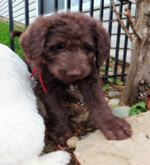 Bingo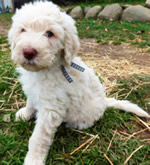 Mabel Bear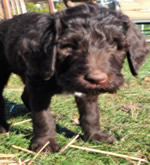 Alayna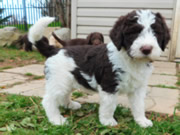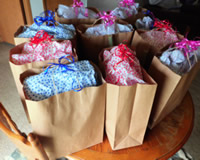 This picture comes with a heart felt Thank you! These are gifts for each puppy in the litter. They are hand made blankets from Kim MacDonald and her family. Thank you Kim, this was so thoughtful and generous of you!!!
---
Charlee & Sawyer pups summer 2018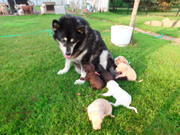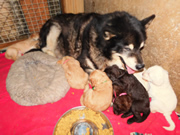 Aunty Suki, my 165lb Alaskan Malamute, LOVES to babysit!!!!
---
Franklin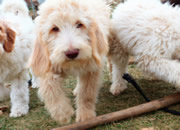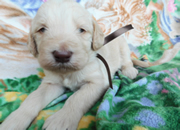 3 weeks to 14 weeks
Zack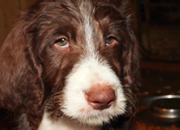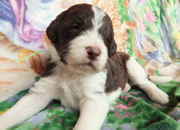 now named Fergus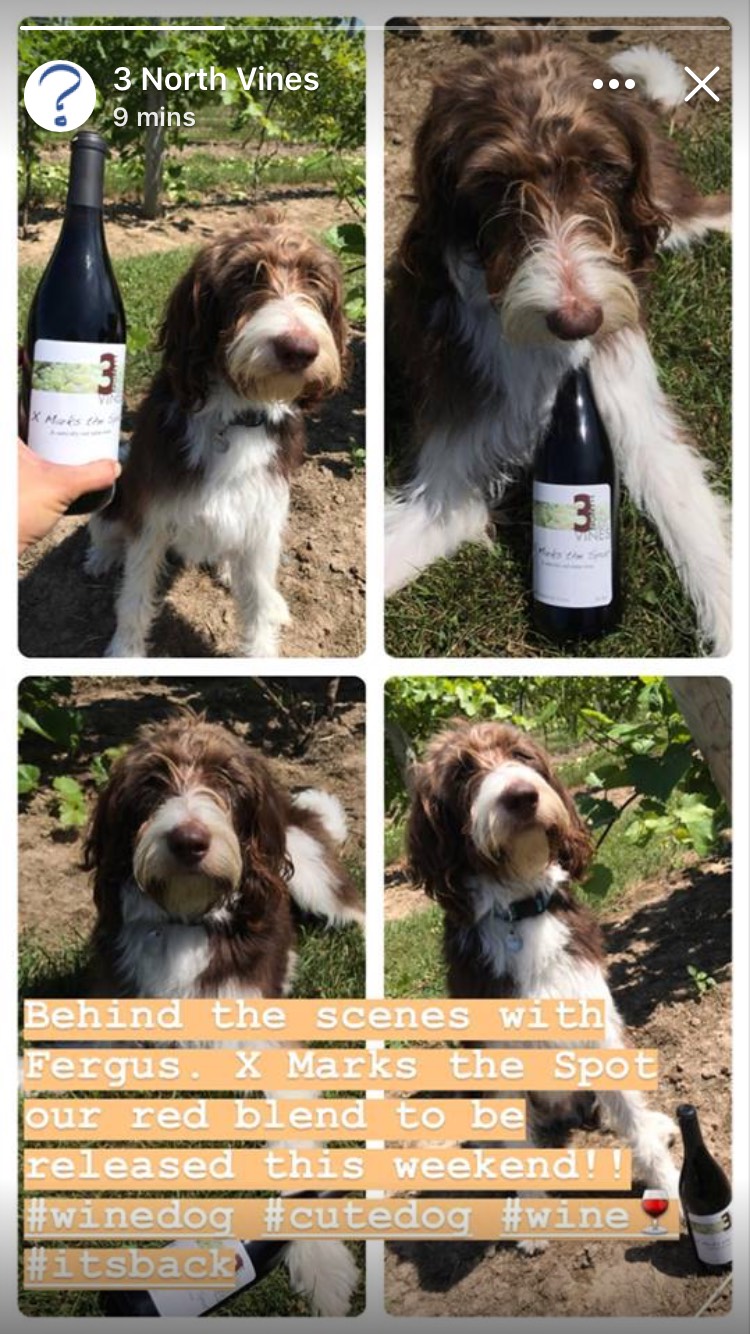 Grover
Levi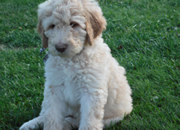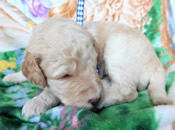 Moana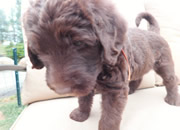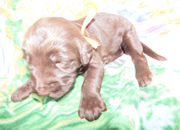 Merlin
Kahlua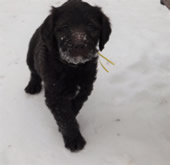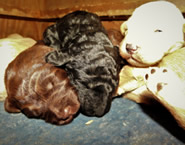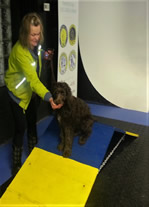 She will be an agility Champ!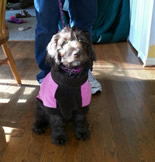 Mezzie
Dixie
---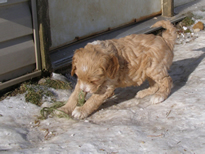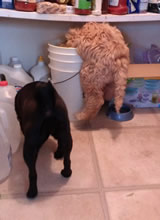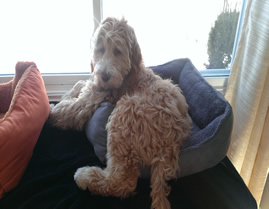 Millie thick fleece non shedding coat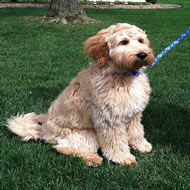 Izzy our miracle baby from Ginger.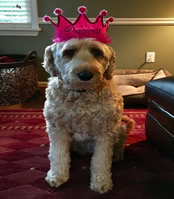 Labradoodle Dreams Big Red Dawg owned by Cream Puff Labradoodle's
---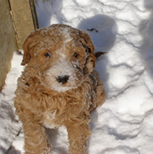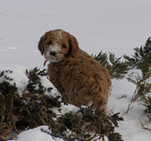 6 wk old Ginger/Leo pup. This is a fleece fluffy non shedding coat, here is the same pup at 2 weeks old

Notice how much this pups coat has grown from 2- 6 weeks old.
---
Paris and Sawyer's 1st litter together. Wow were we impressed!!! Beautiful angels! Pictures are from about 2weeks to 6 weeks, and some families have updated me with new pics as they grow and get older
Daphne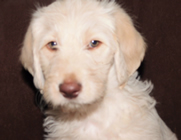 Hanzel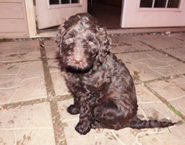 Lainey
Quincy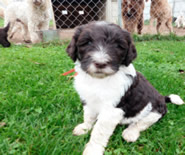 Chelsey

Sadie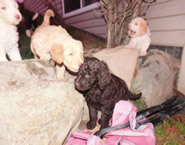 Bosley

Natile

Ethel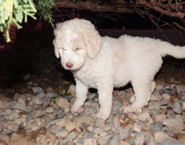 Sullivan

Cyrus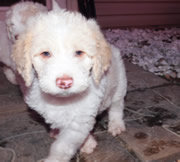 9.26.16
It was a cold but beautiful morning here at North Country Kennel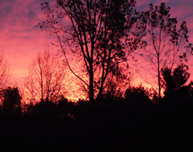 10.26.16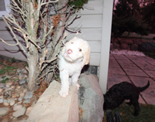 10.26.16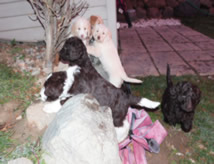 left front going back Bosley, Hanzel, Cyrus, Ethel, Lainey, Sadie right
From our last litters: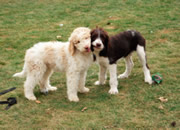 Dotti & Zack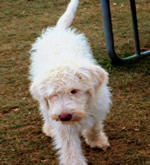 Cloudy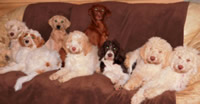 11.21.17 left to right Nathan, Hannah, Sugar, Dotti, Rose, Zach, Ivan, Dotti
Sugar
now Leeloo
4.30.18
A litter from Stella and Sawyer 2016
was Carly now Rey

She is stunning!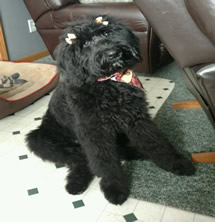 This is a thick fleece non shedding coat



We named him Quincy, called him little little, now he is Chip and a big boy!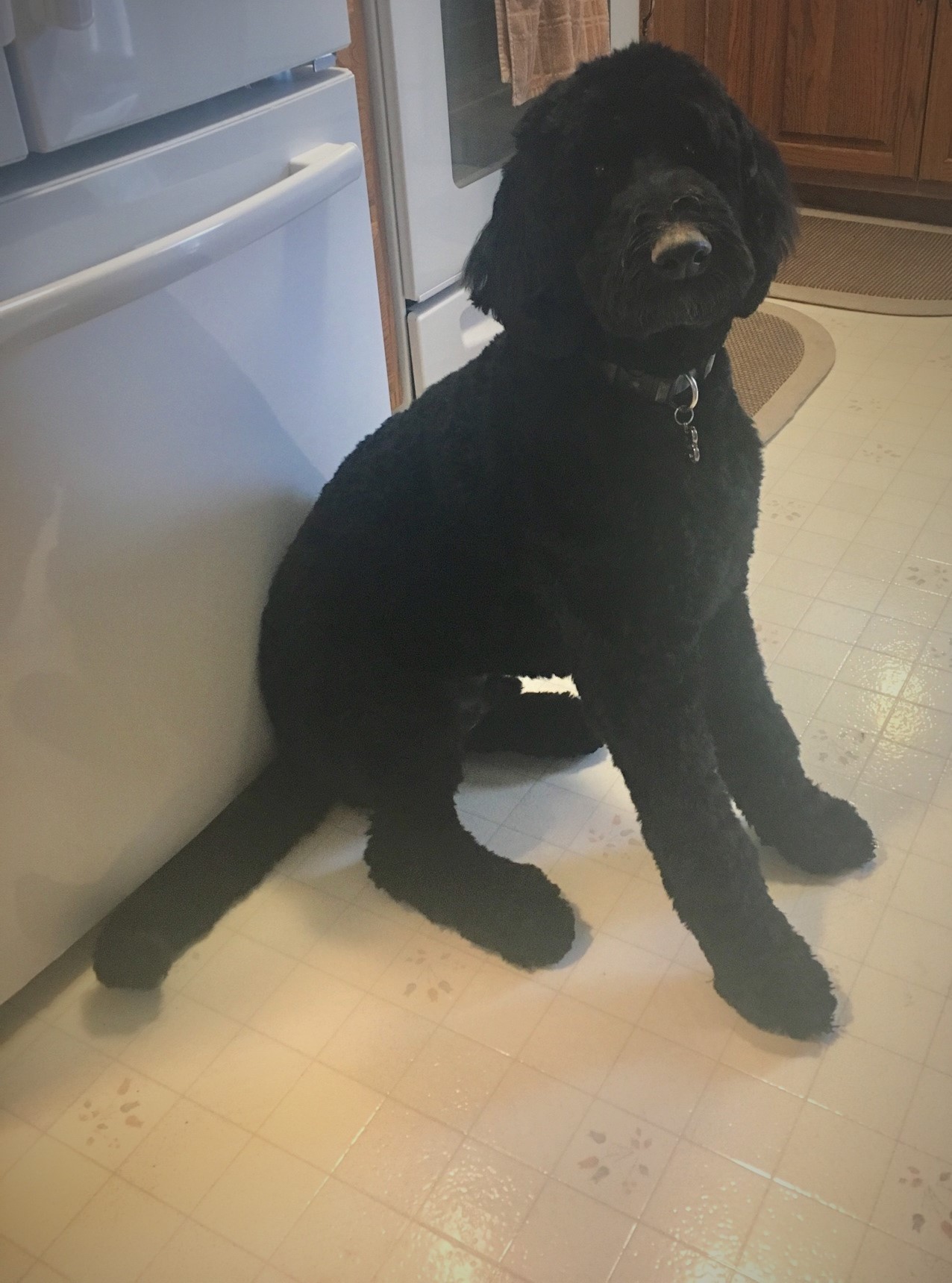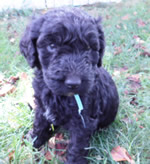 He has a very thick fleece non shedding coat.
---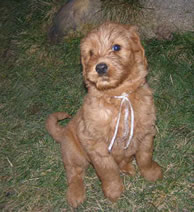 This little Ginger pup is now "Hollywood" owned by Halton Hills Labradoodle's
We are Baby sitting Murphy from Abbey and Remmy's last litter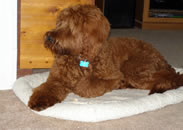 6.8.12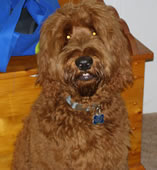 We also watched Jessie from Abbey and Remmy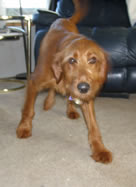 5.10.12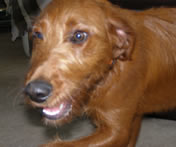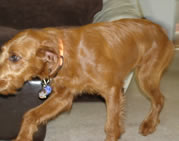 It is rare to get a pup this flat coated, but it does happen. This is a flat thinner coat, that can have low shedding. The great thing about a coat like this is they rarely need to go to a groomer for clipping. Much less maintenance!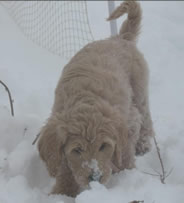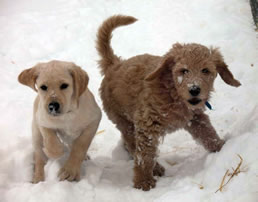 At 7 weeks old, both pups are Abbey's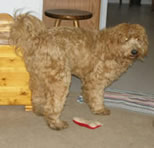 Ginger Abbey's F1B Labradoodle. We kept Ginger!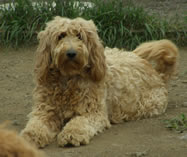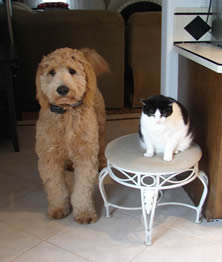 Jasper at 1.5 years old, F1B Labradoodle from Abbey & Winchester.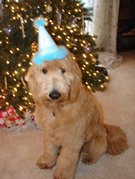 He has a fleecy, fluffy, wavy coat. He is groomed with a trimmed face and the rest of his body is left about an inch long. Beautiful!
 Wilson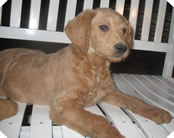 10 weeks,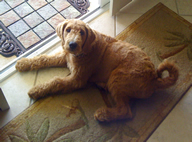 5 months old,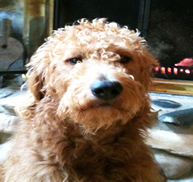 1.5 yrs old
Jasper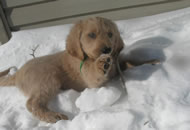 as a young pup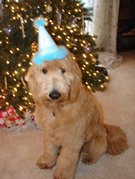 at a year. Fleecy Fluffy coat
Daisy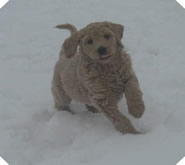 as a young pup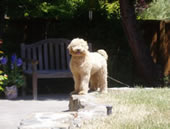 as an adult, she has a curly/wooly coat.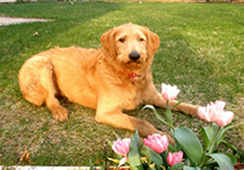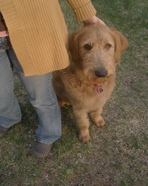 This is Jamie, he is an F1B Labradoodle from Abbey & Winchester. His coat is a bit straighter with a light wispy wave. This will be a low maintenance coat! He is 10 months old in these photo's.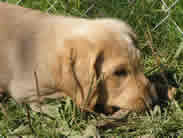 Jamie at 9 weeks old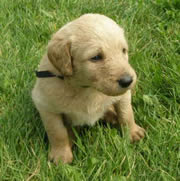 5 weeks old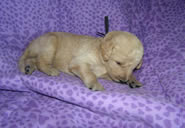 2.5 weeks old
Winney
Gretta
---
Lacey Lou
Stella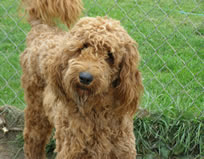 We kept this angel too!
---
I cheated and took pictures while everyone was asleep, much easier with pups that stay still for a minute!

Sometimes when they have puppy food for the very first time, it takes them a little while to understand where the food is, and how to eat it. Fun times! They walk trough their dish and all around, things can get messy. Joni had food all over her face, and Charley was pretty sure her face was the source, not the dish.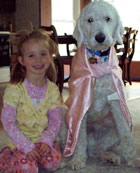 Oso (daddy) We used him to sire a ginger litter
Penny Lane We kept her!