Our Mom's & Dad's

Deposit/Payment and Waiting list information

Home Page

Back to puppy page

Puppy Care
---
Last updated November 29th, 2021 - 1 PM
Born in the very early morning hours Tuesday August 17th, 2021
We have a litter of 10, 7 boys and 3 girls. Rose's puppies are multi generation Labradoodle's, with both American and Australian lines. This is Rose's 2nd litter, but her first with Jack. My best guess will be pups that can range from 40-75lbs. We have 6 puppies available from this litter This litter is ready for their homes! We are accepting visitors Contact me to schedule a visit, or with any questions.
***LOW SHEDDING - A low shedding coat does not shed like a lab! Typically with my pups a low shedding coat means they will have a shedding season a couple times per year, it will last a couple weeks, and it is very low compared to a shedding breed like the Lab. You will not have hair and fur all around your house, you will not have it on your clothes all the time. If you comb and brush out that coat during their shedding season, you will typically only see fur around their beds. Rose has a low shedding coat, and she dosen't shed most of the year. All of Rose's pups will have longer coats than Rose.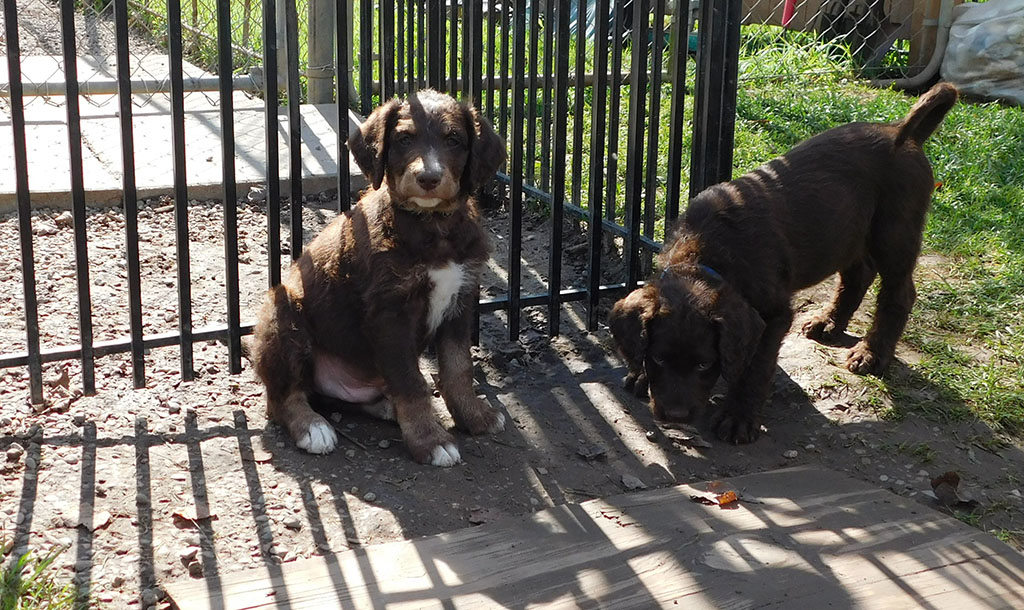 10.5.21 Amos & Walter
---
(Tan collar) Chocolate male, with some white markings on feet and chest. His coat will be low shedding, shorter and wispy. A coat like his means much less maintenance. He may not need to go to the groomer for clipping. You shouldn't need to constantly comb him out, or worry about matting. Johnny's personality is laid back and sweet. He is playful of course, but is NOT rowdy!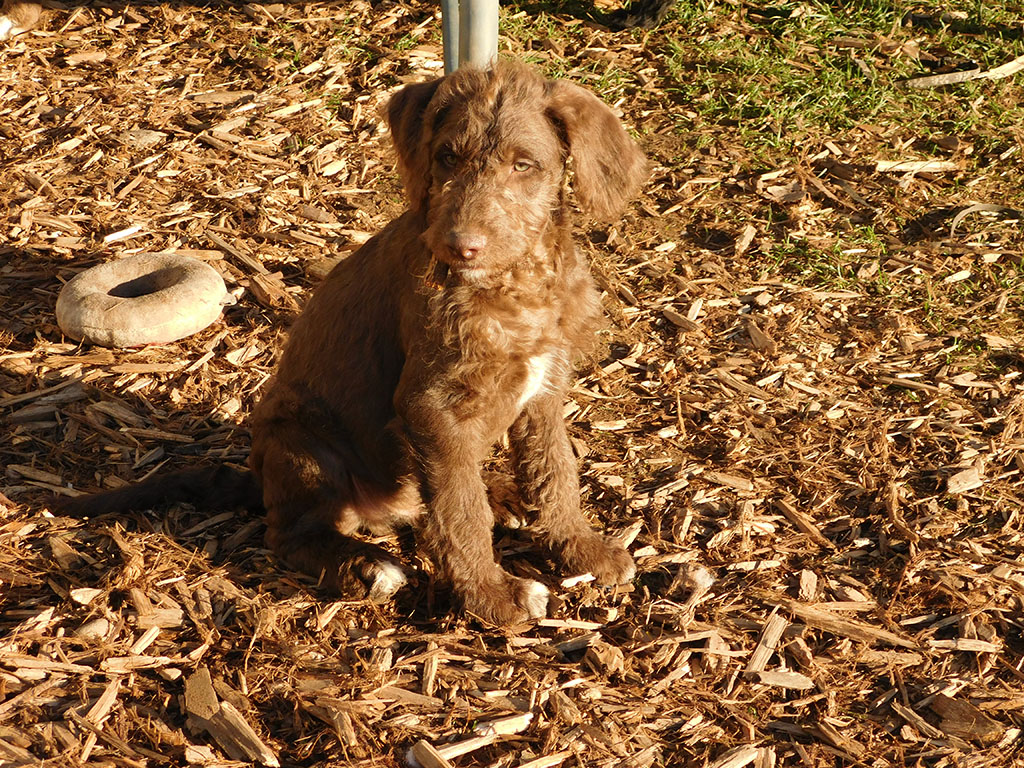 11.2.21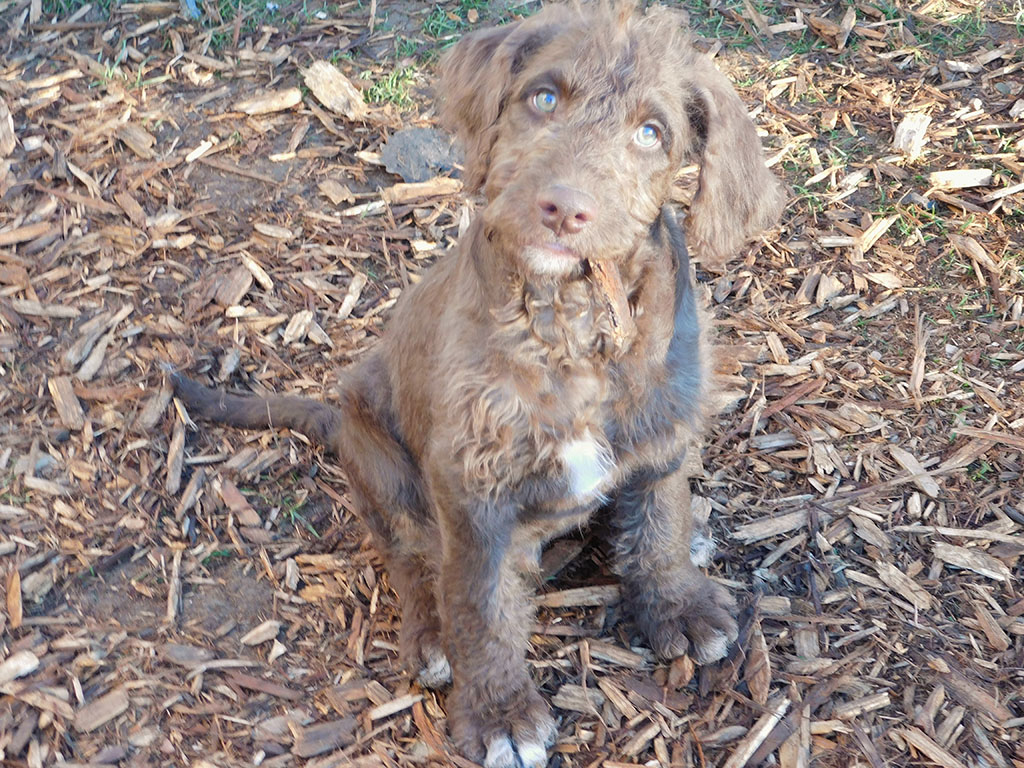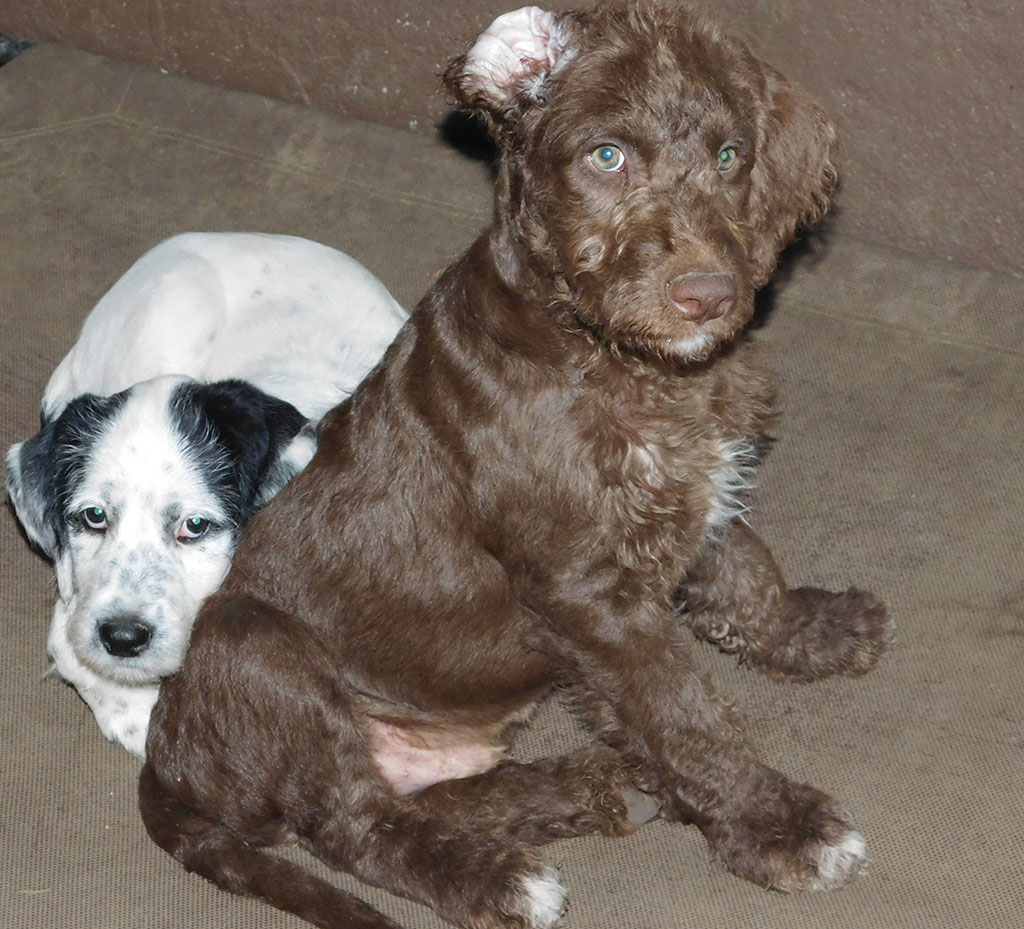 11.1.21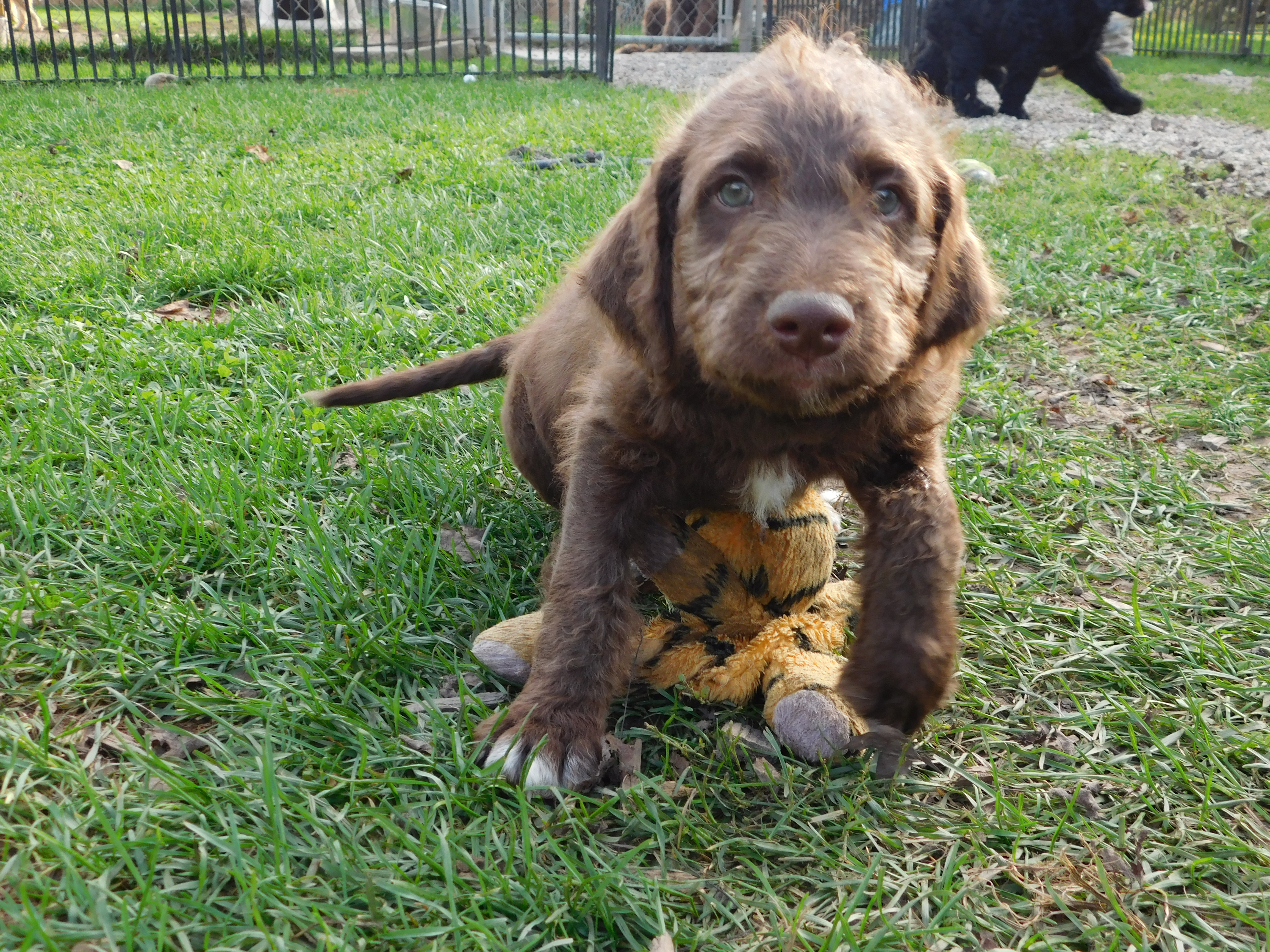 10.11.21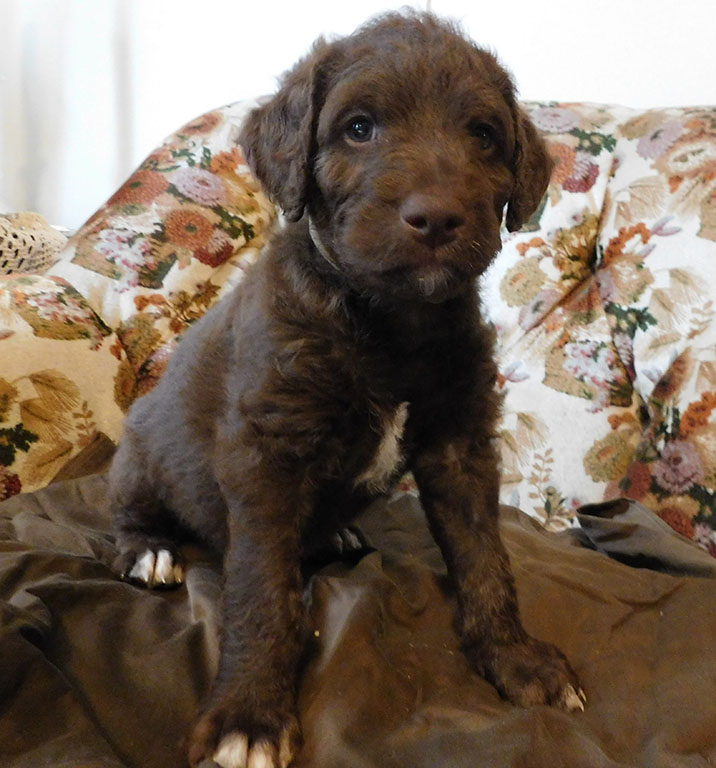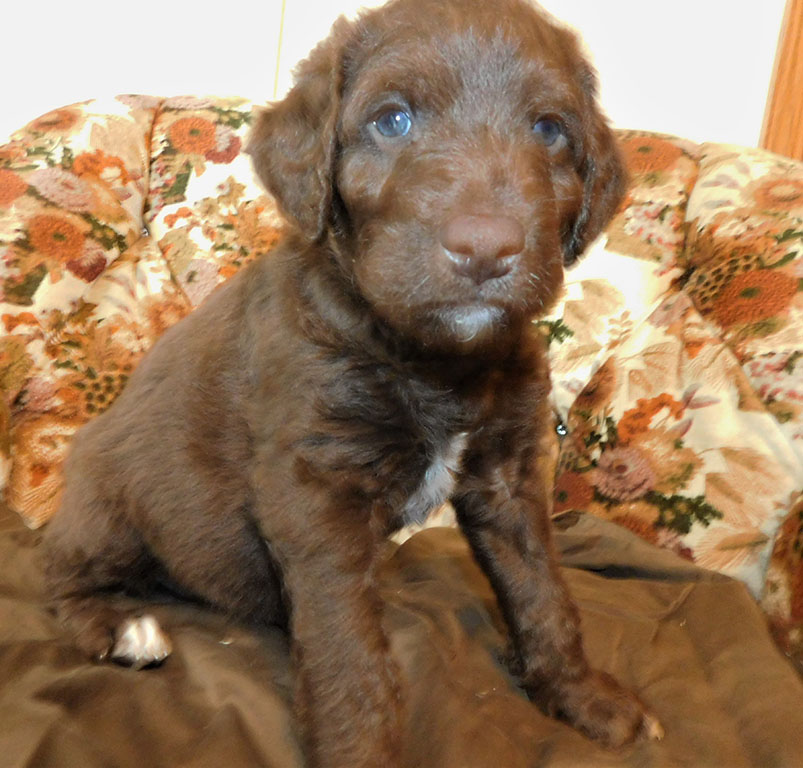 9.23.21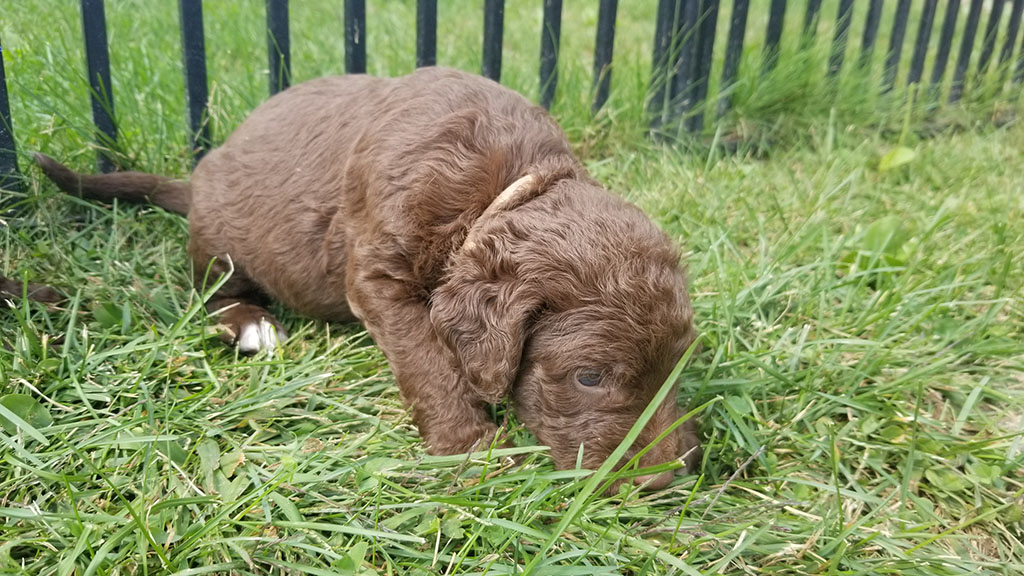 9.14.21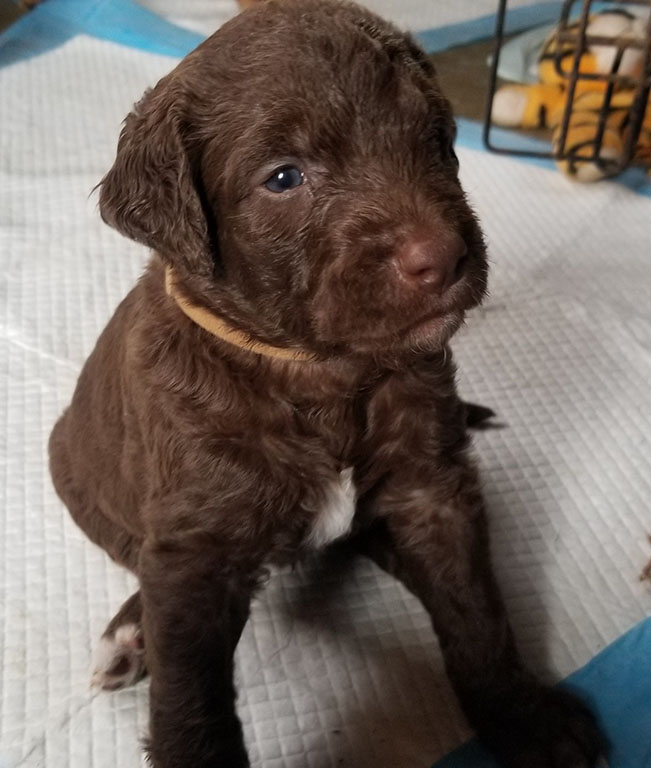 9.13.21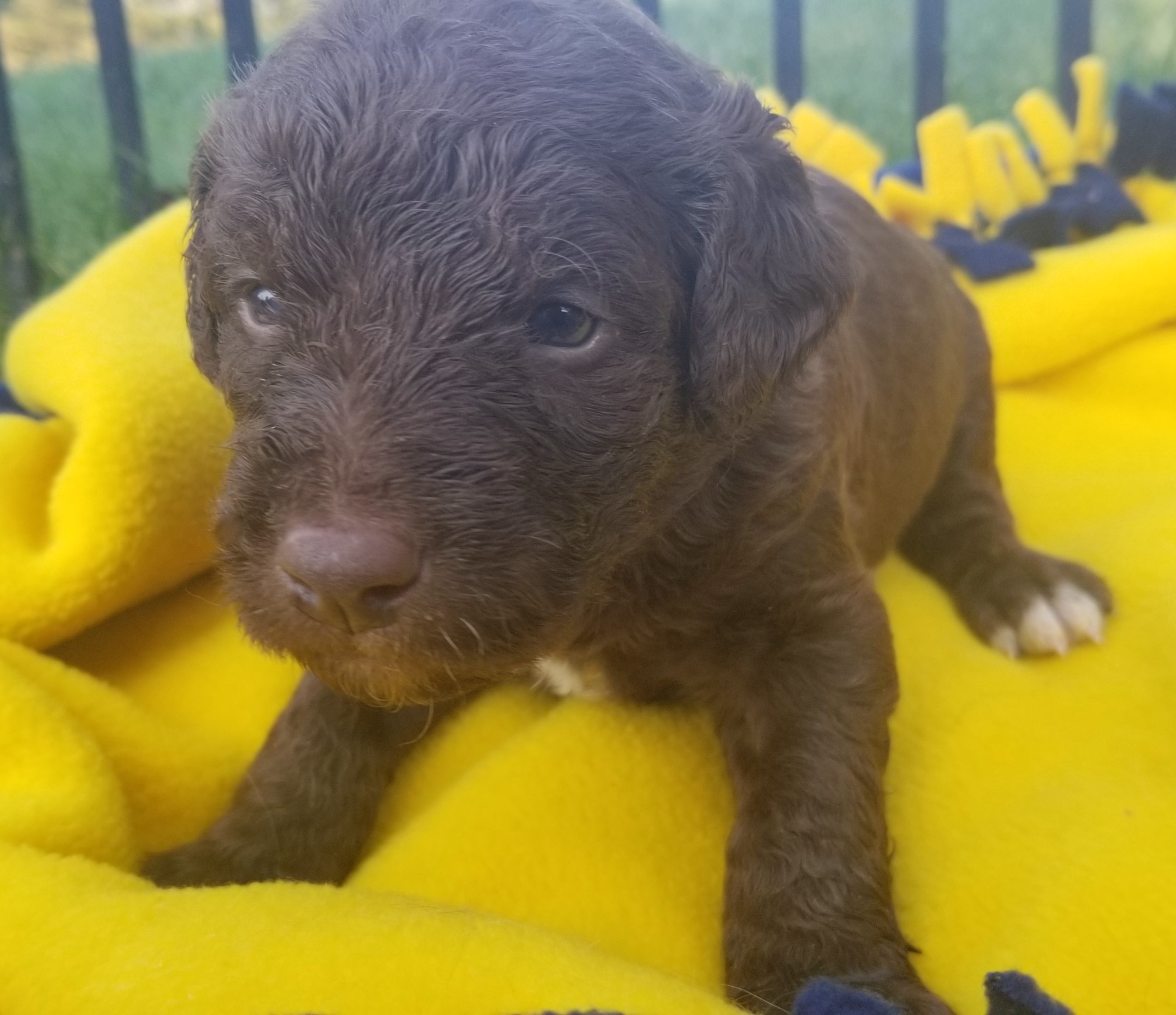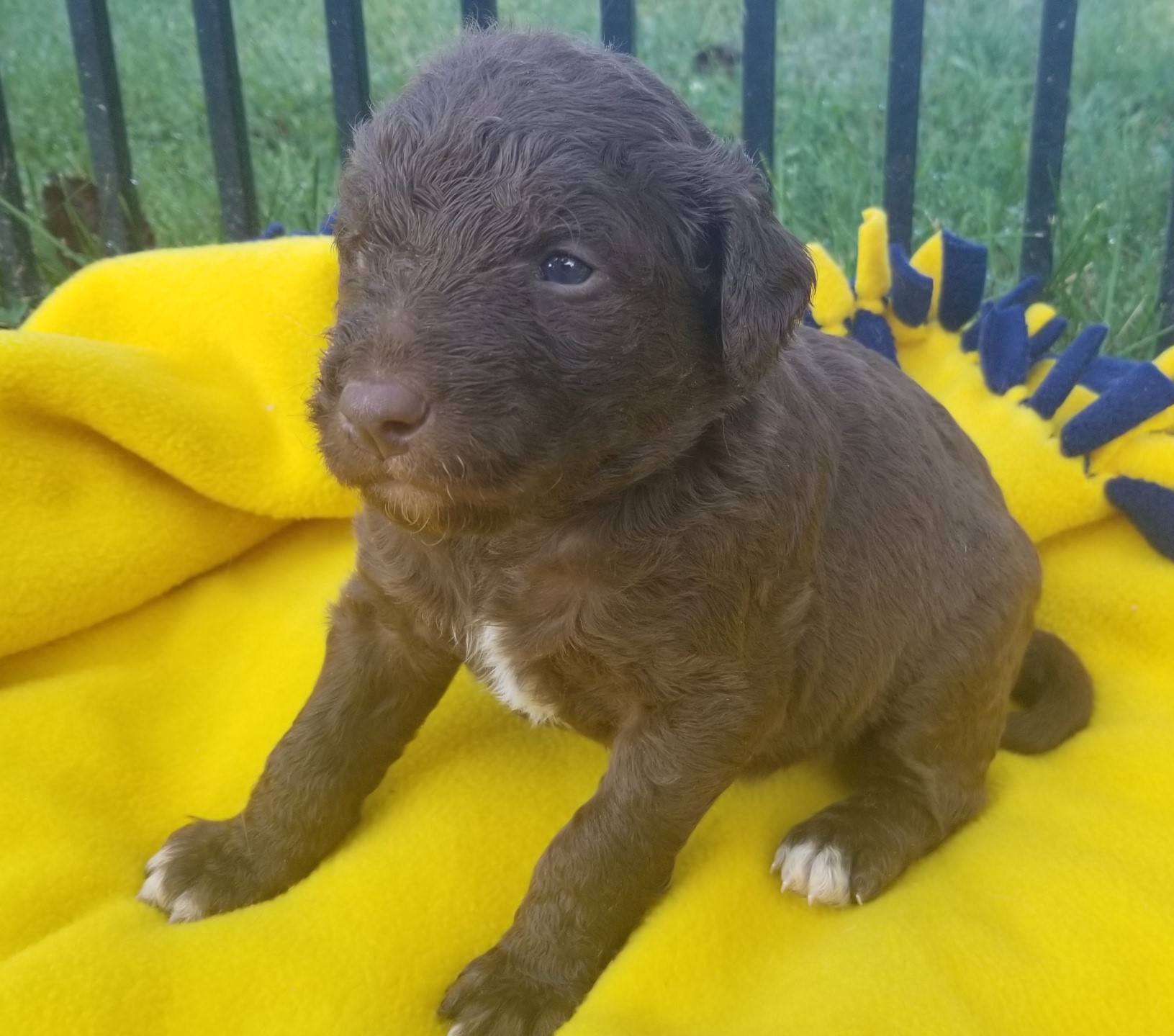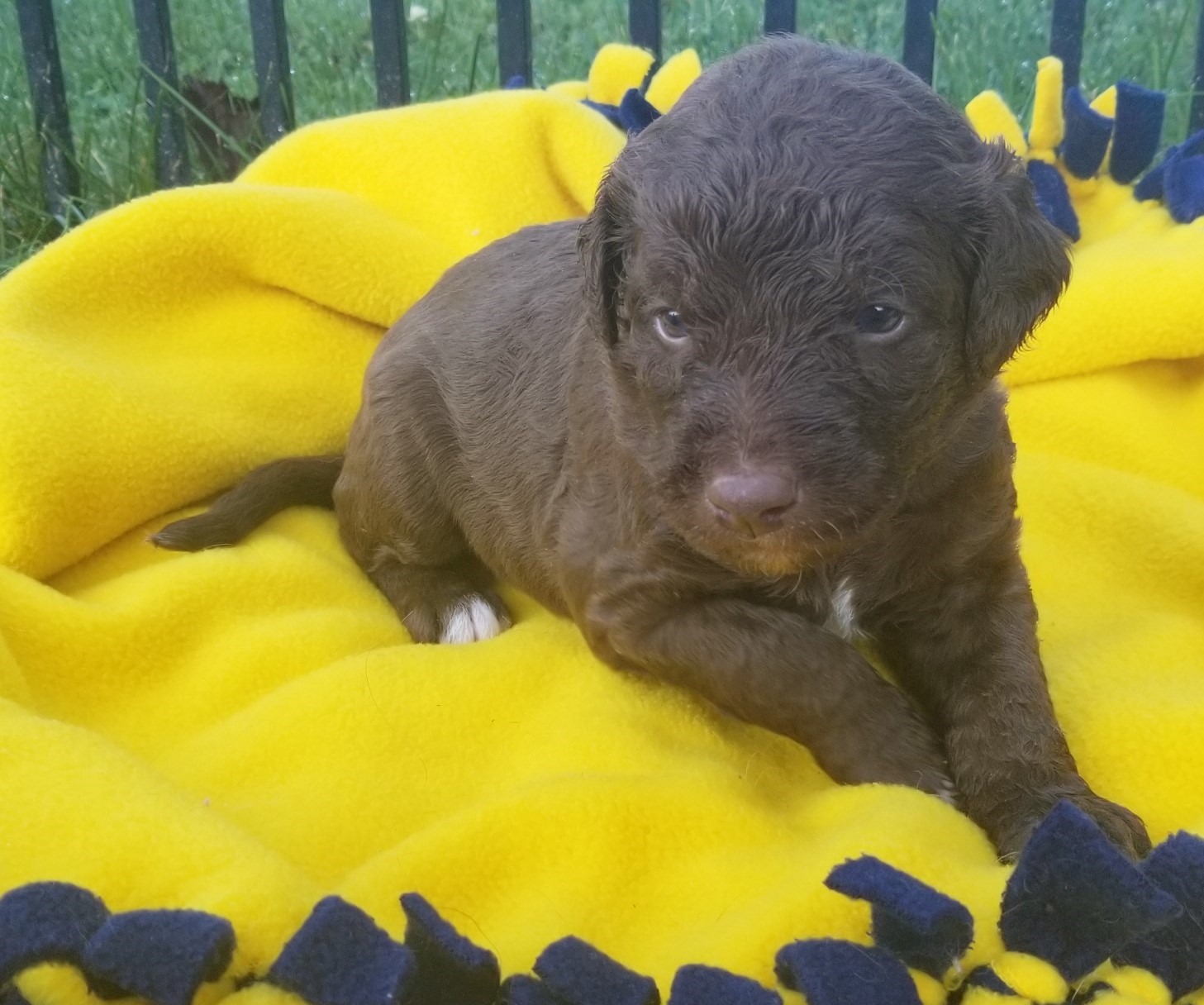 9.10.21
---
male (orange collar) Chocolate Fluffy wavy coat with white tips on his back feet. His coat is lite and fluffy, he has some wave and curl, and I expect him to be non shedding. He is playful and fun, but he is calmer than most. Very tolerant of his bigger siblings. Gentle soul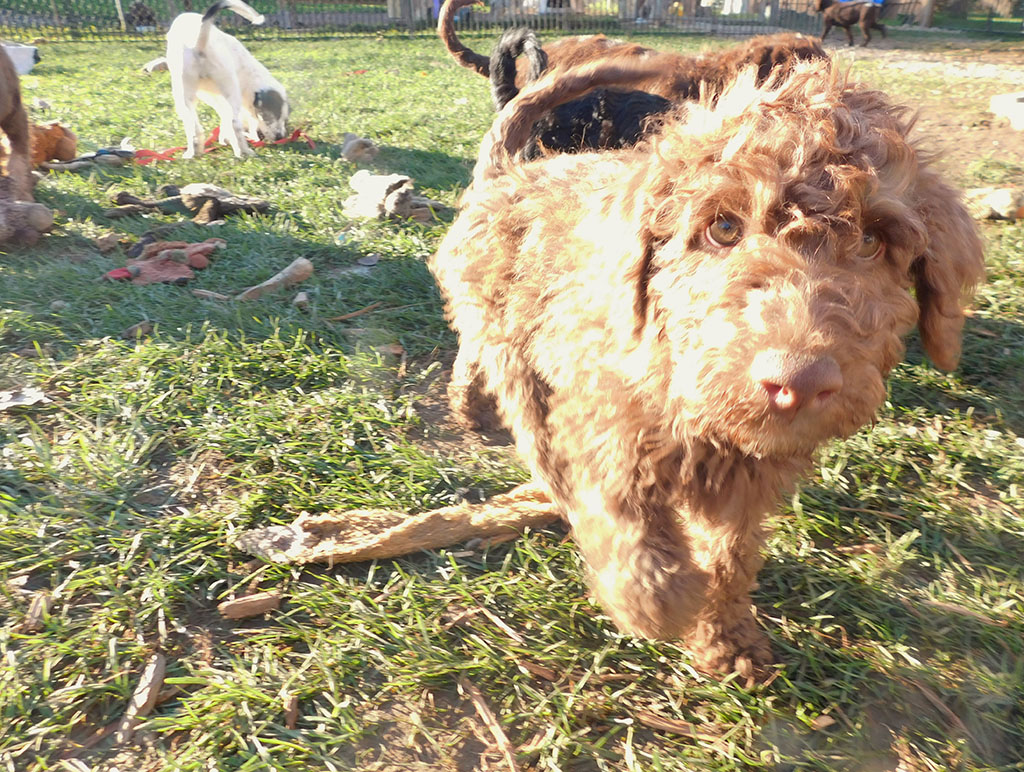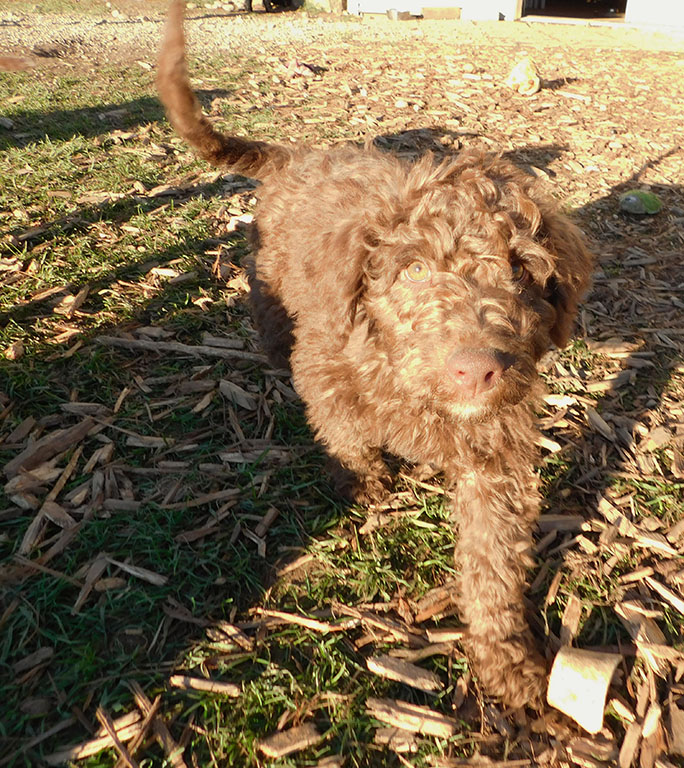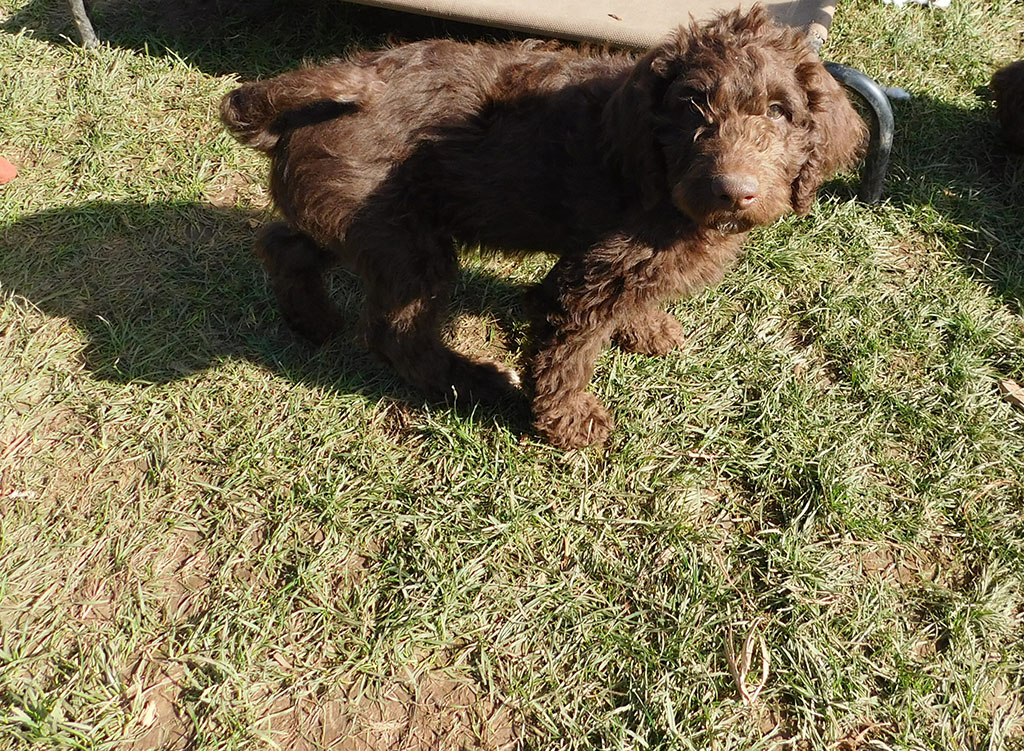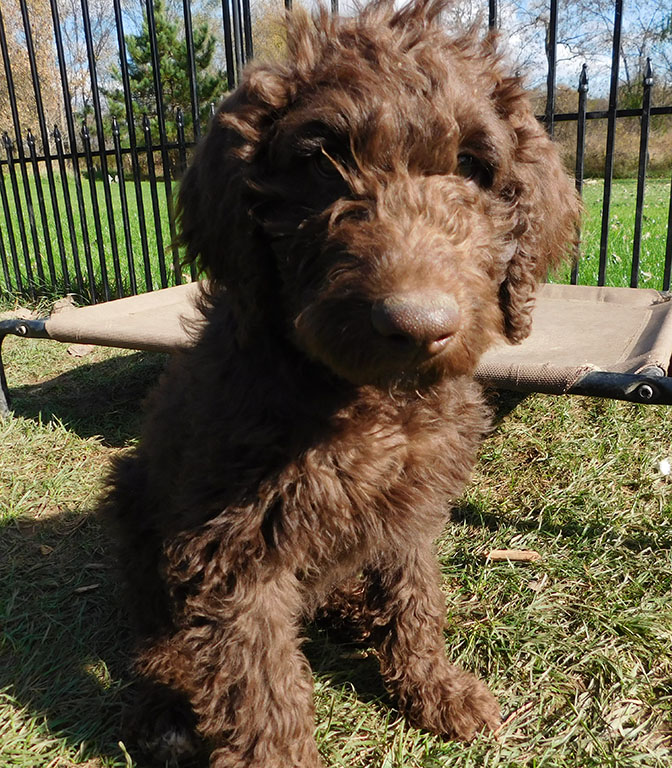 11.2.21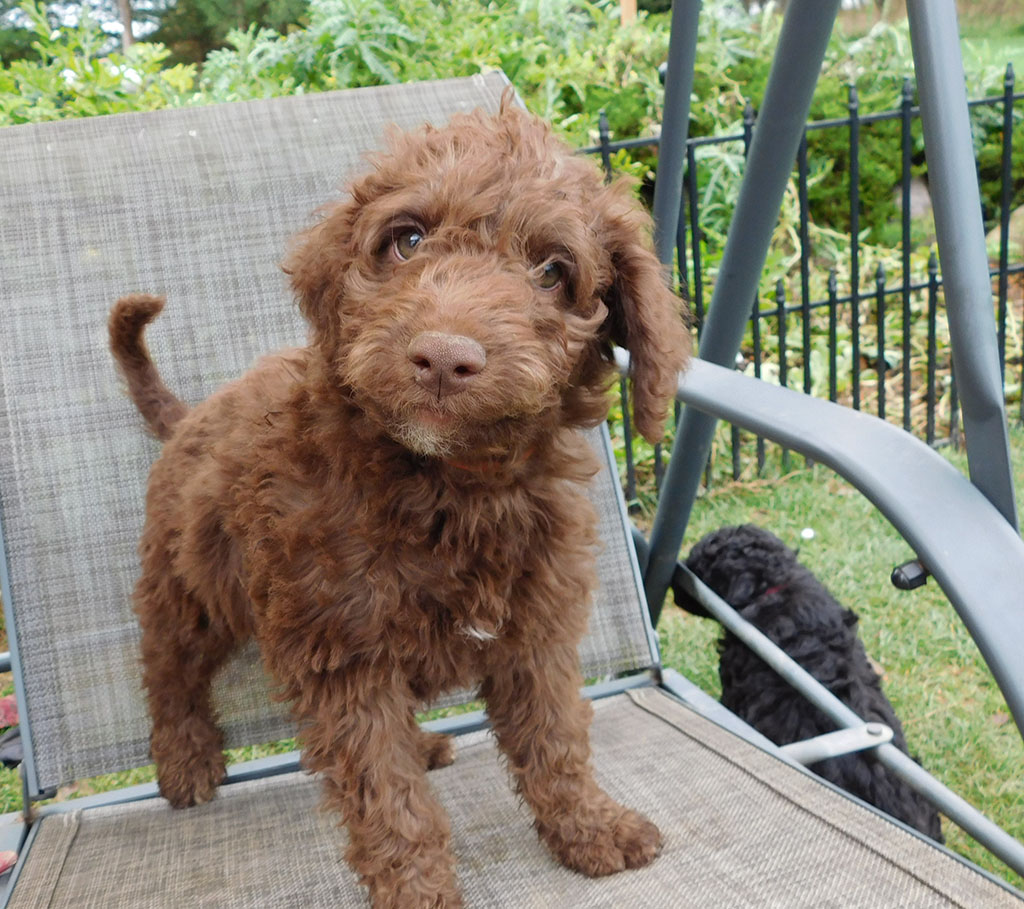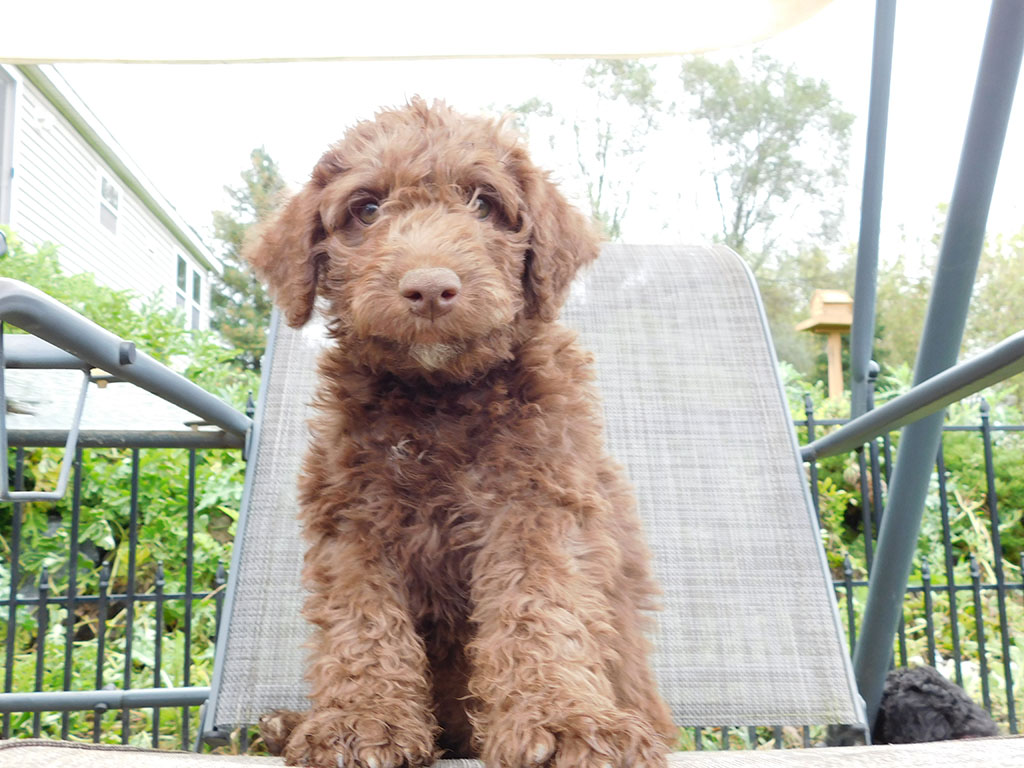 10.15.21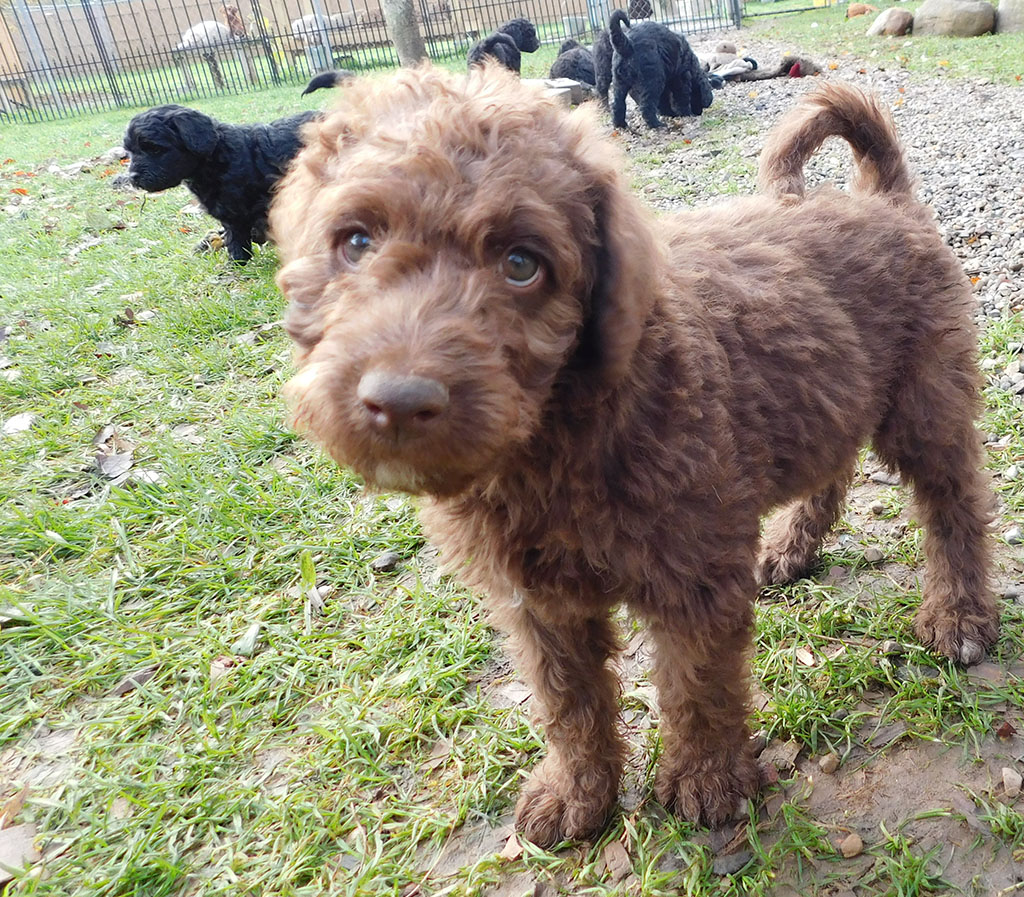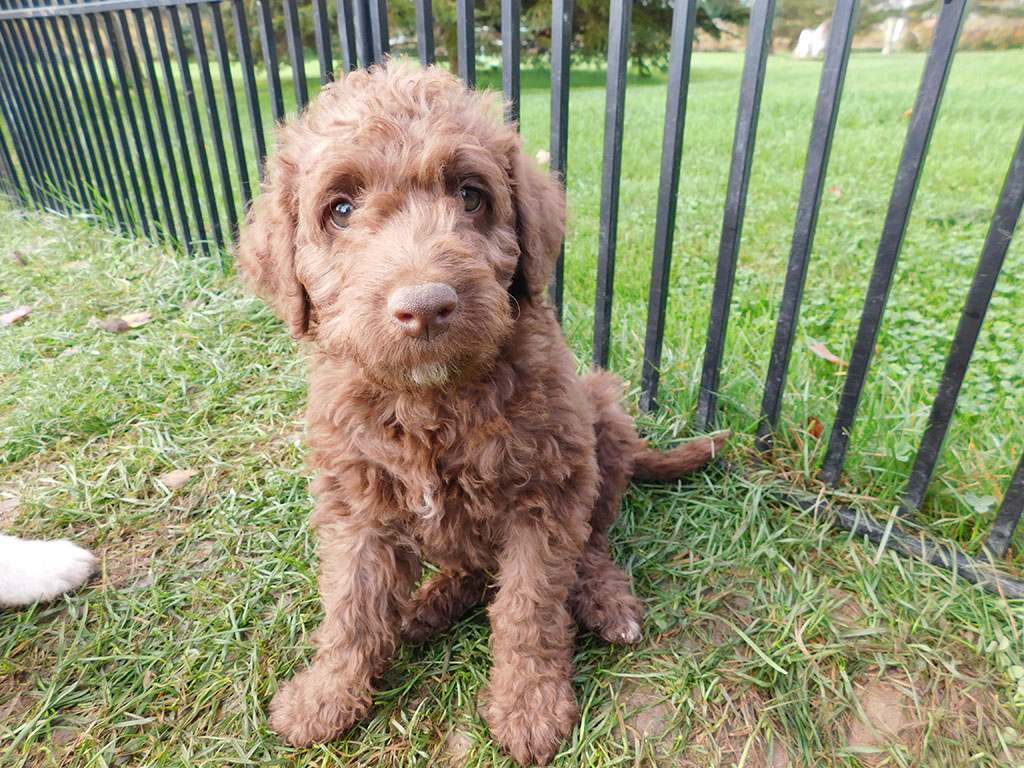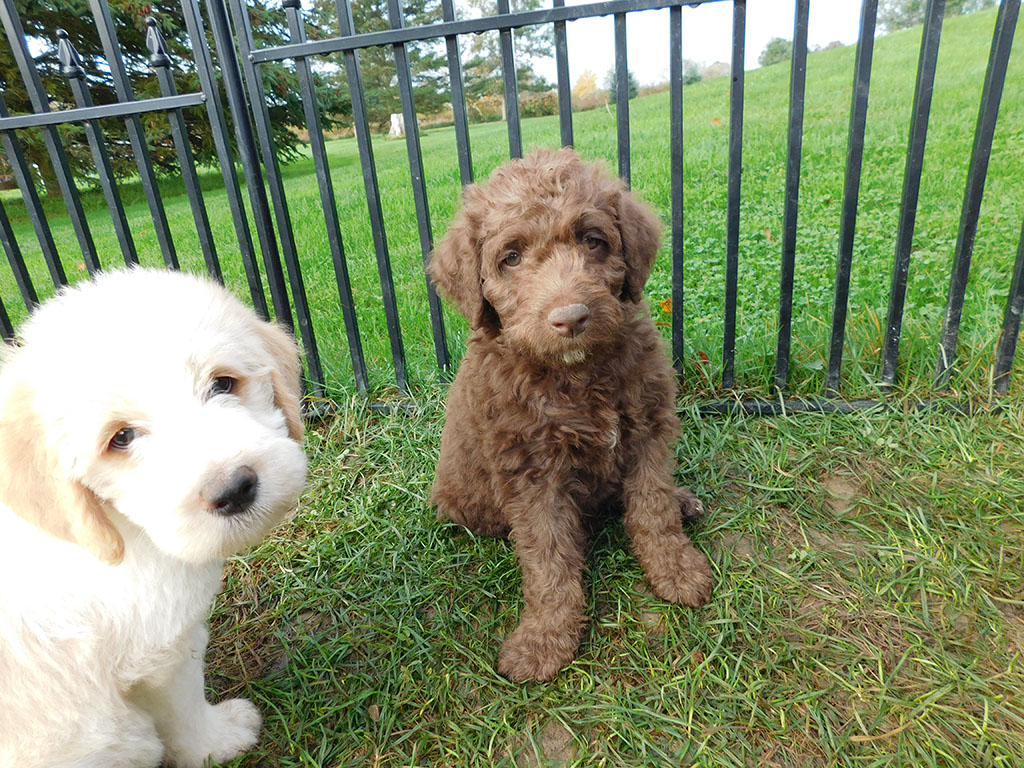 10.9.21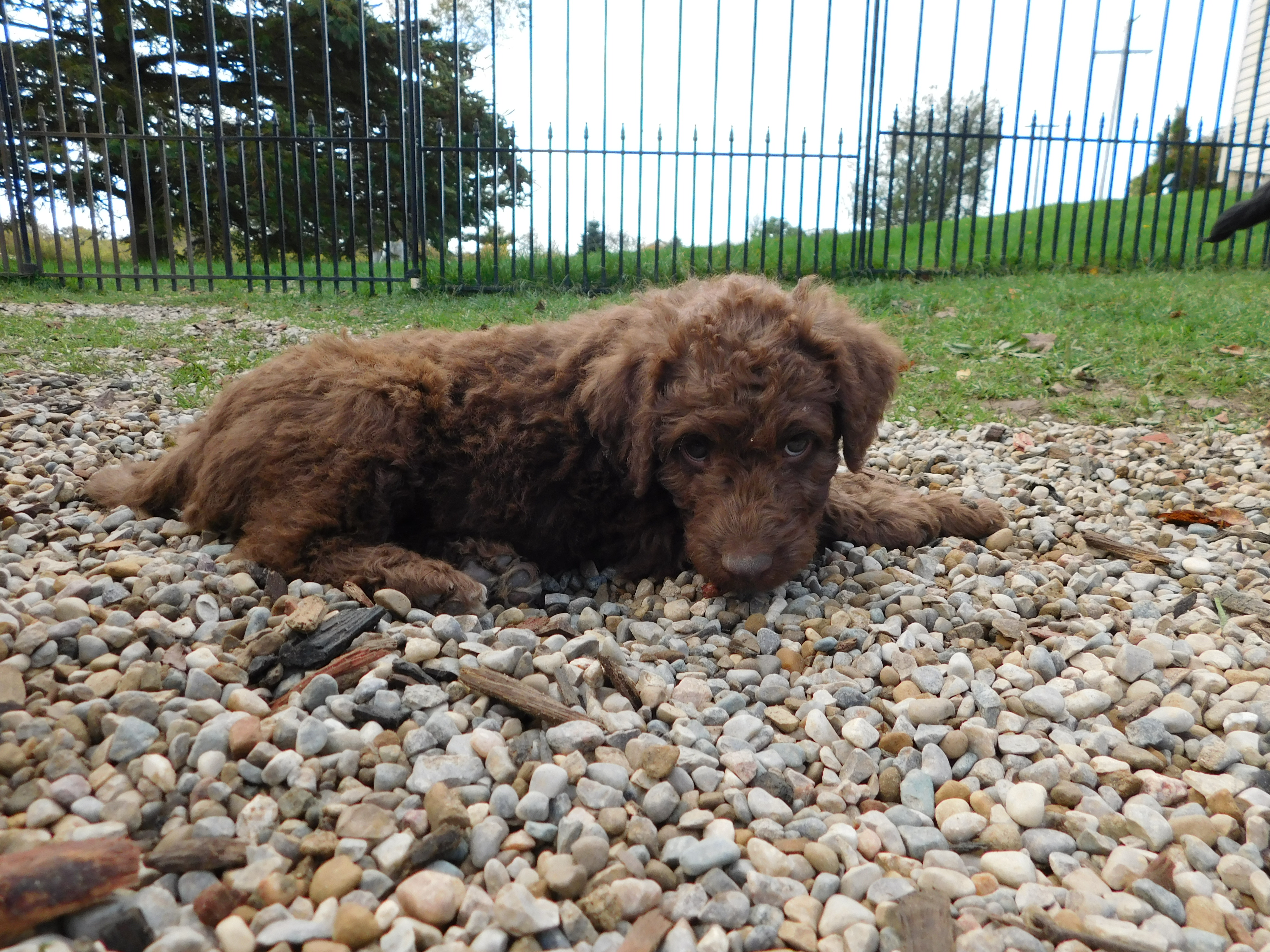 10.6.21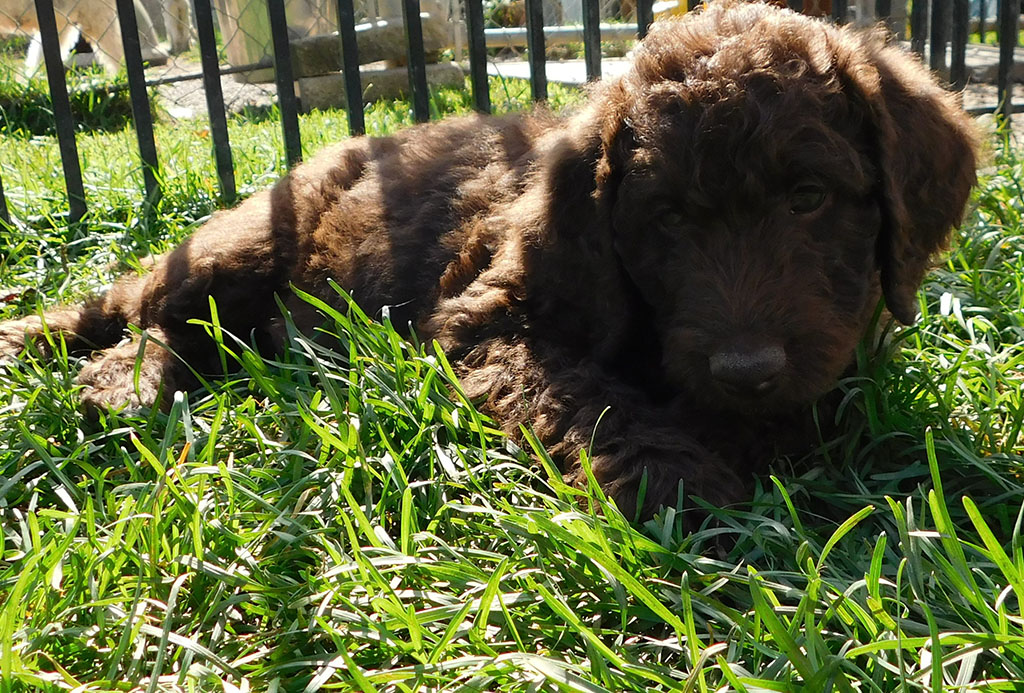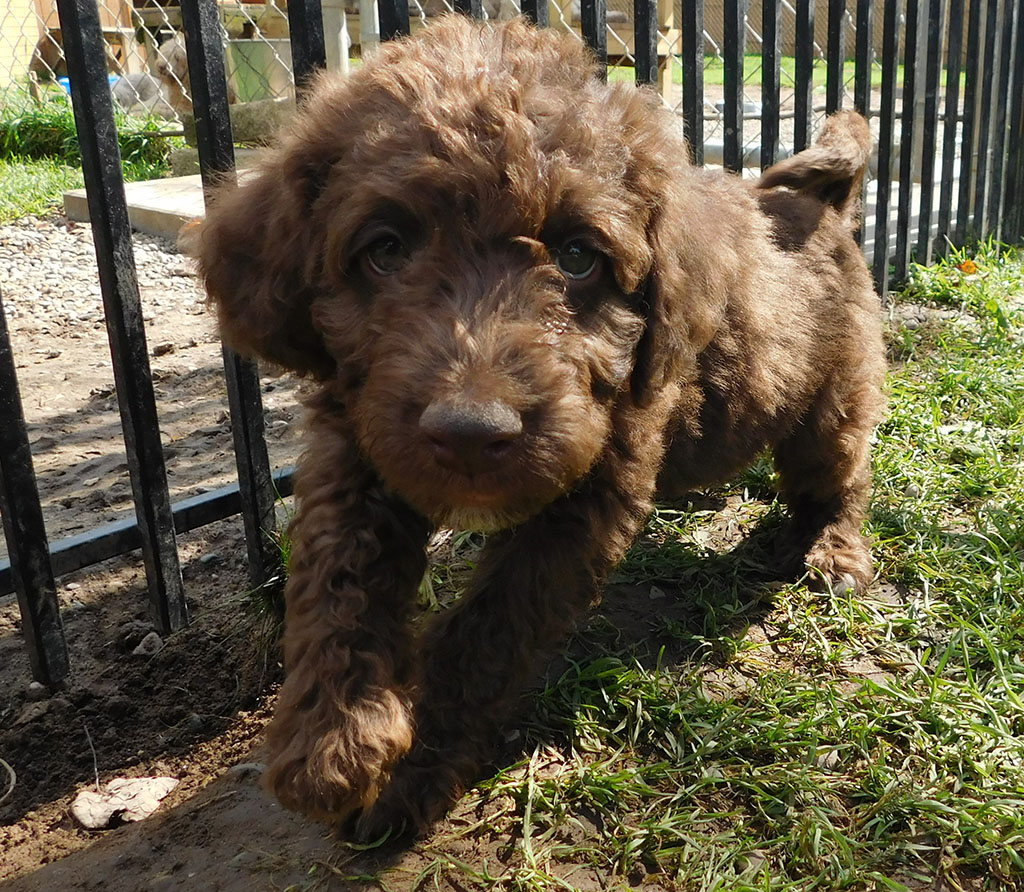 10.5.21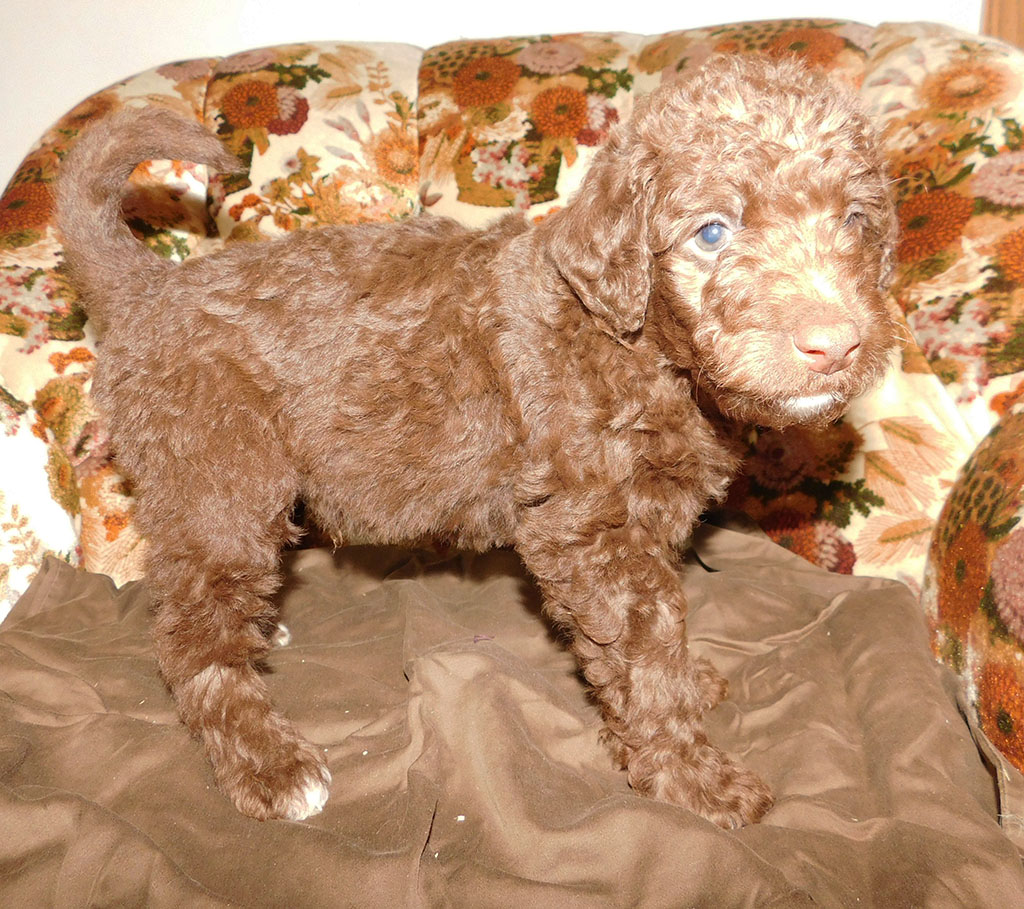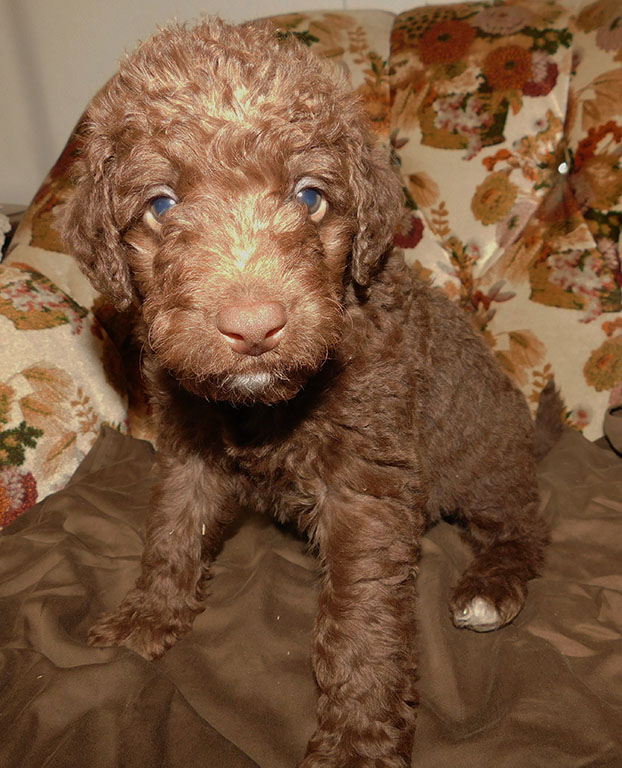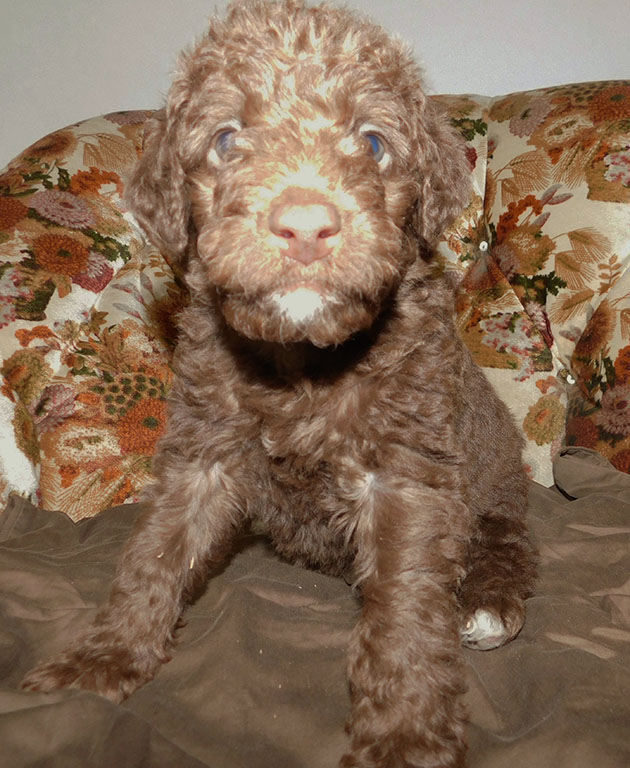 9.23.21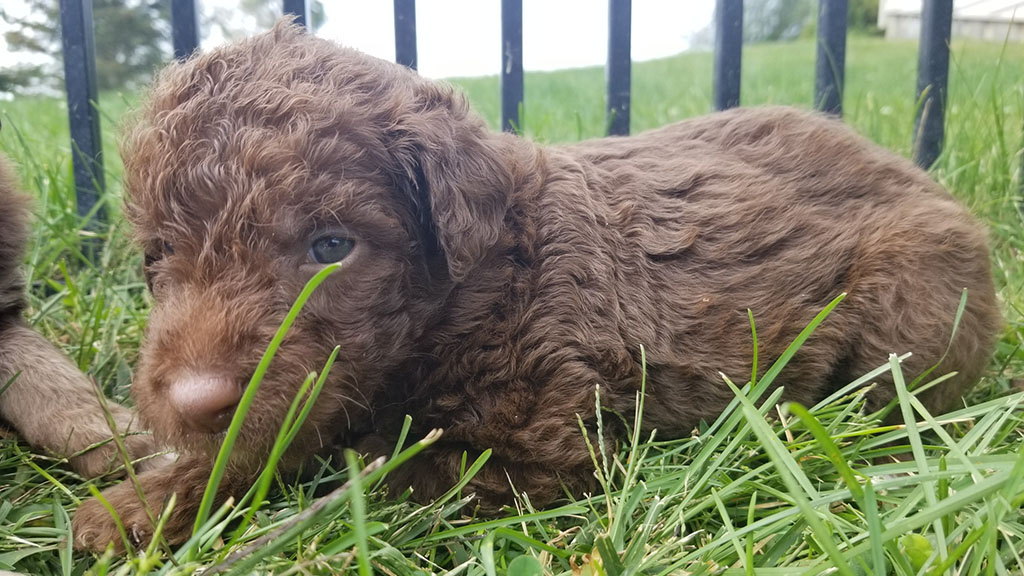 9.14.21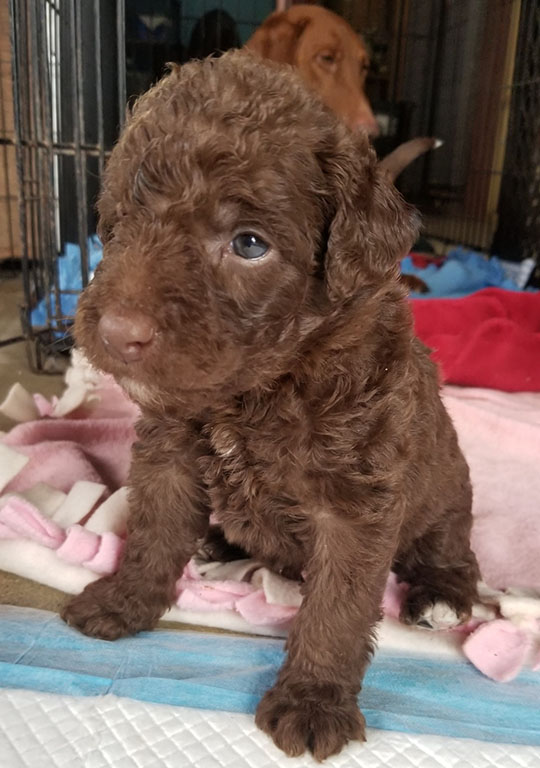 9.13.21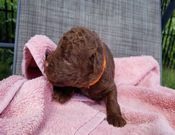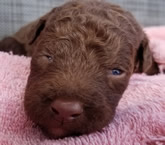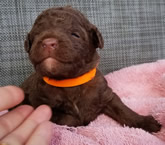 9.1.21
---
male (blue collar) Chocolate with pretty eyes! This guy is smart! He is very observant, watching everything. He likes to explore and learn, he is not at all timid, and loves to play. He is usually awake first, and tired last. He will become a very close companion to a lucky human. I don't think he would be a good canidate for a household that would have to leave him alone a lot. His coat type will be low shedding, shorter and easier to maintain.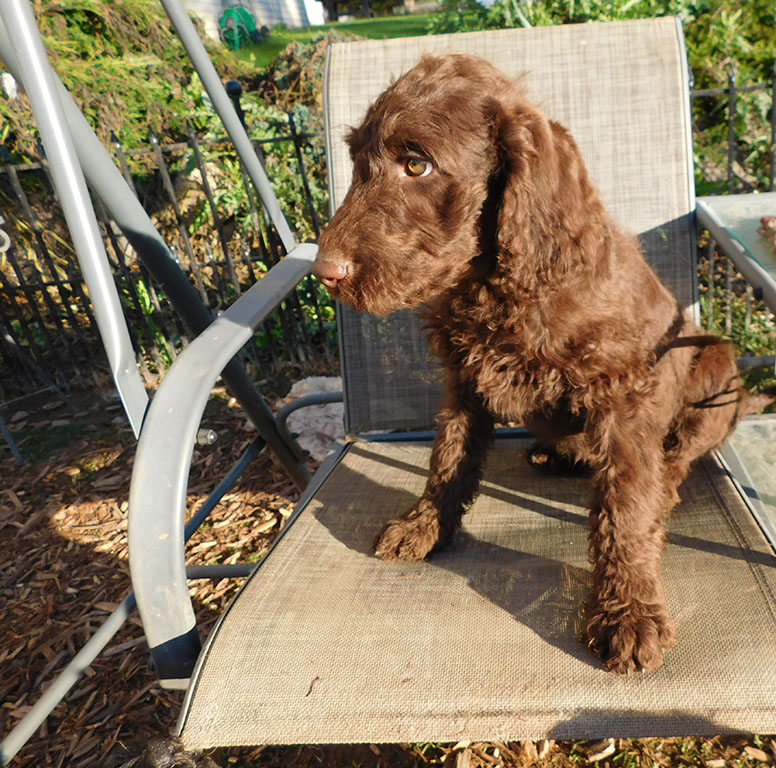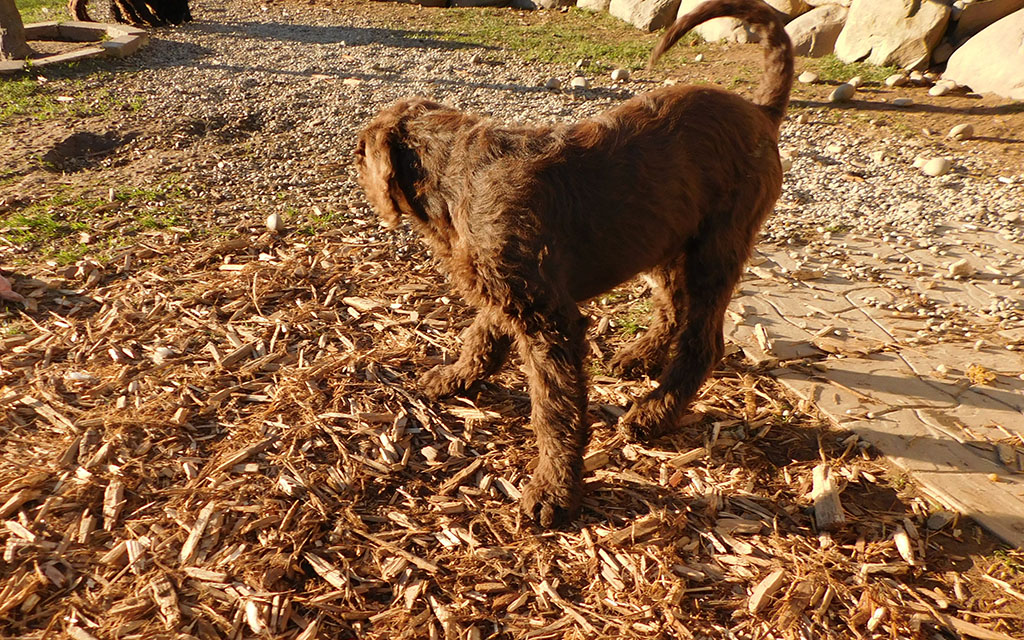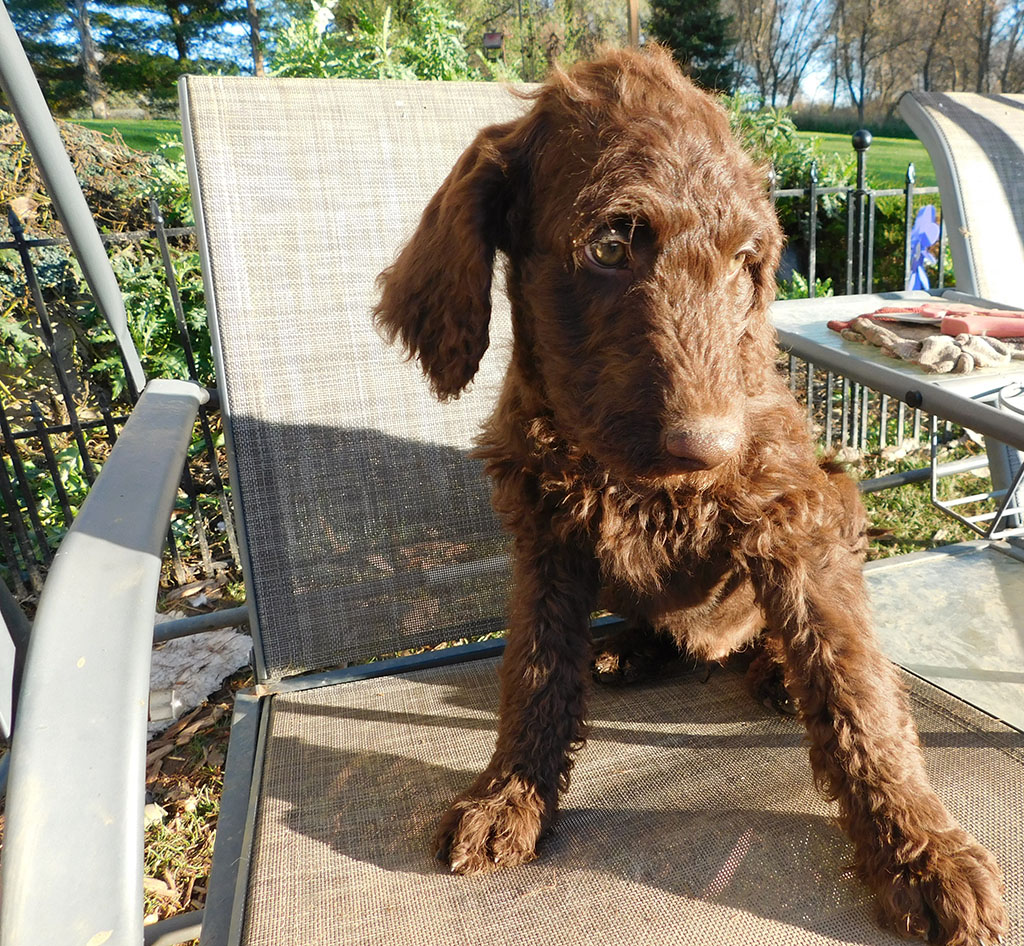 11.2.21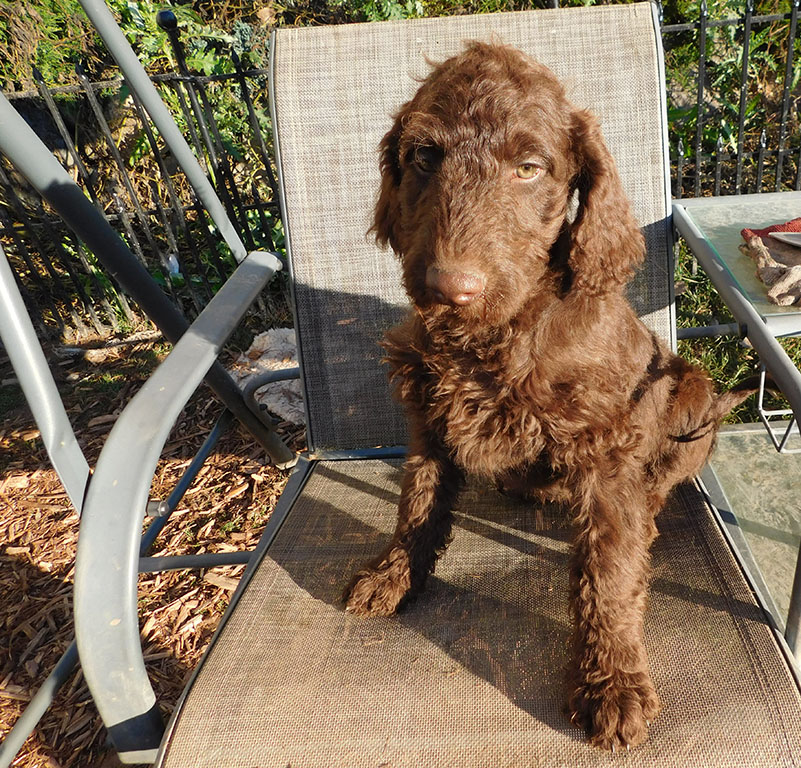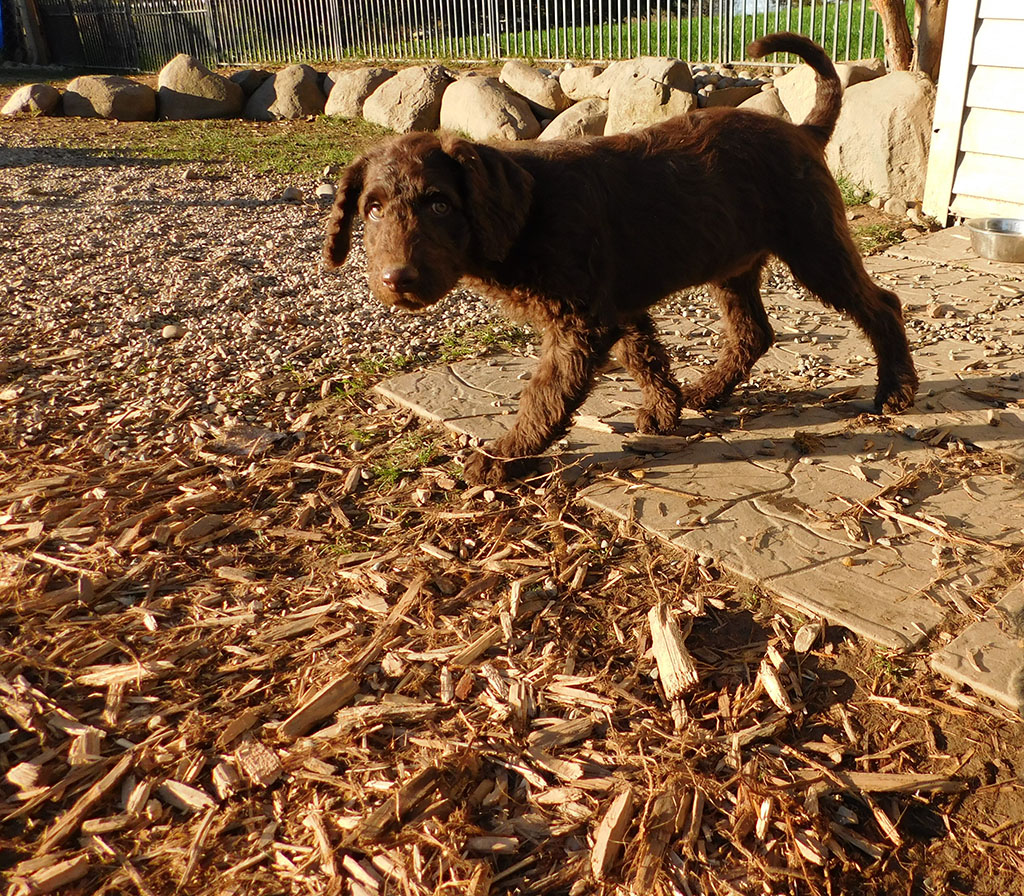 11.2.21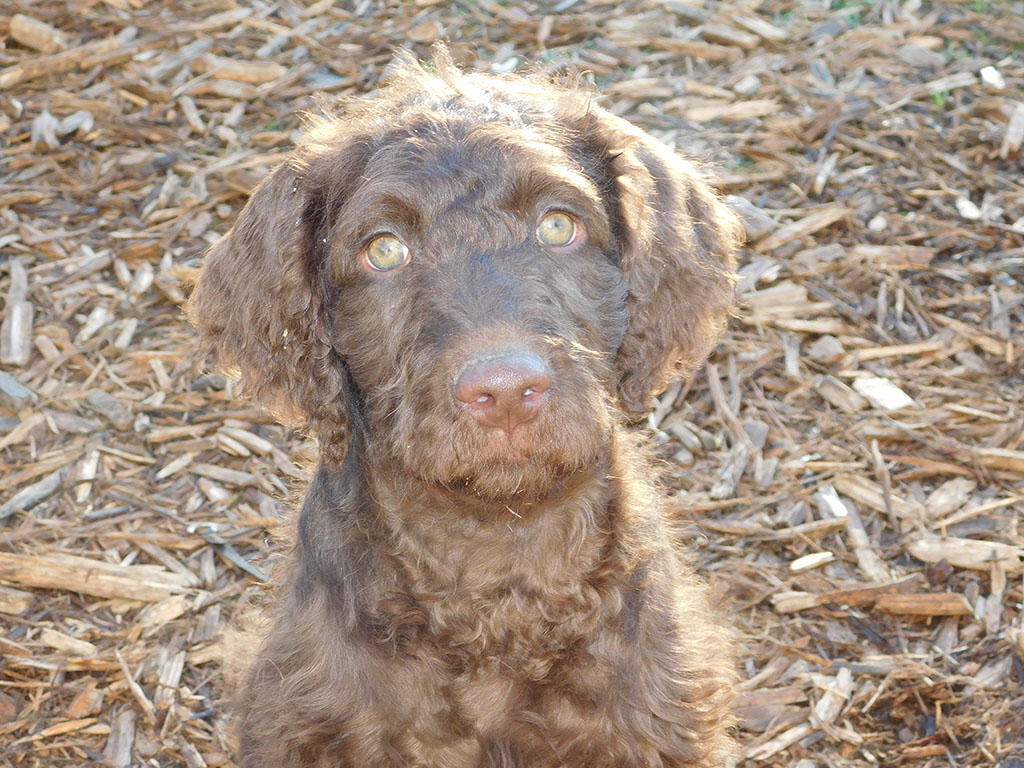 11.1.21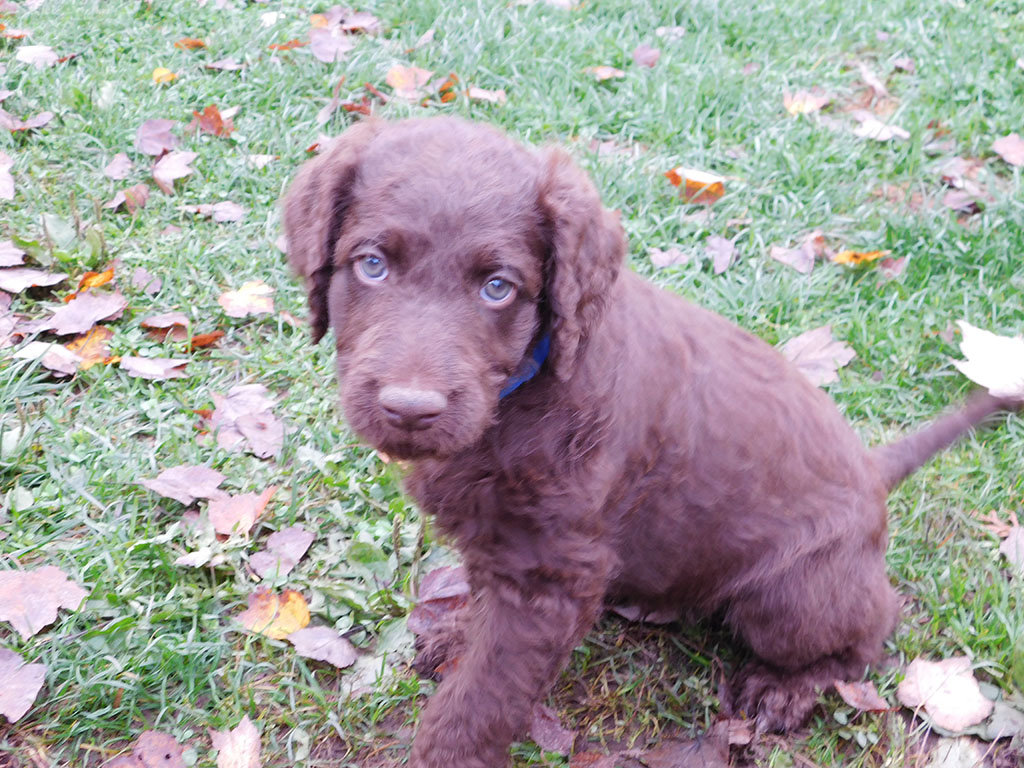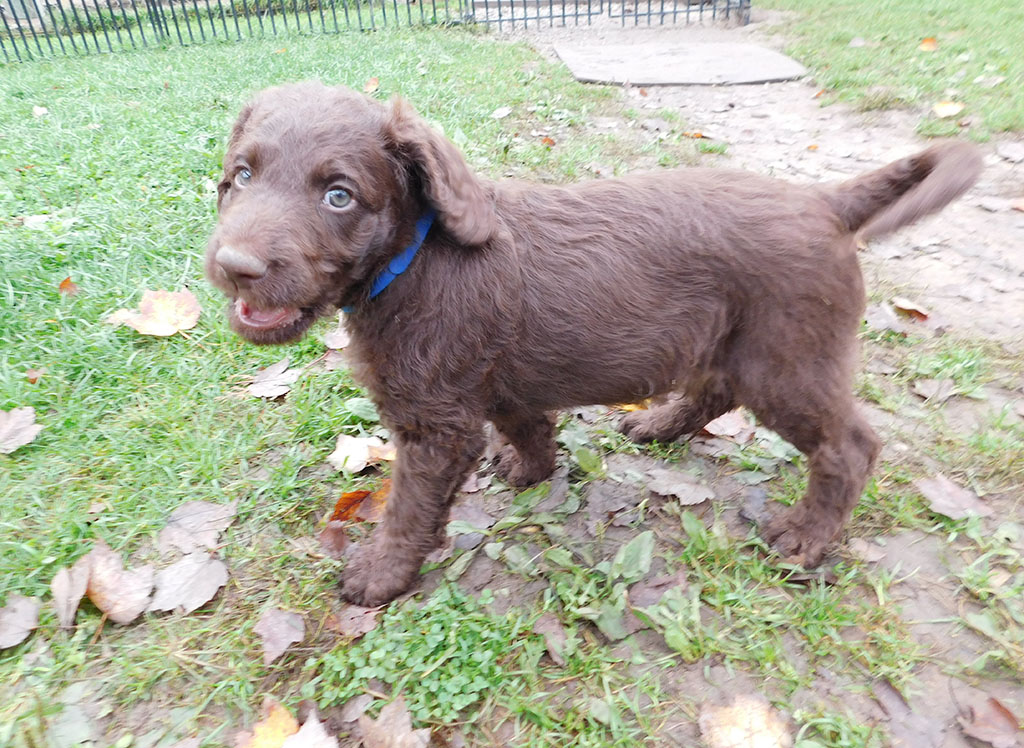 10.5.21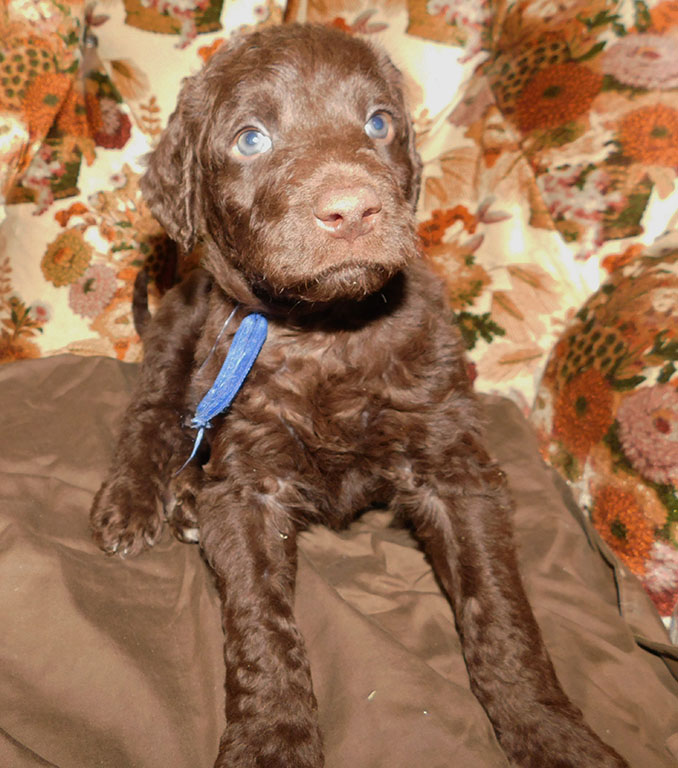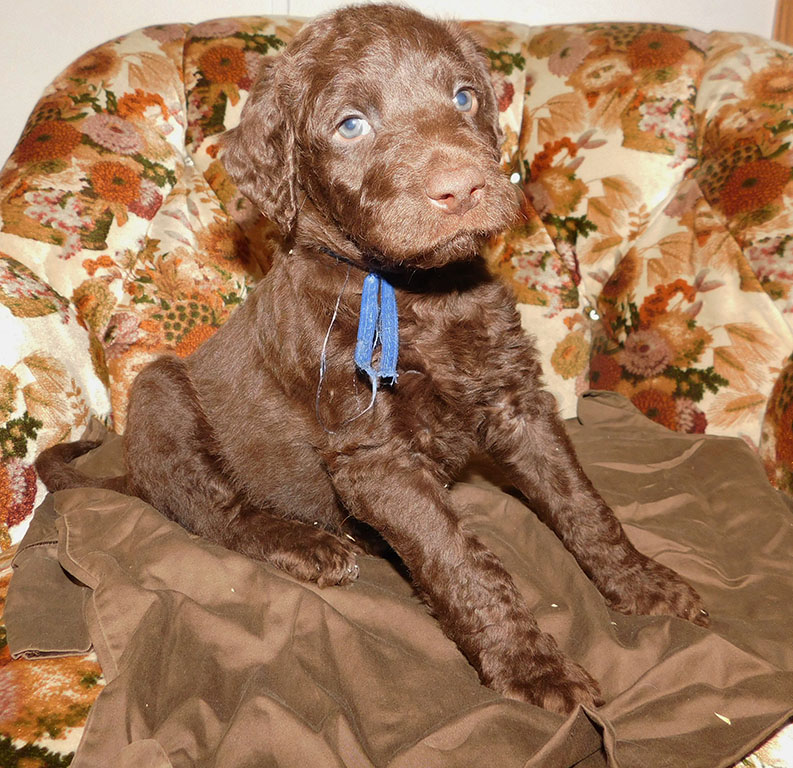 9.23.21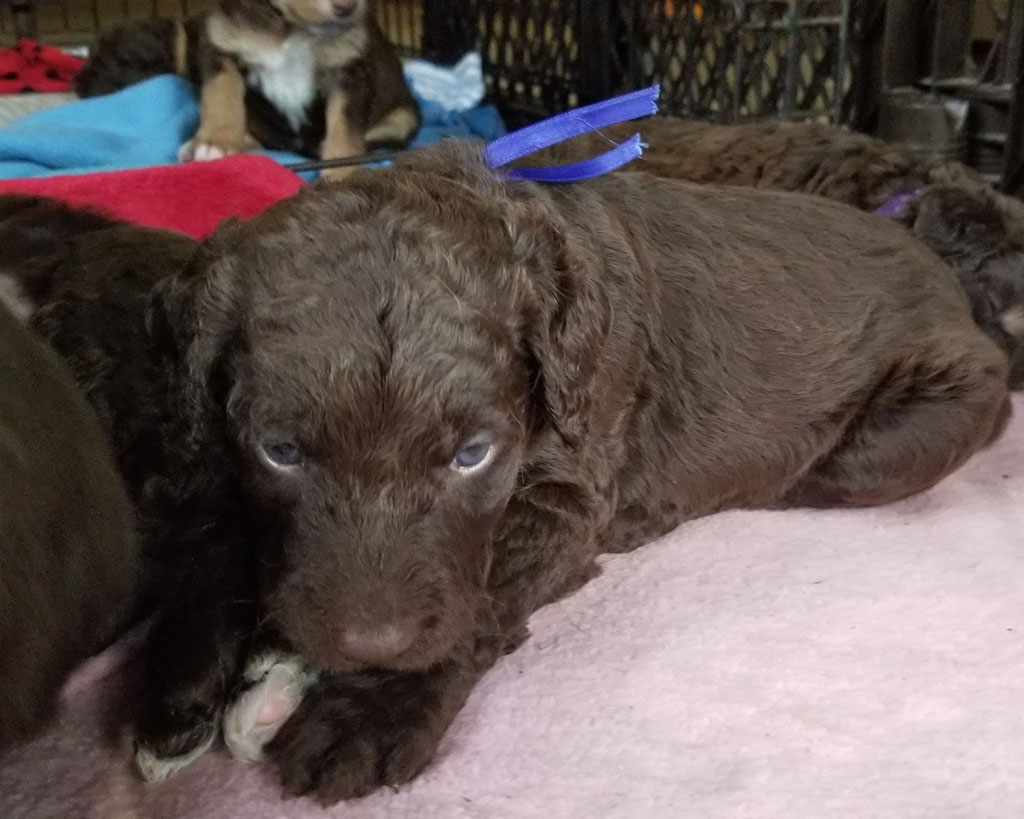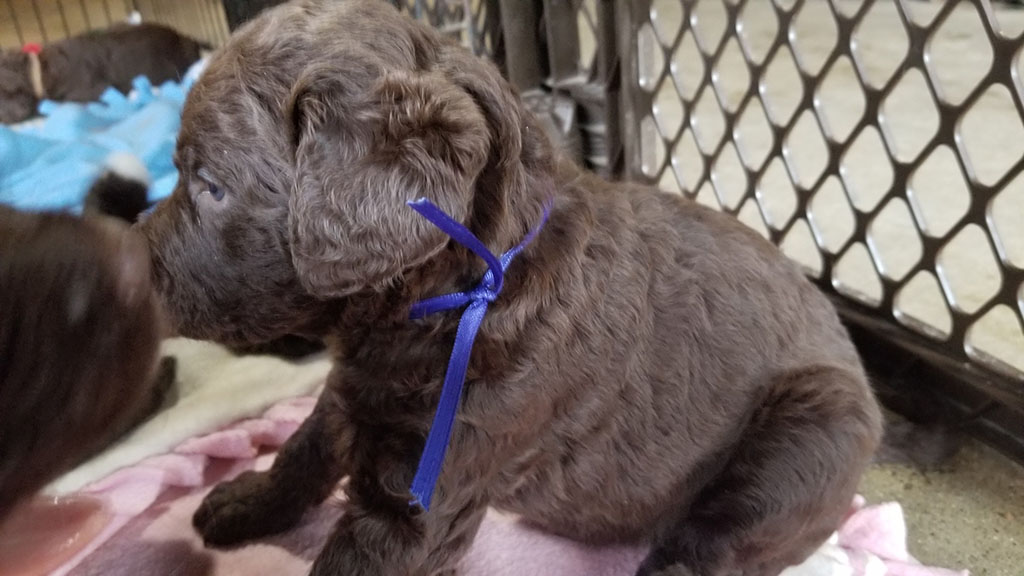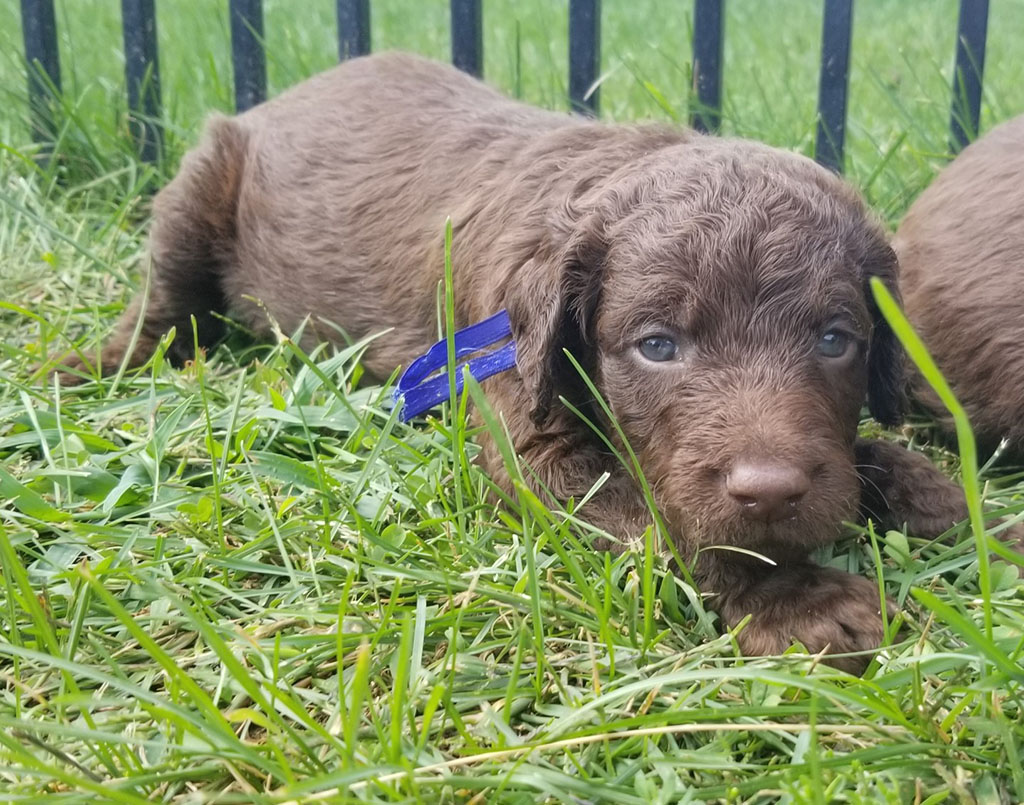 9.14.21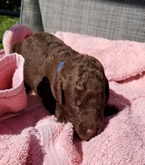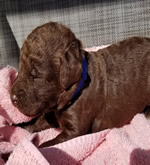 9.1.21
---
female (yellow collar) Dark chocolate with beautiful white markings. I think she have a shorter wispy coat, and be low shedding. Less maintenance! She is smart, and likes to explore. She goes with the flow, and isn't demanding of attention, but loves a lap!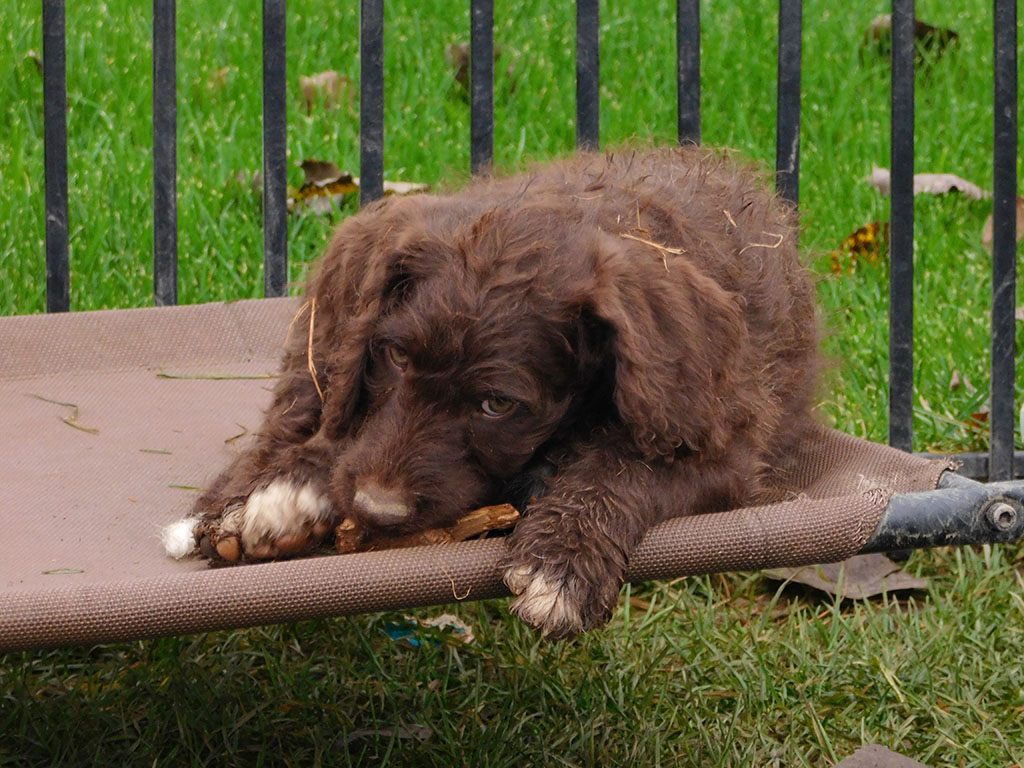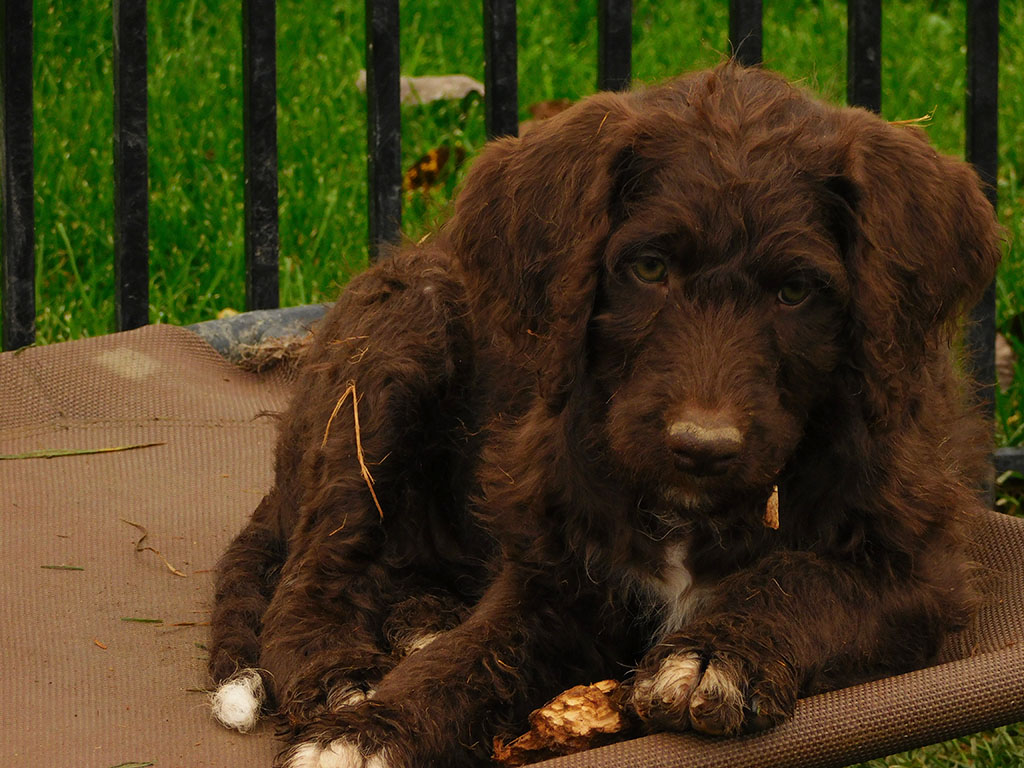 10.30.21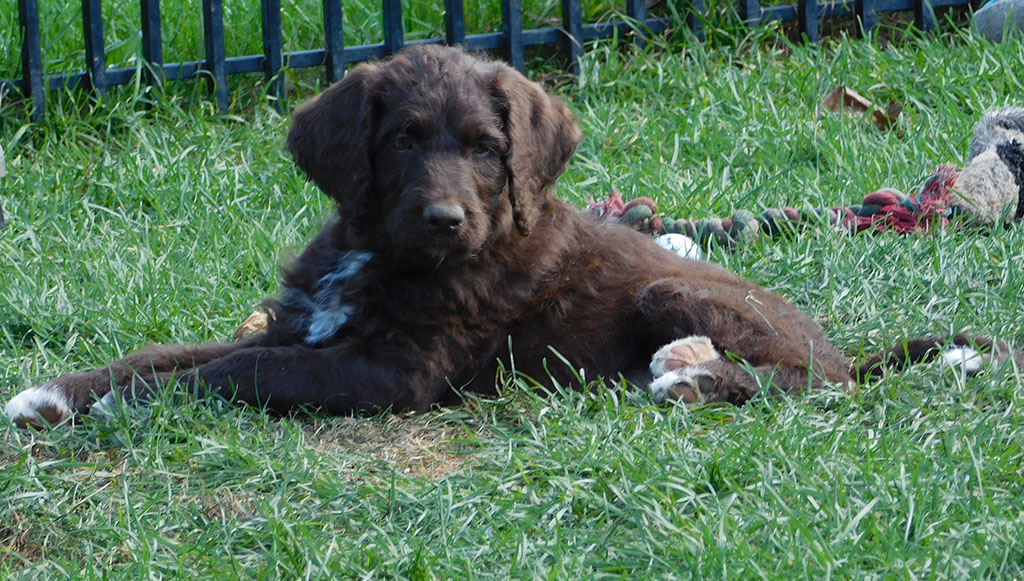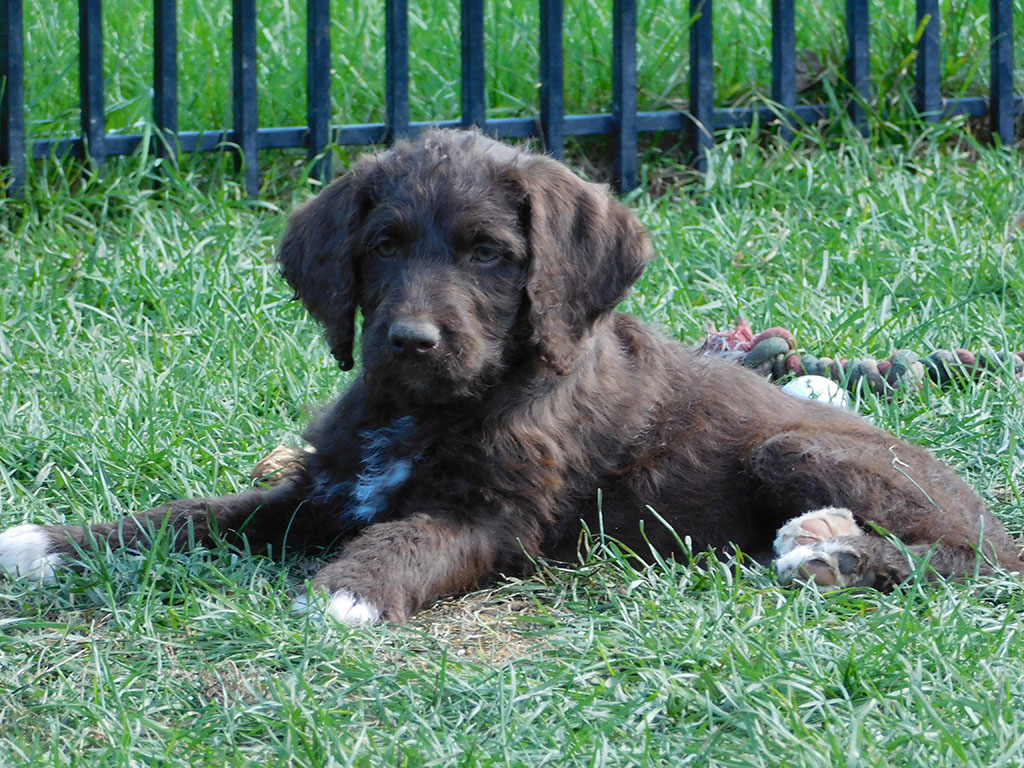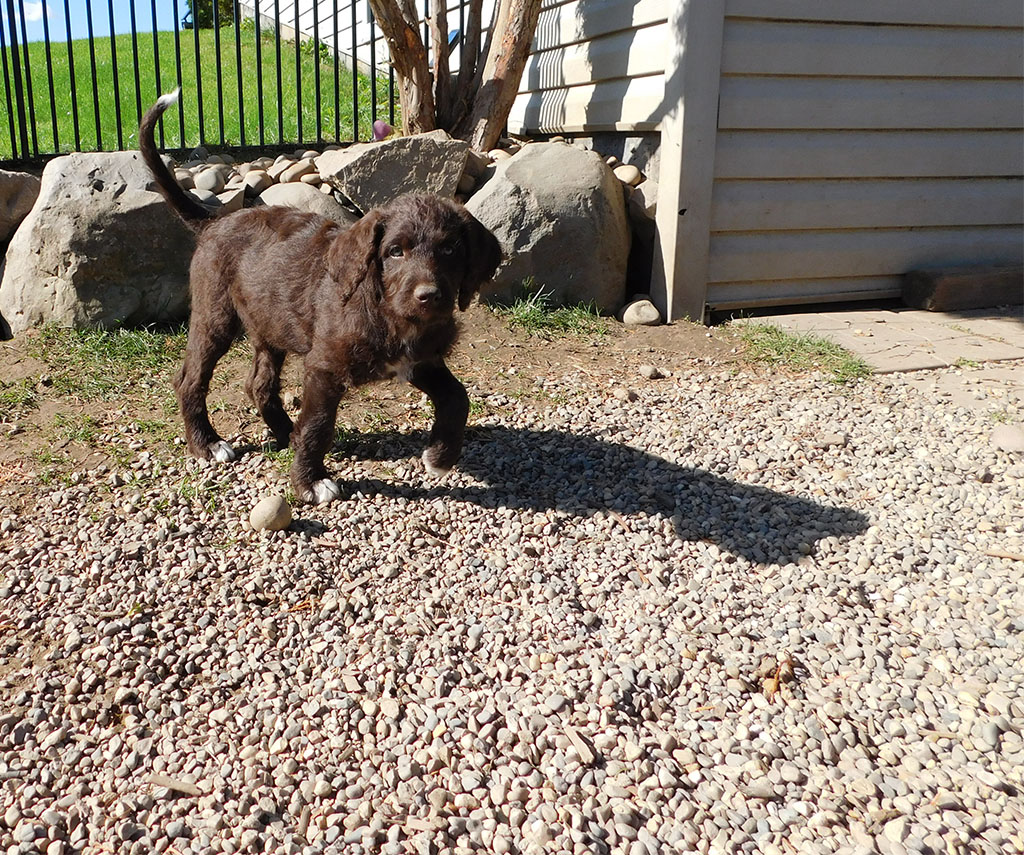 10.19.21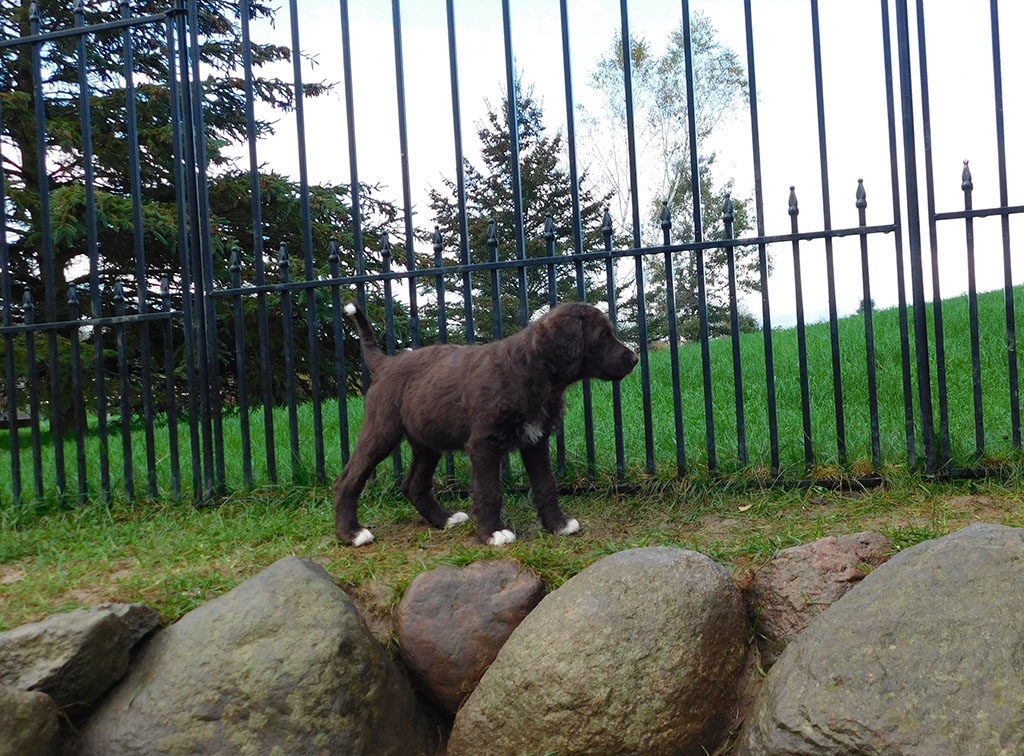 10.11.21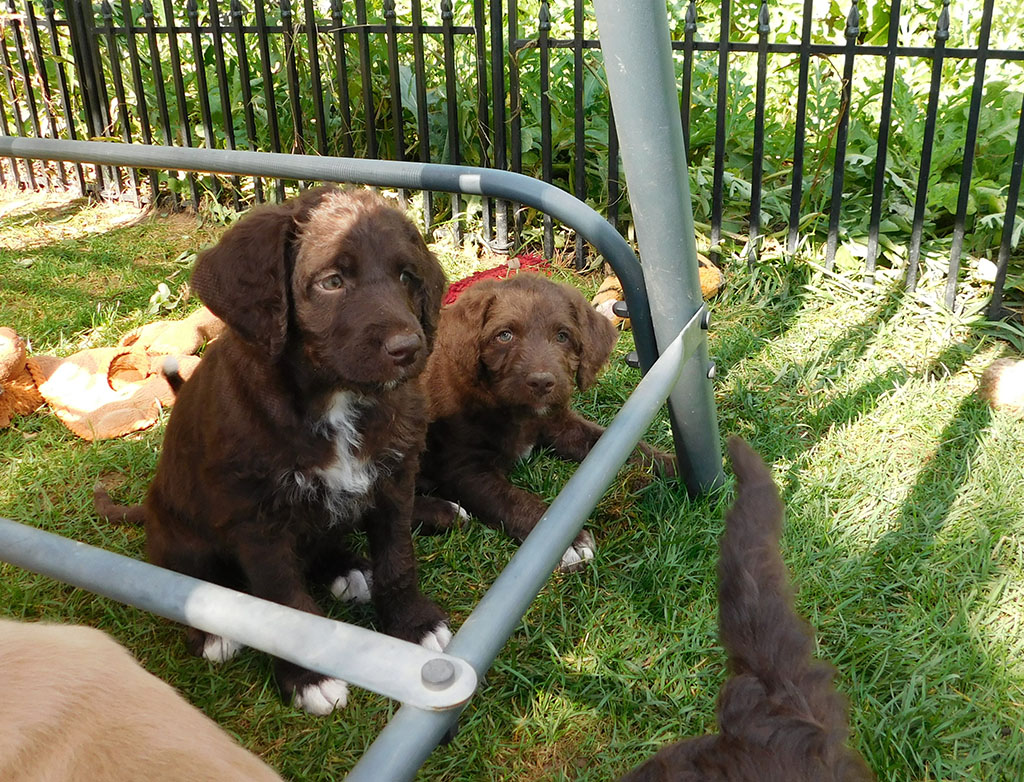 10.5.21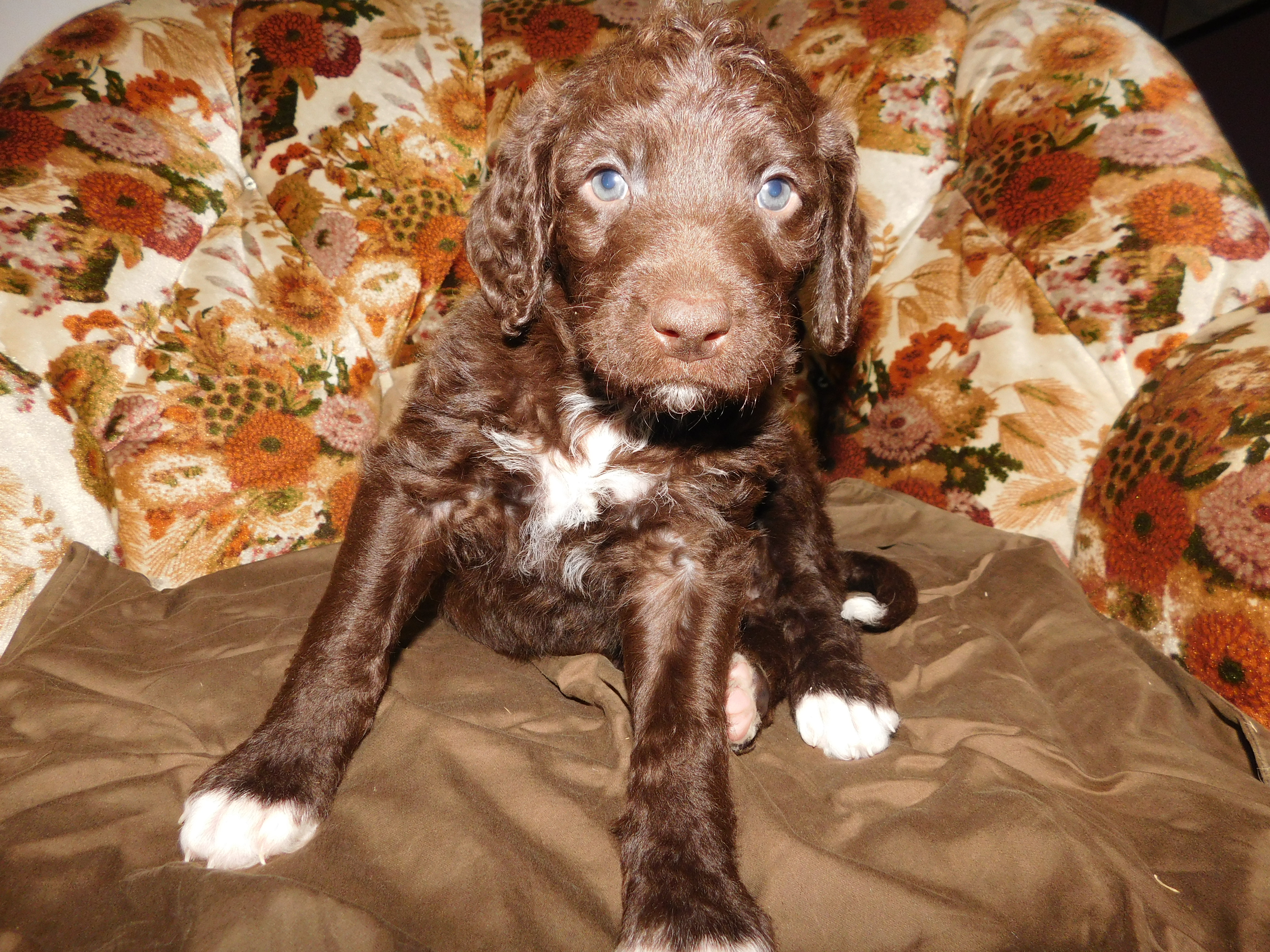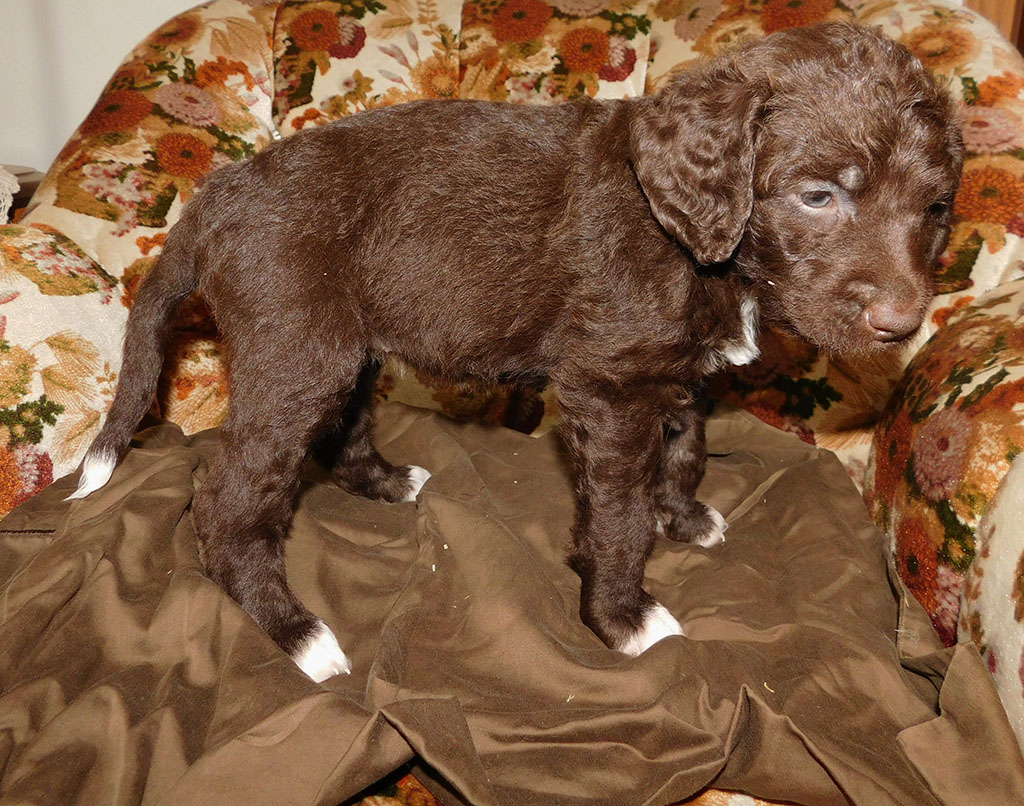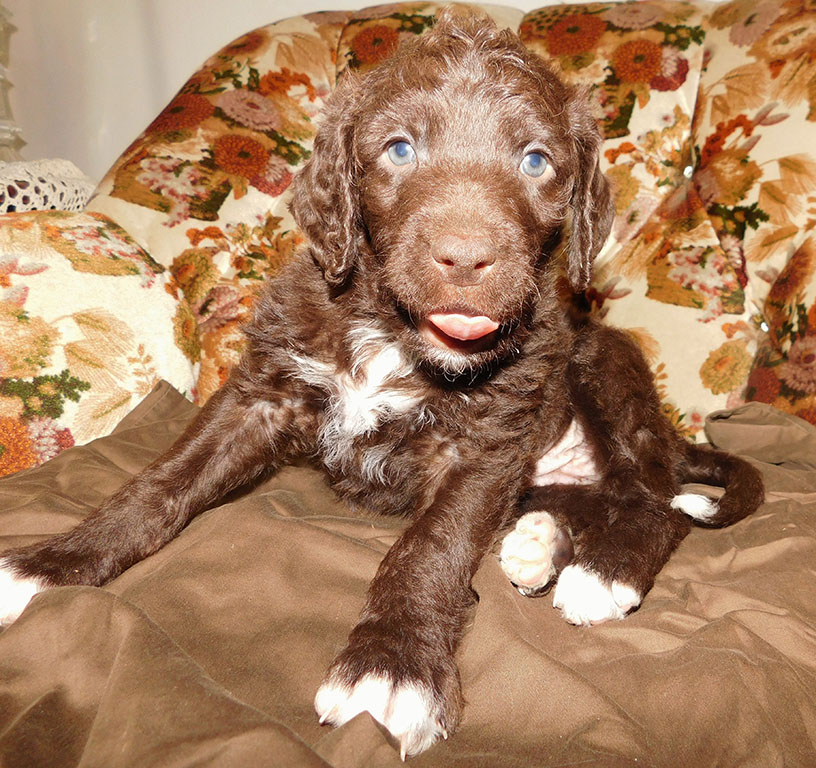 9.23.21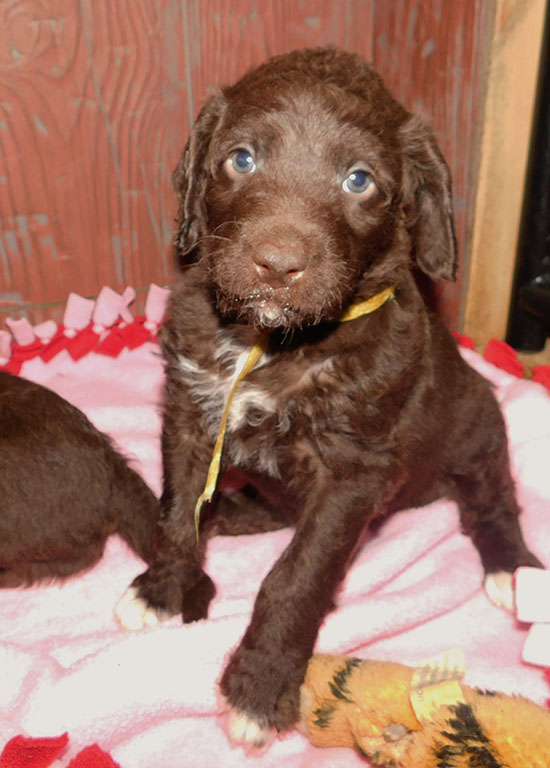 9.22.21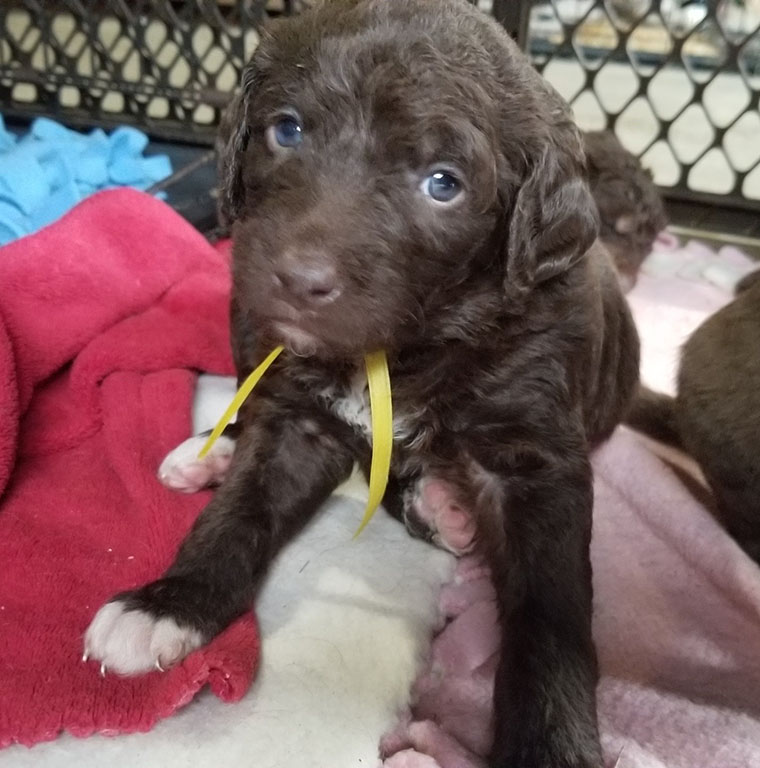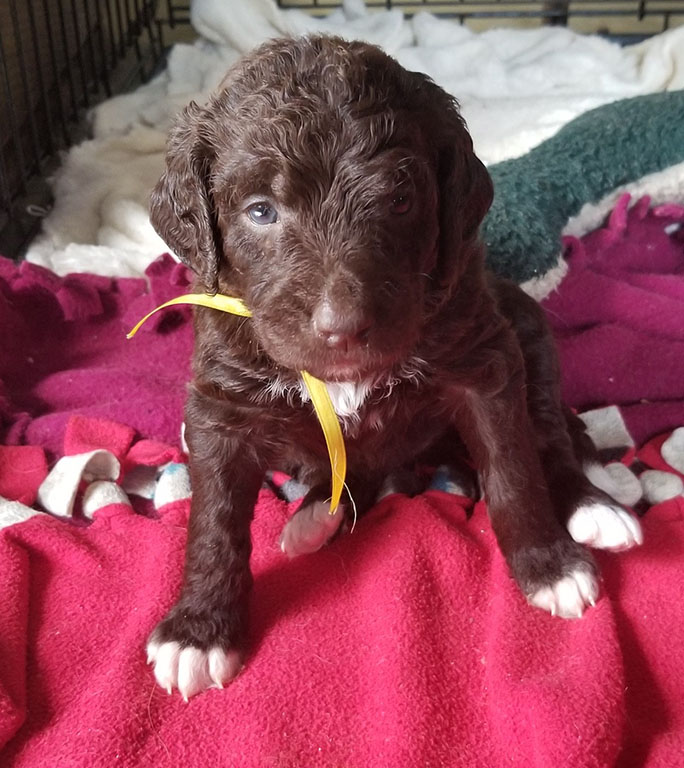 9.14.21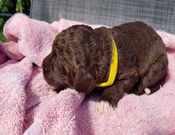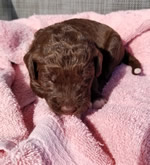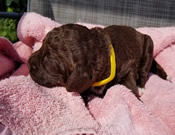 9.1.21
---
male (black collar) Dark and light chocolate, with white markings. I think he will have a low shedding coat. He is active, and would love a home with another dog to play with, or an active human, that will give him plenty to do. Smart boy, loves attention!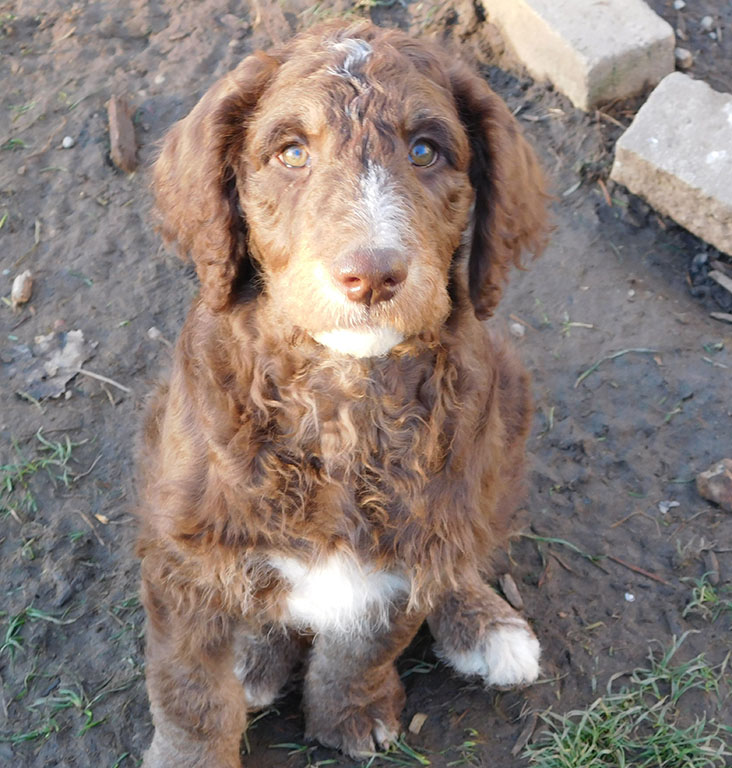 11.1.21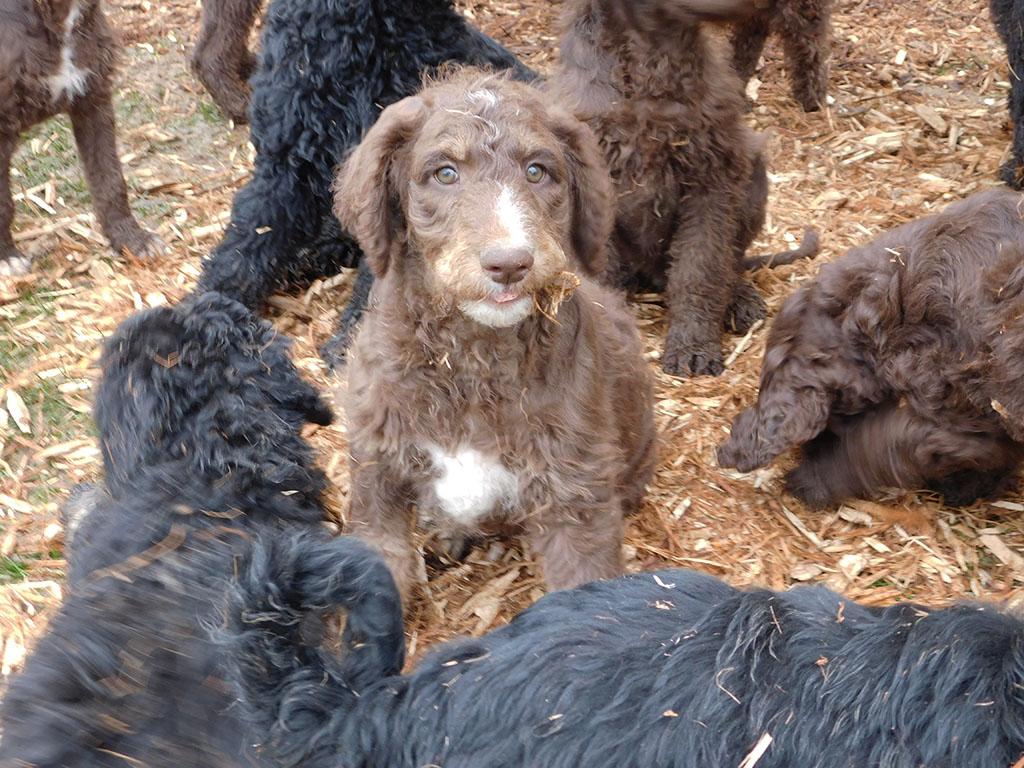 10.30.21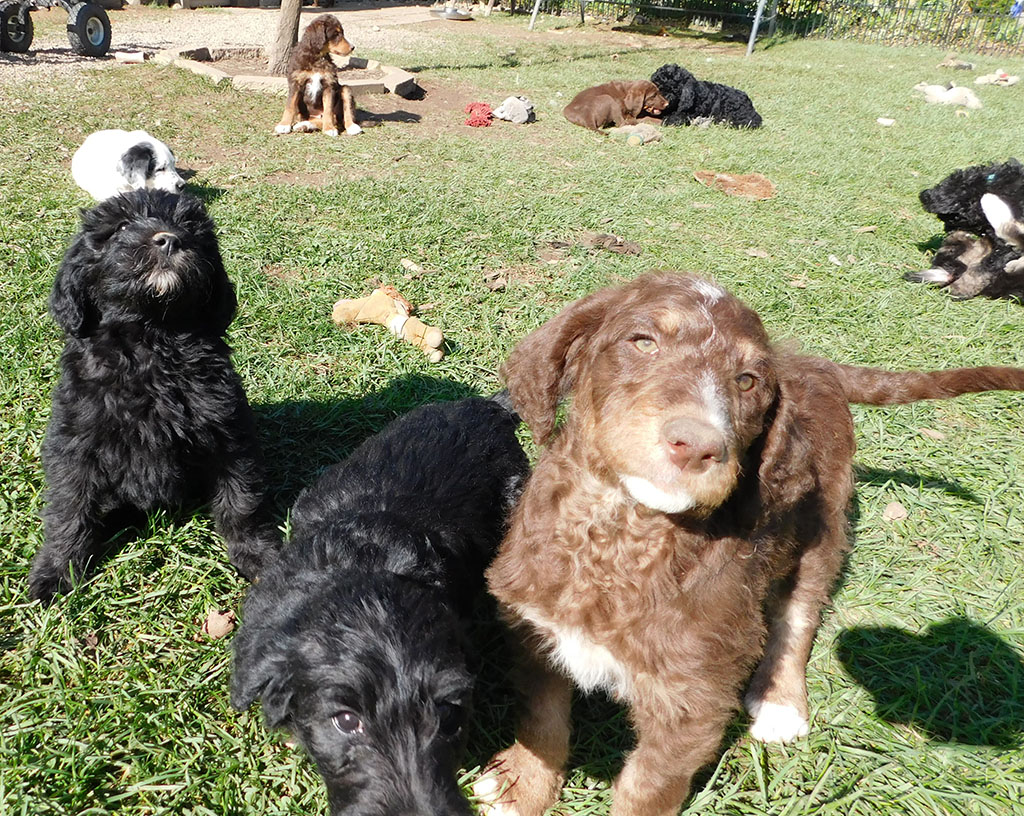 10.19.21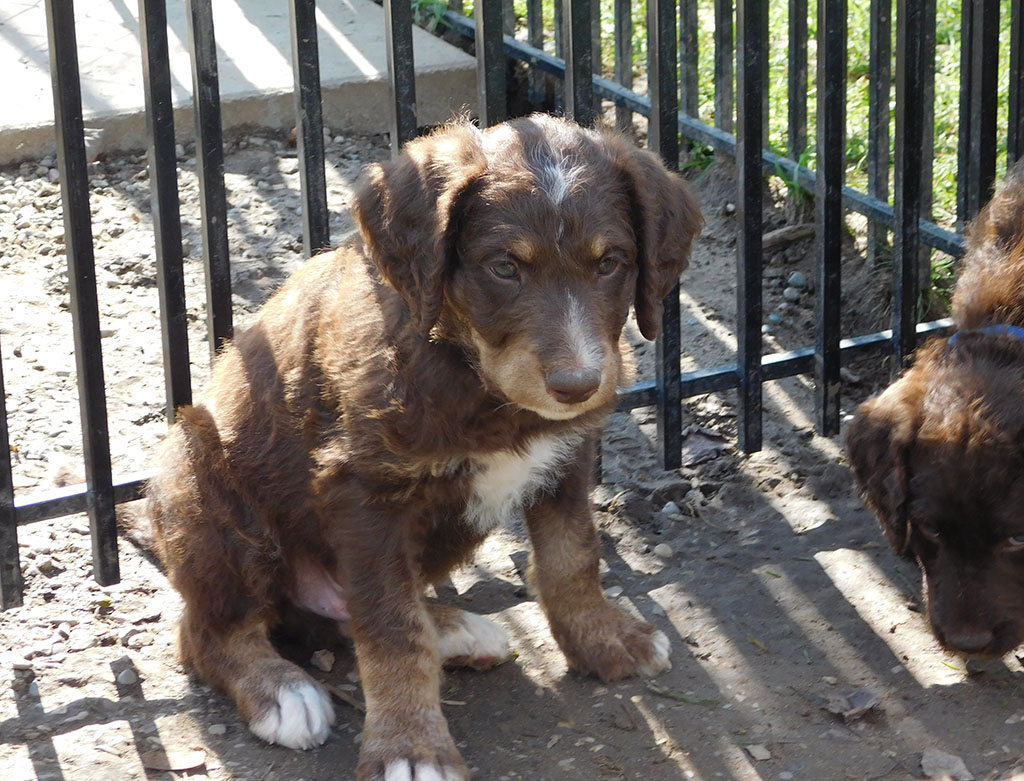 10.5.21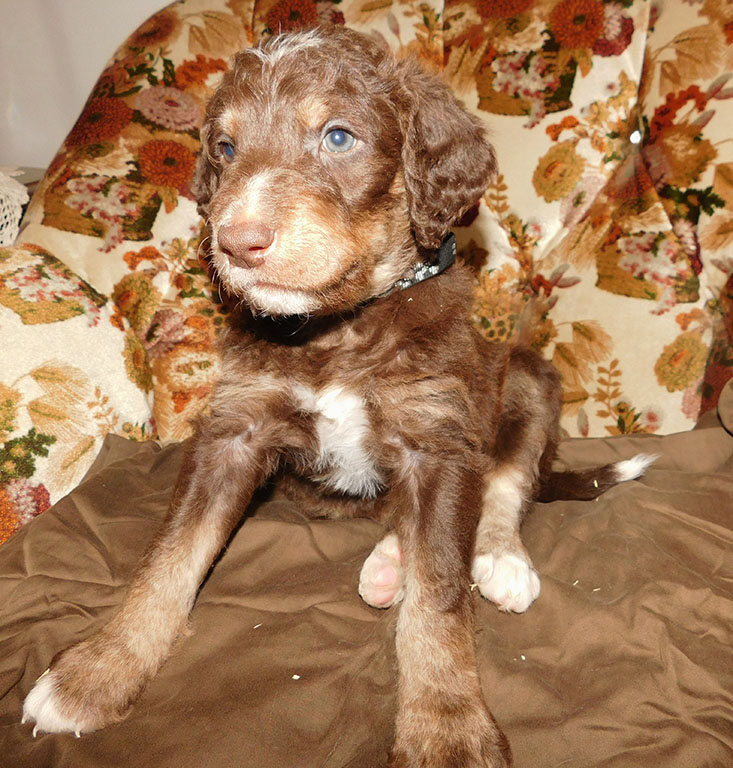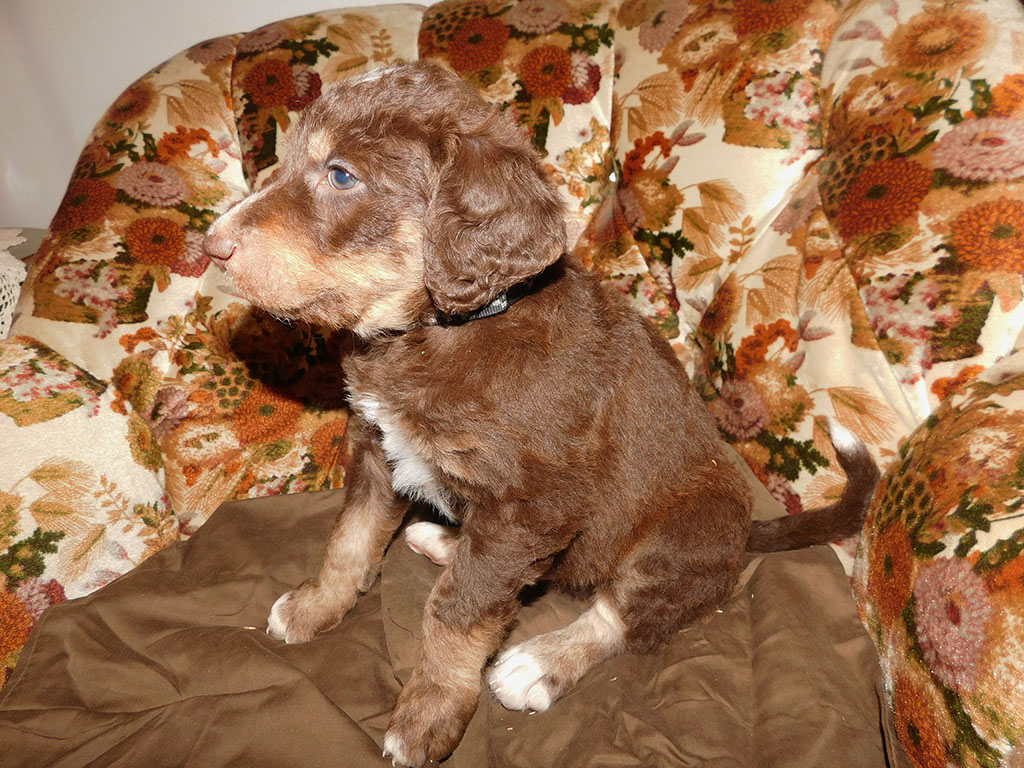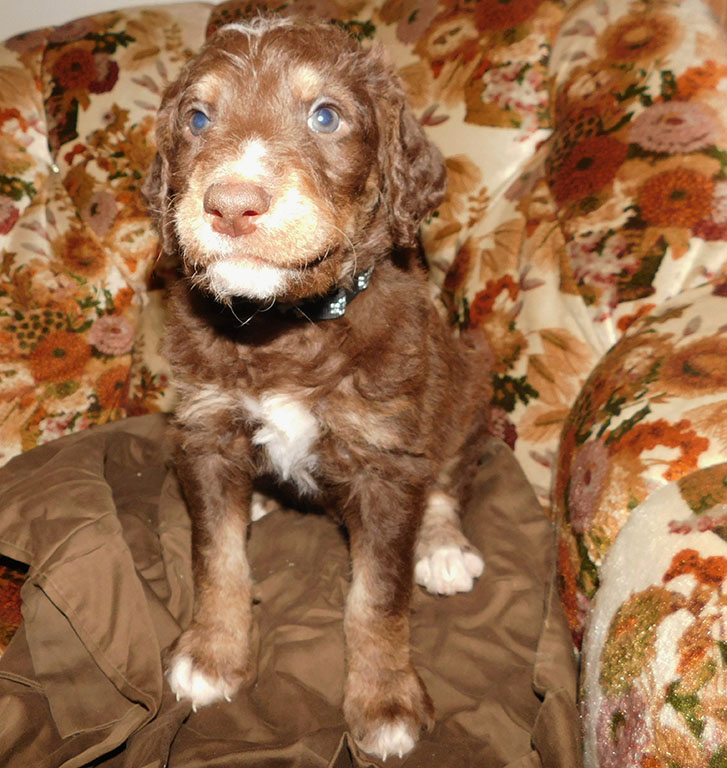 9.23.21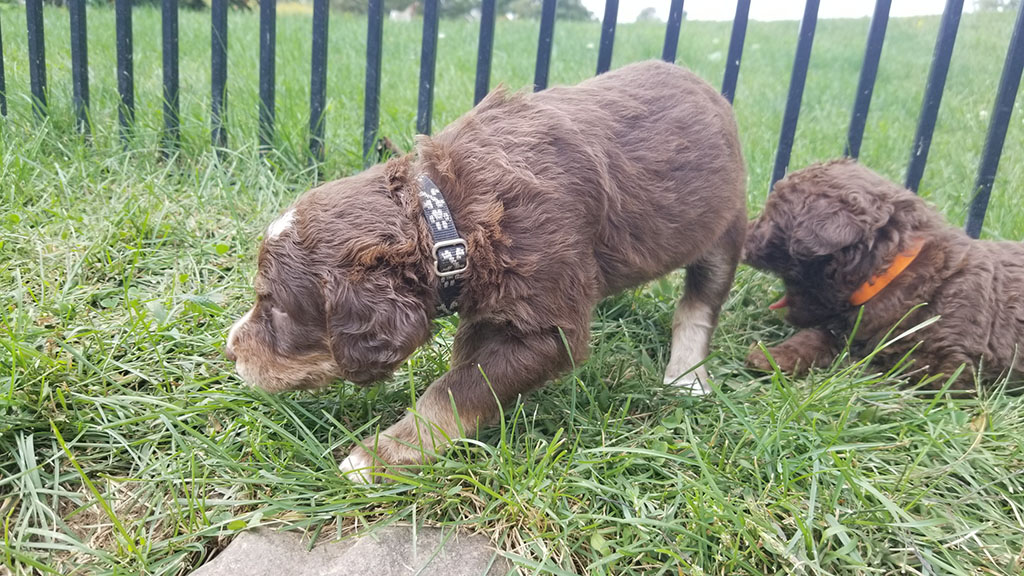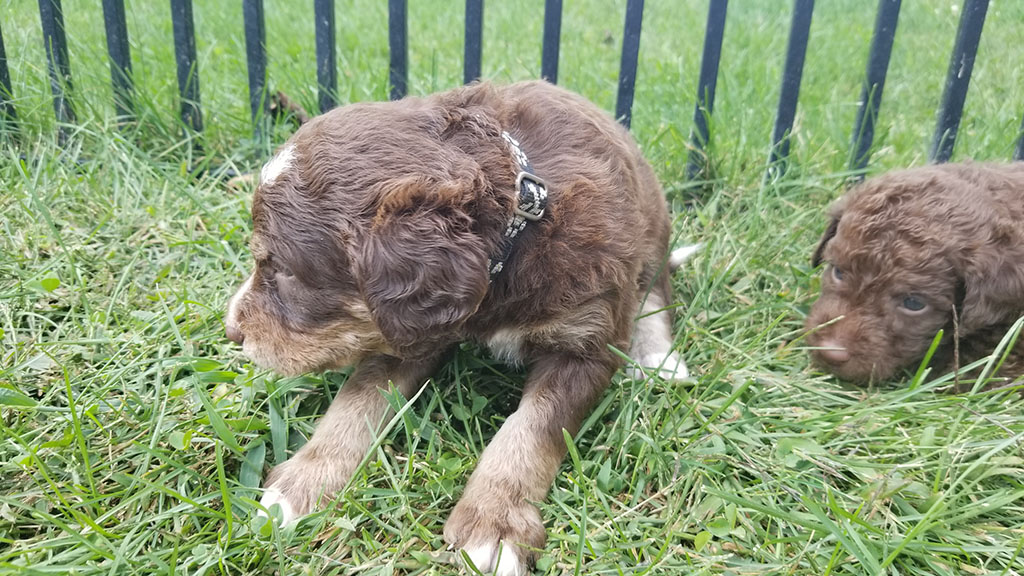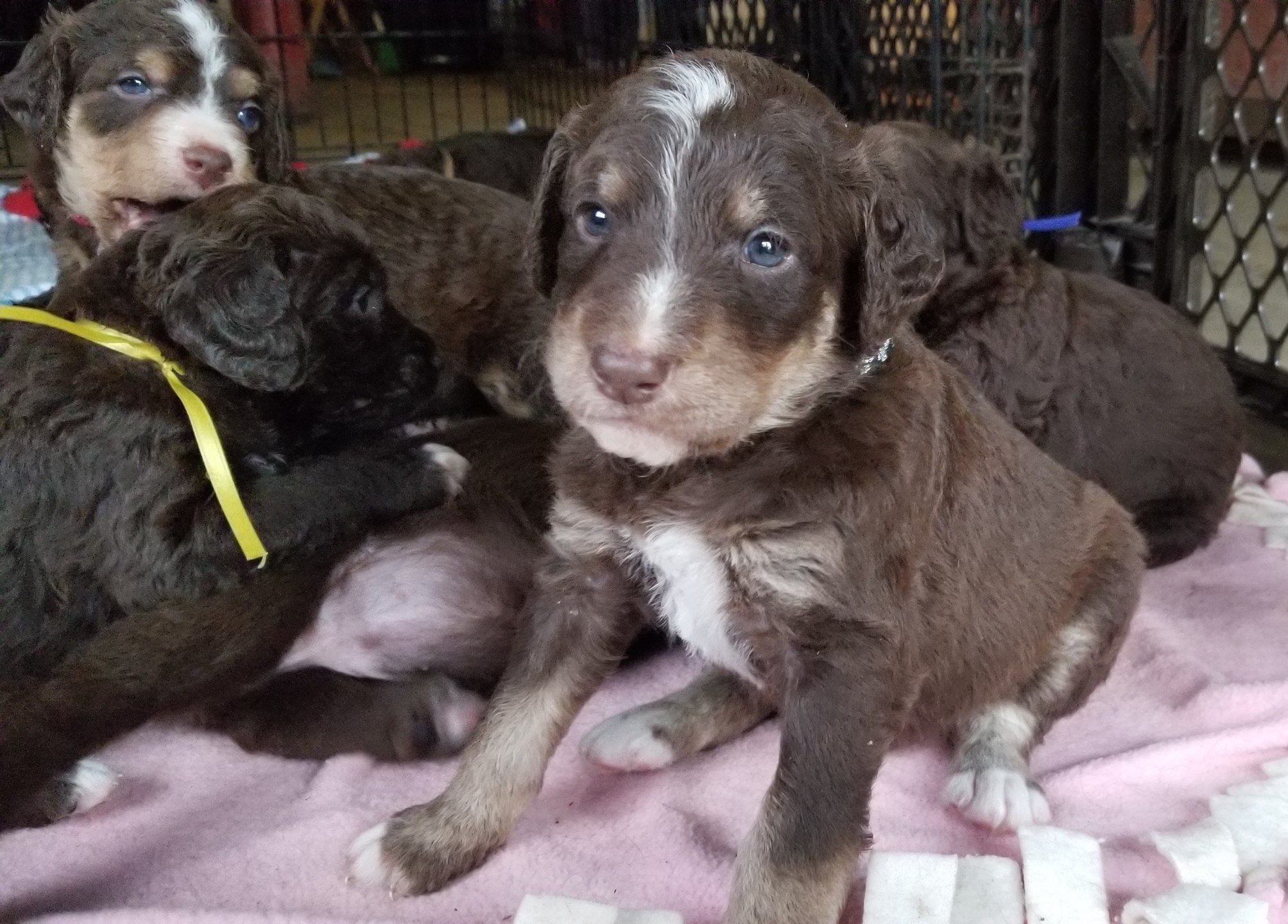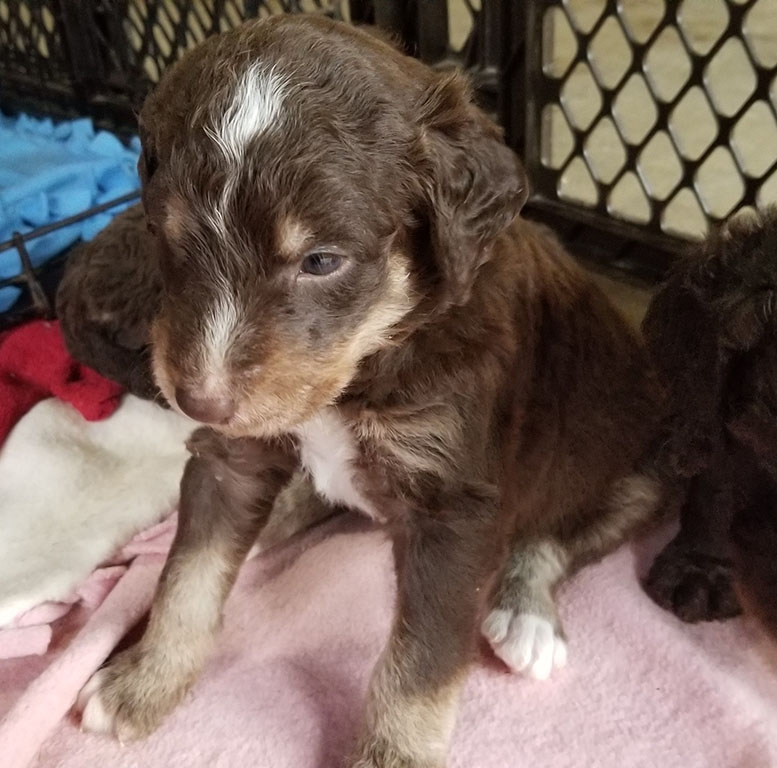 9.14.21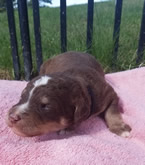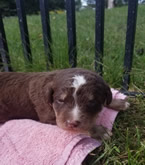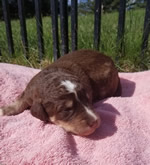 9.1.21
---
female (pink collar) She is chocloate with little white tips on her back feet. She will have a low shedding coat. Easeier to maintain! She is very sweet! One of the calmer pups, and has such an innocent look in her sweet eyes. All around good girl!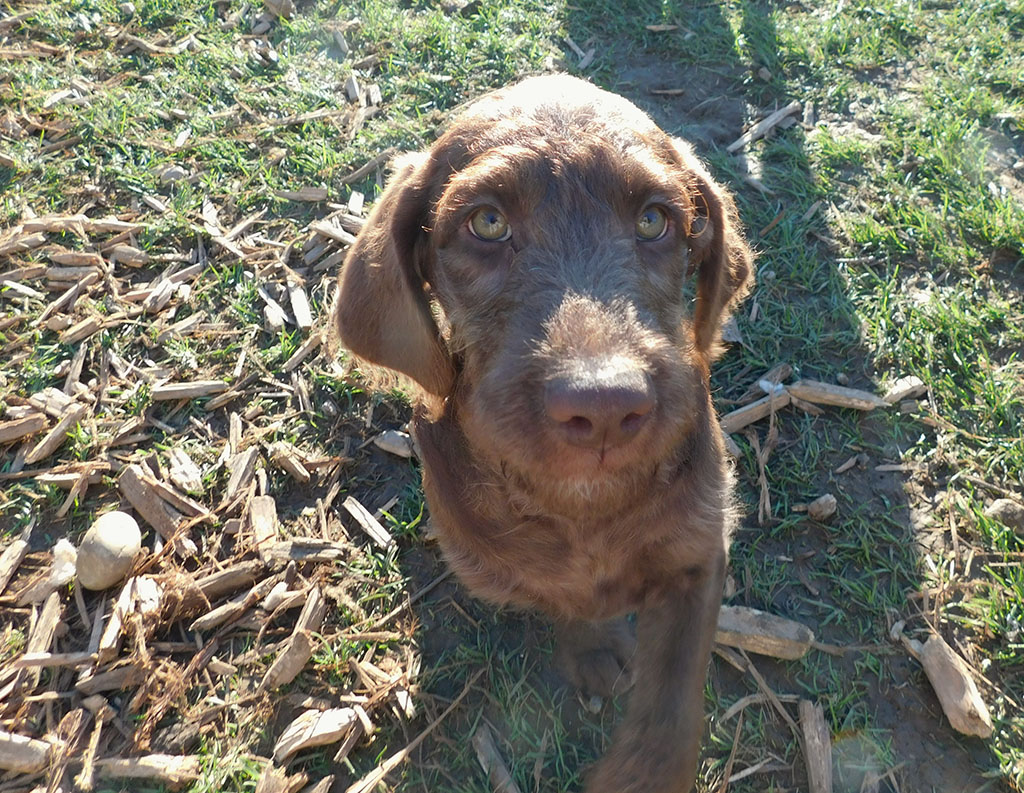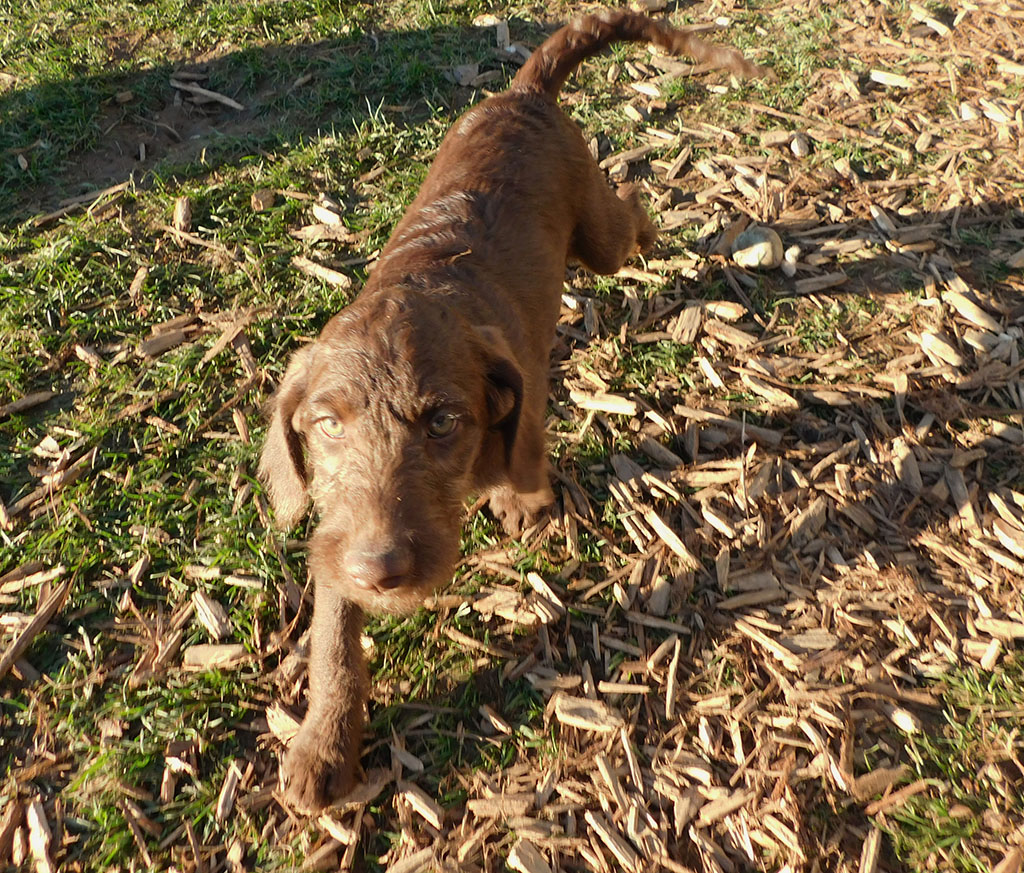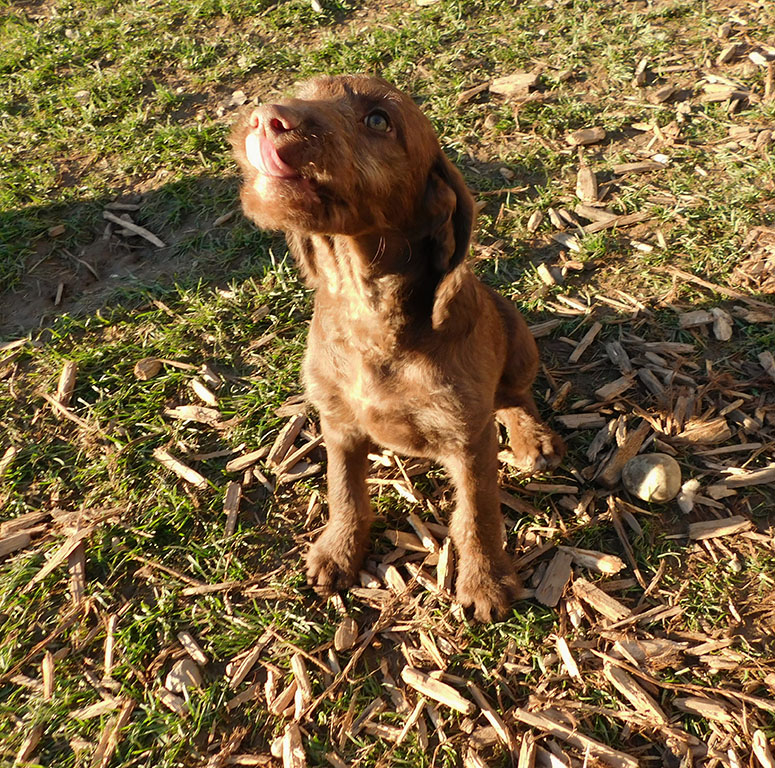 11.2.21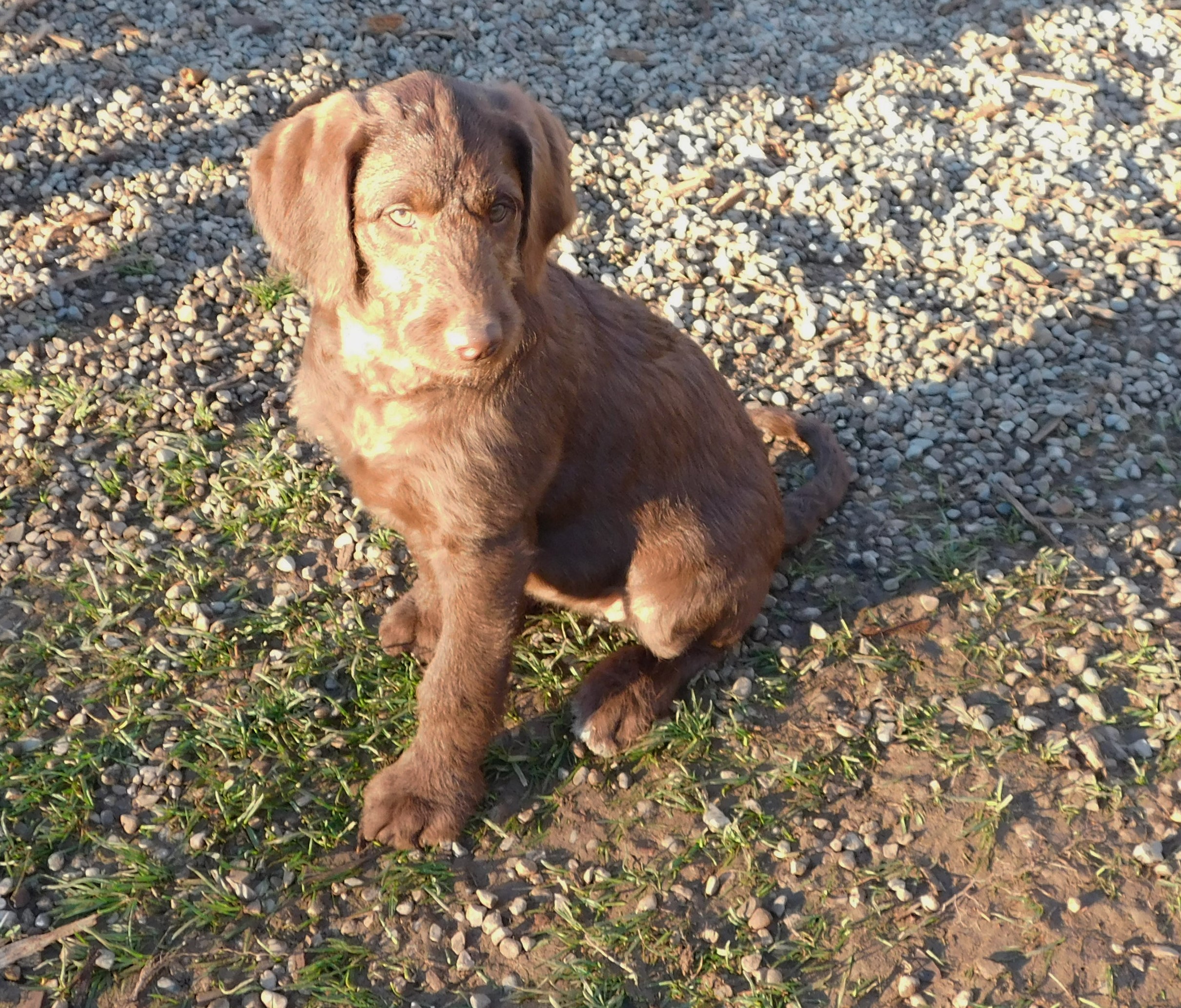 11.1.21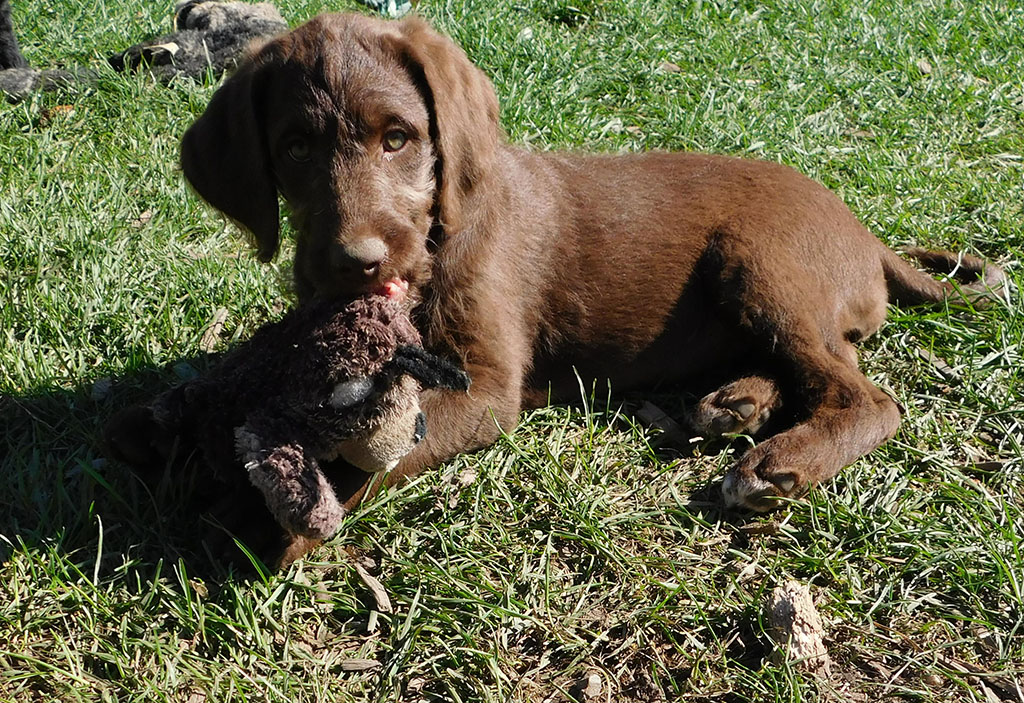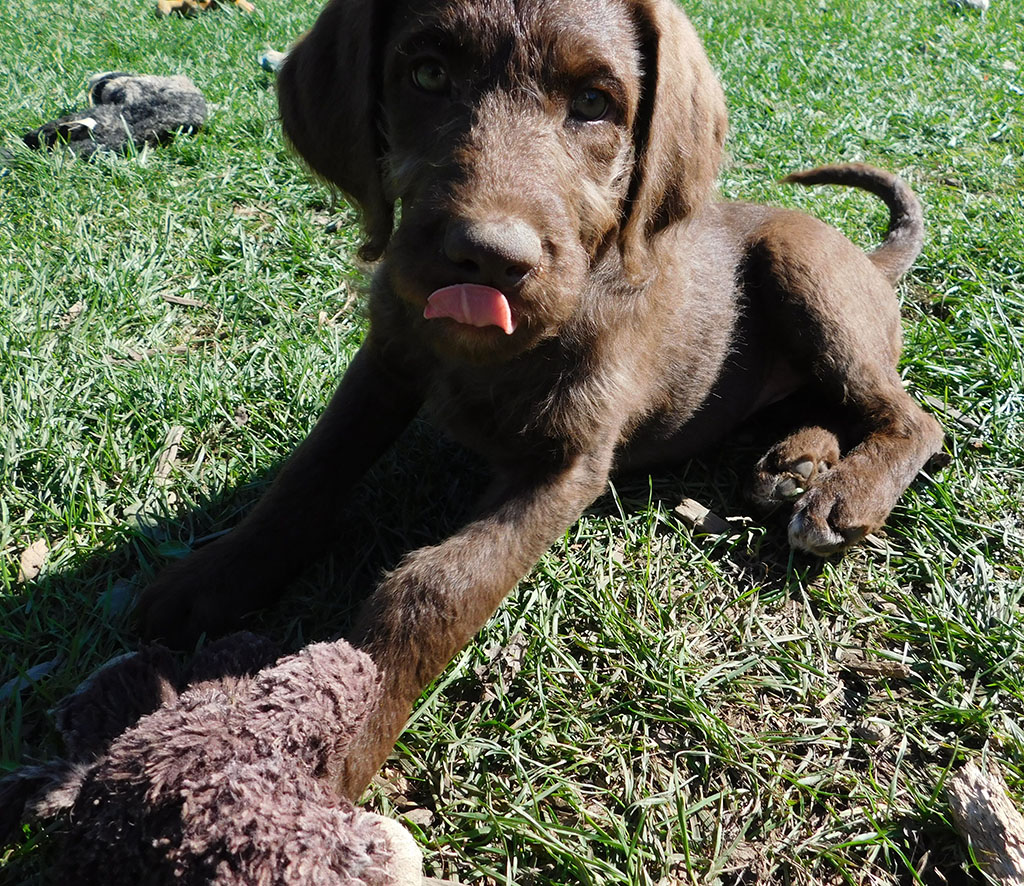 10.19.21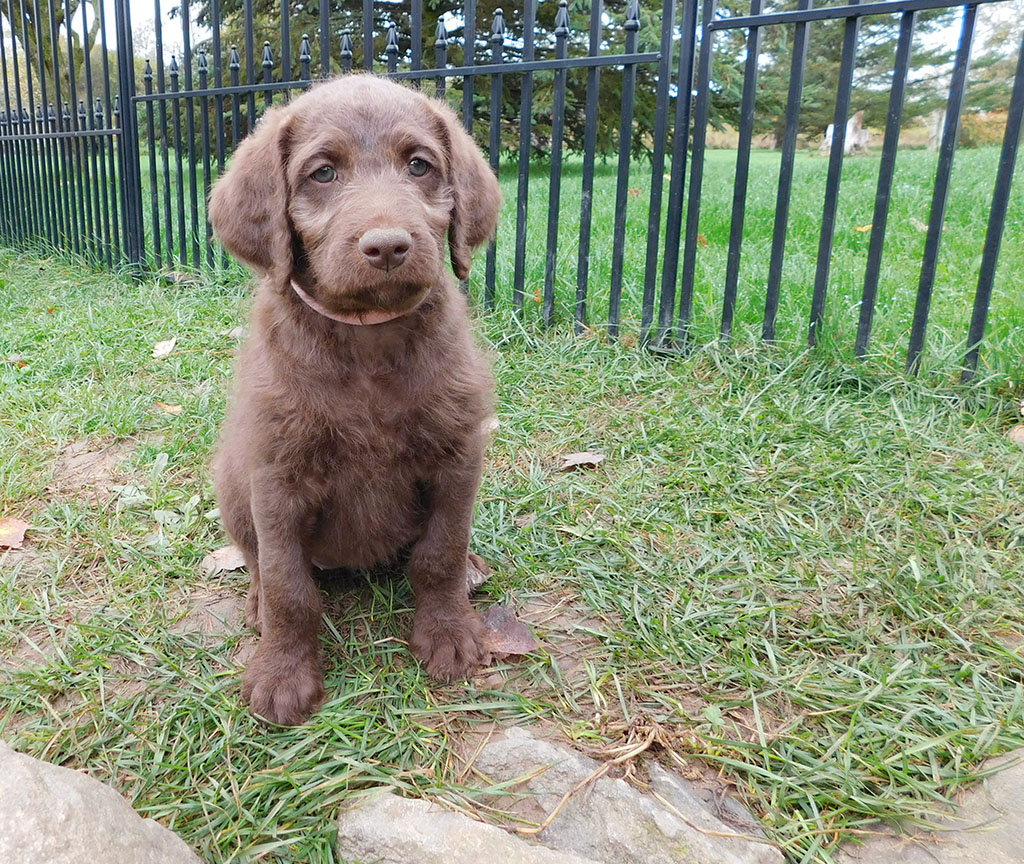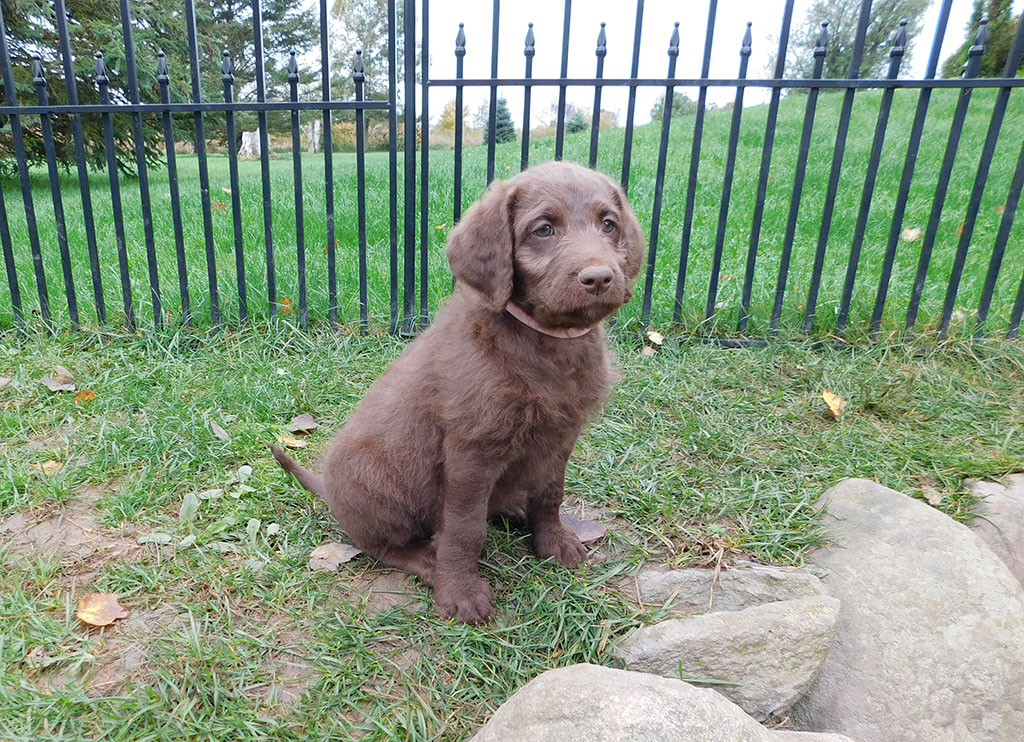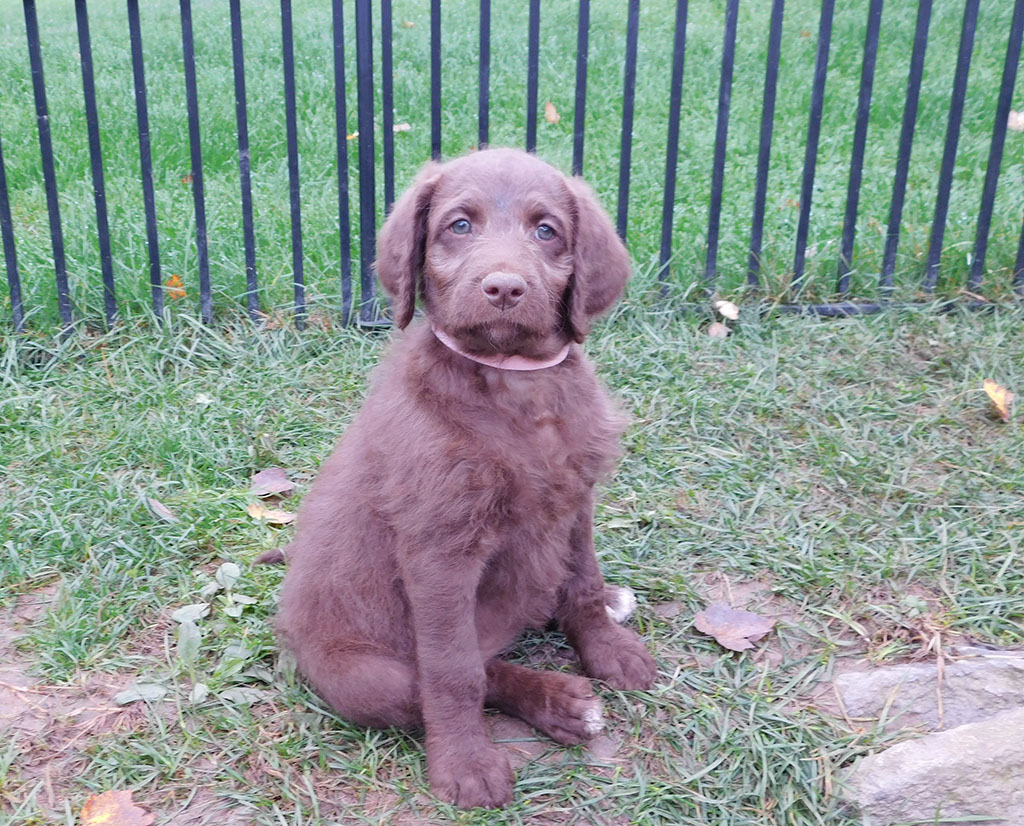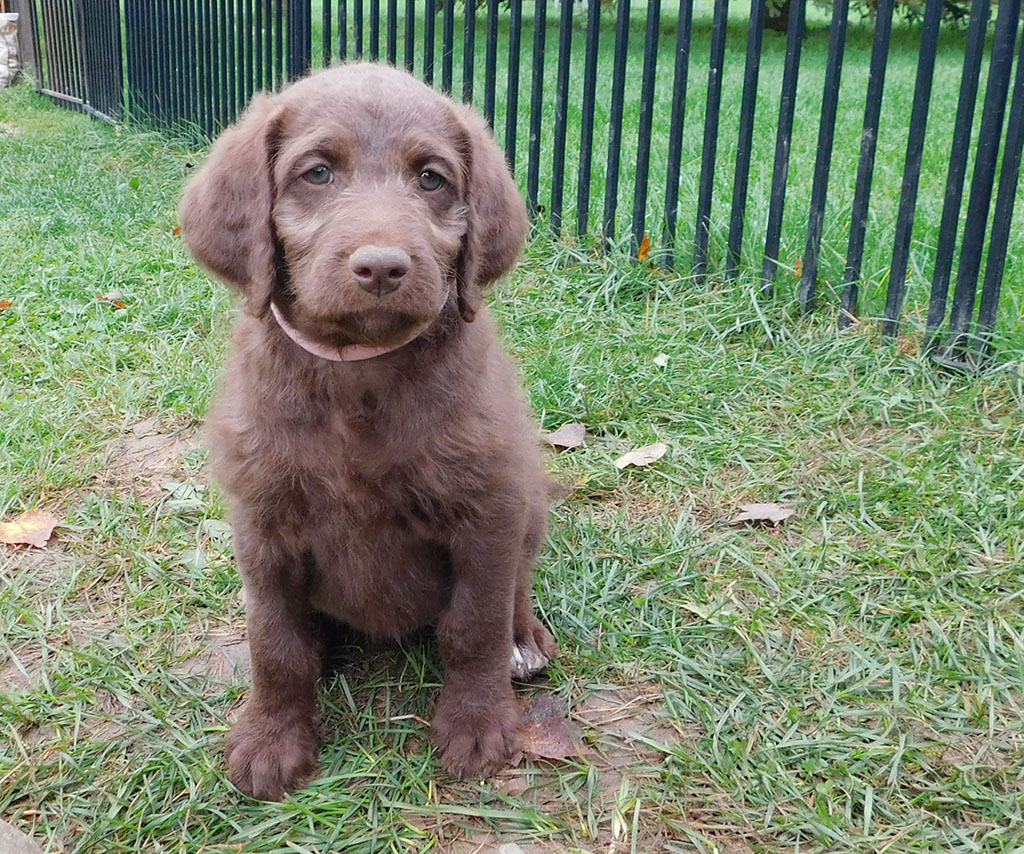 10.5.21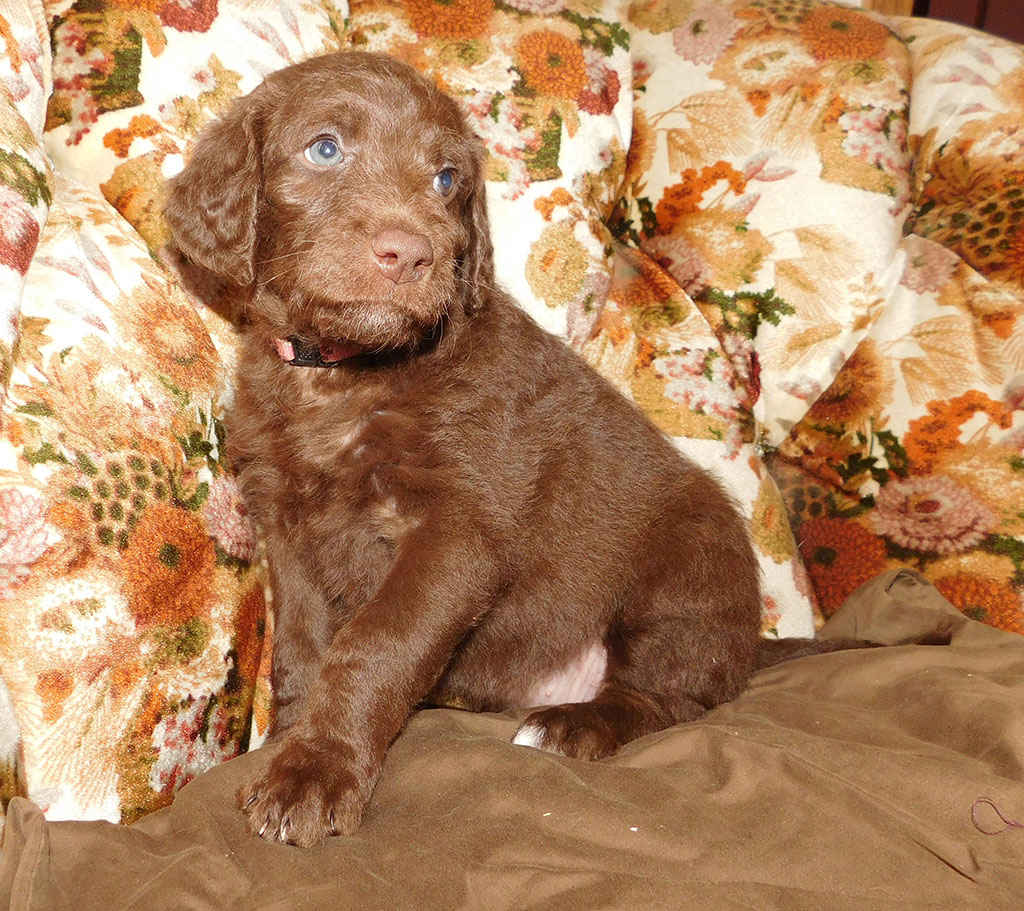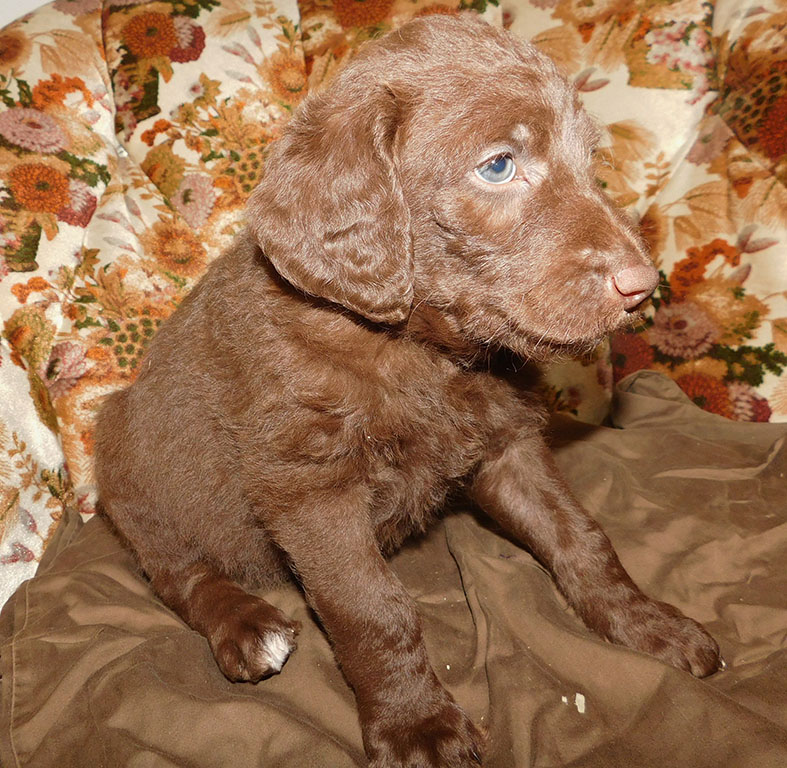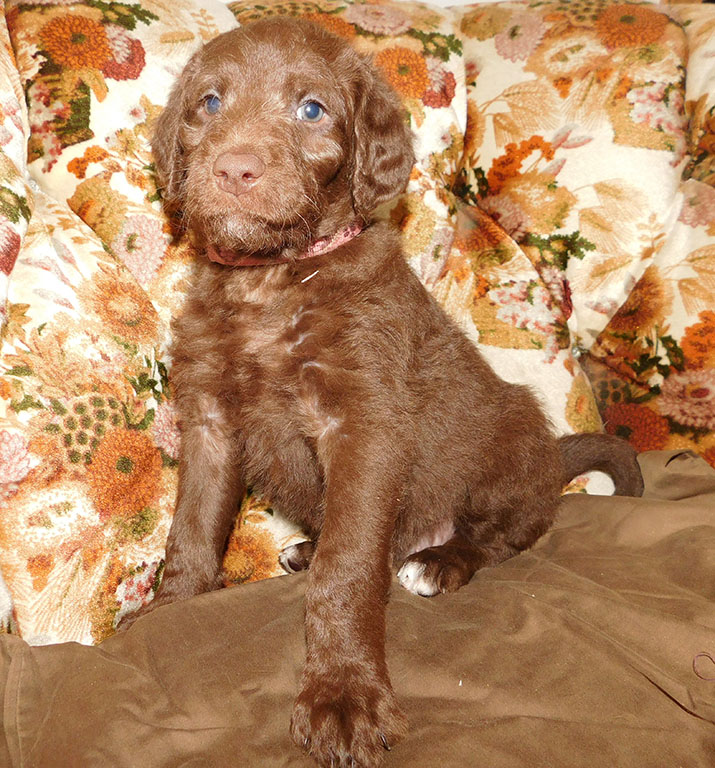 9.23.21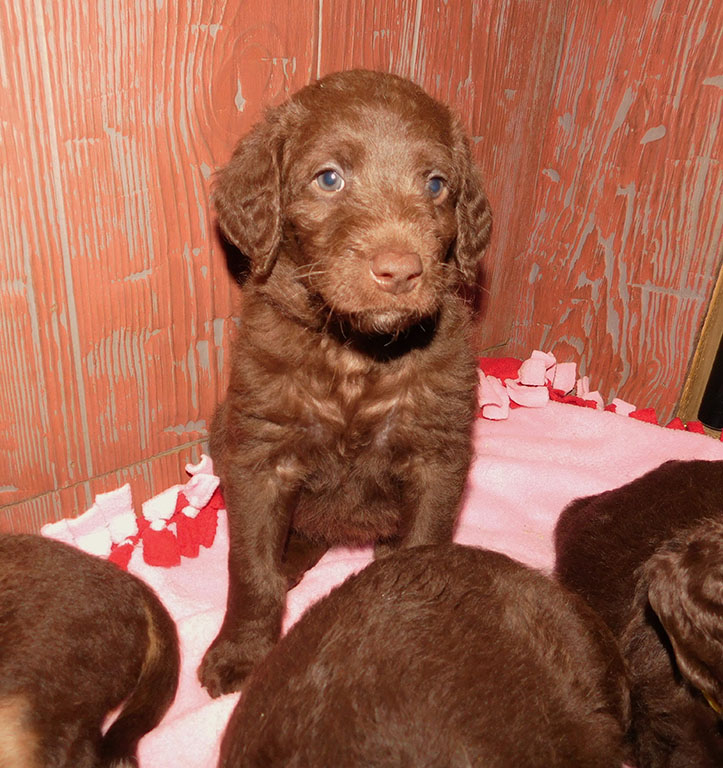 9.22.21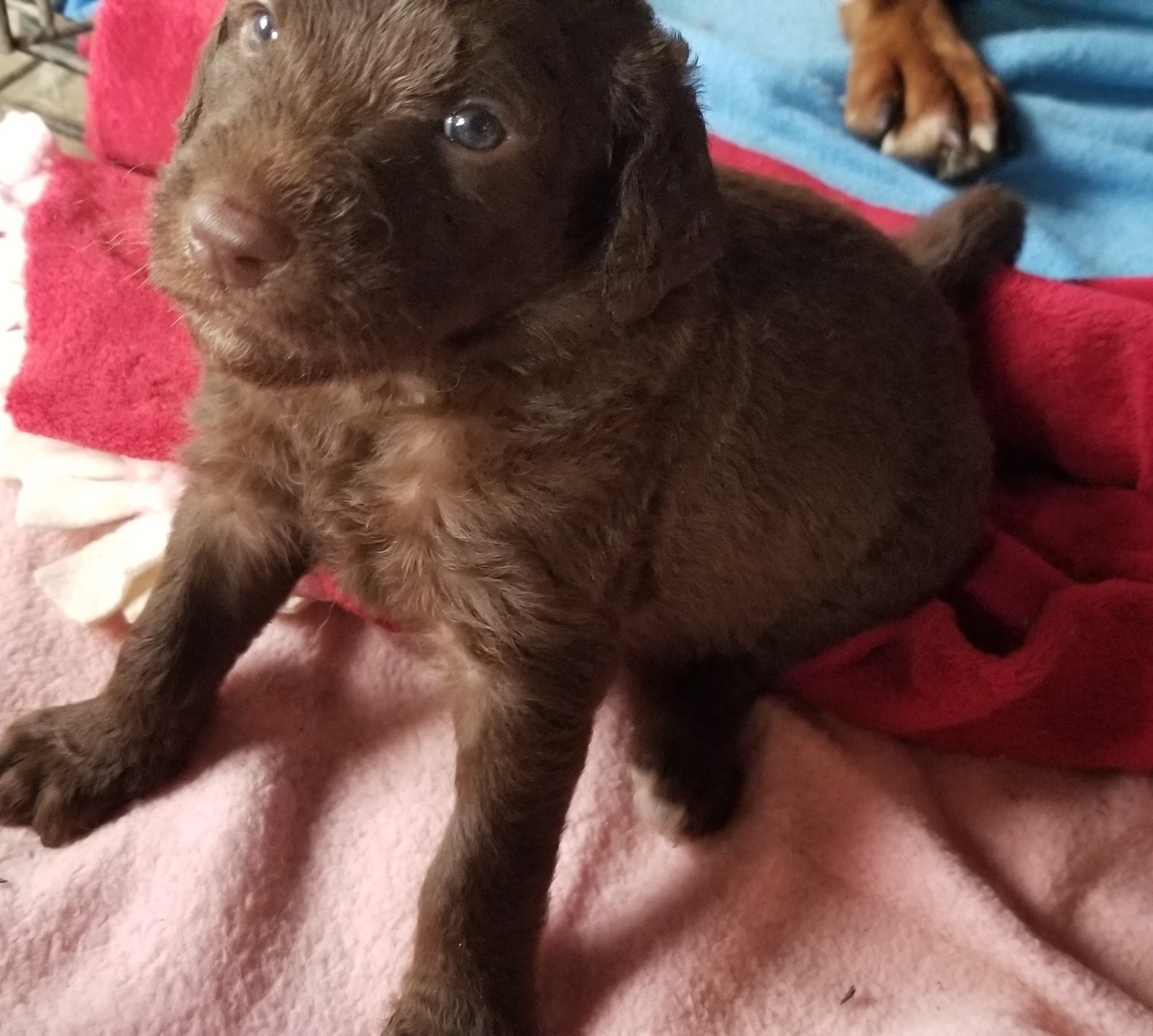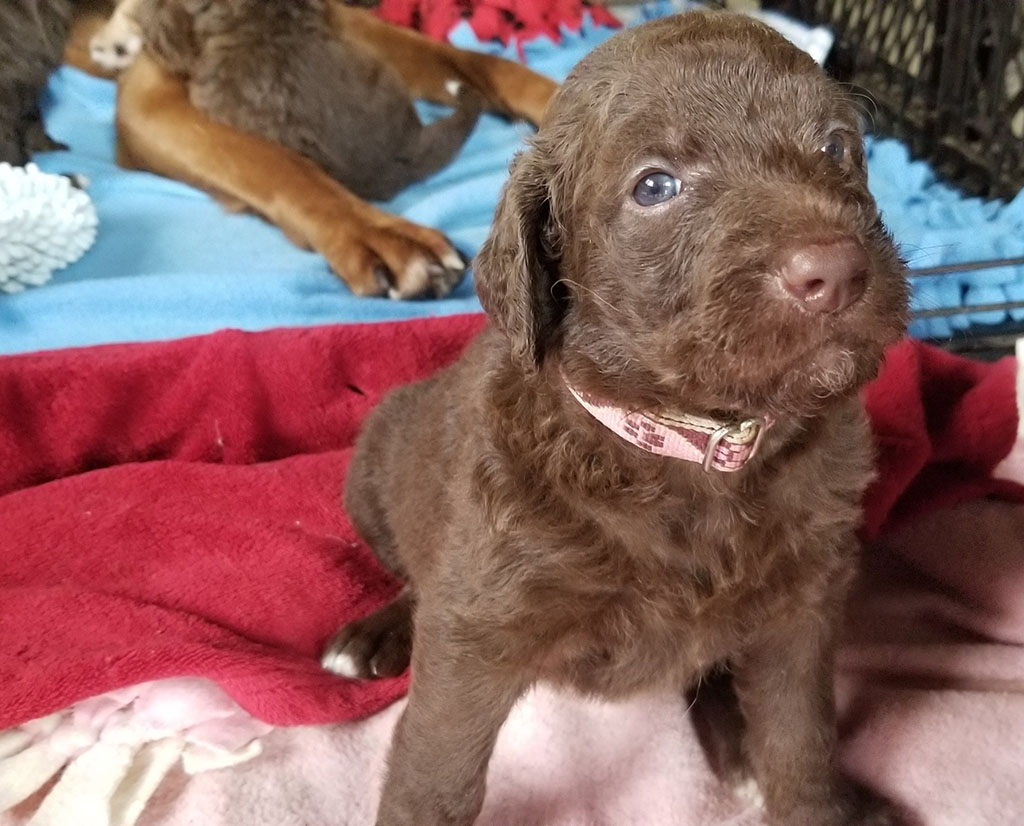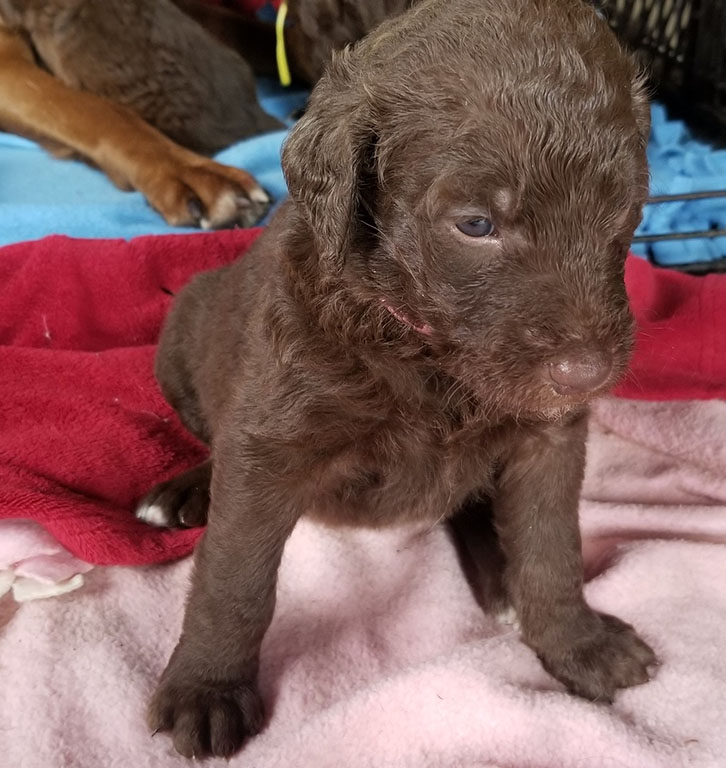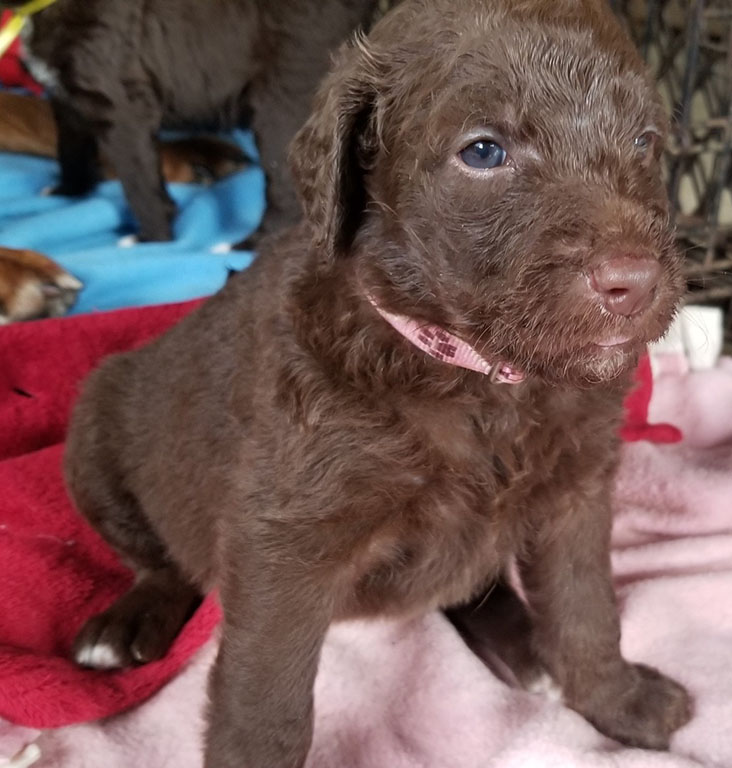 9.13.21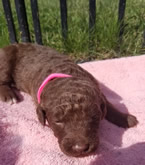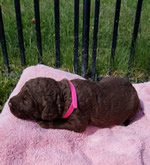 9.1.21
---
male (light blue collar) Chocolate coat with small white tips on his back feet. His coat is fluffy, with a lot of loose curl or wave, I think he will be non shedding, but thinner undercoat. He is a very good boy. Laid back, goes with the flow. He is one of the calmer pups.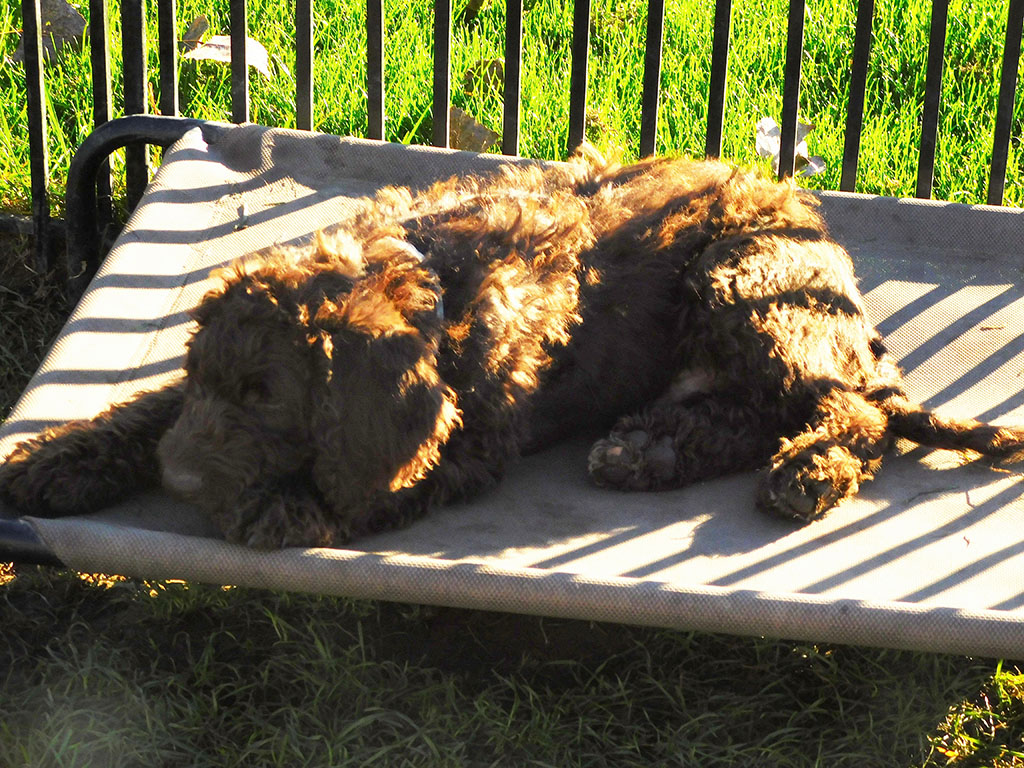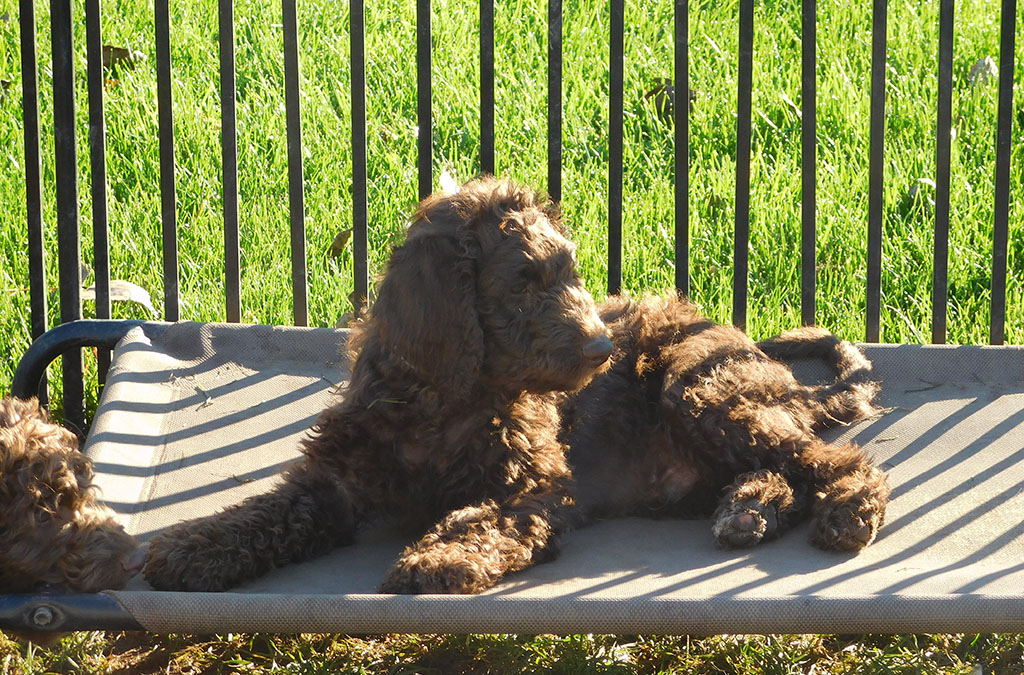 11.2.21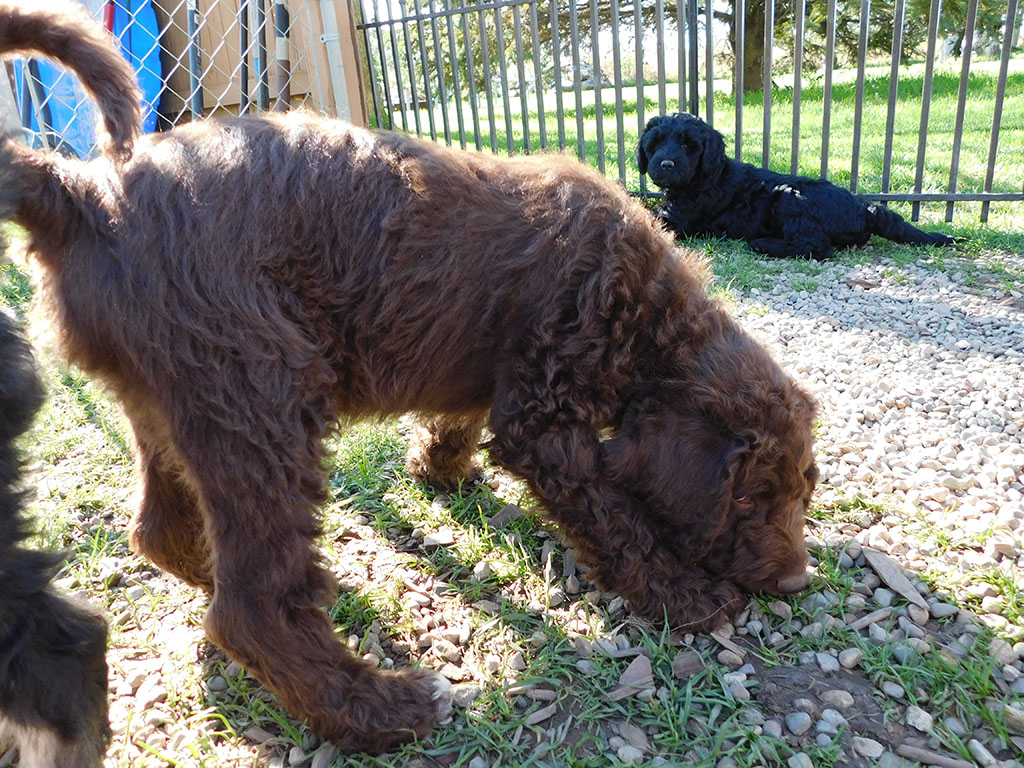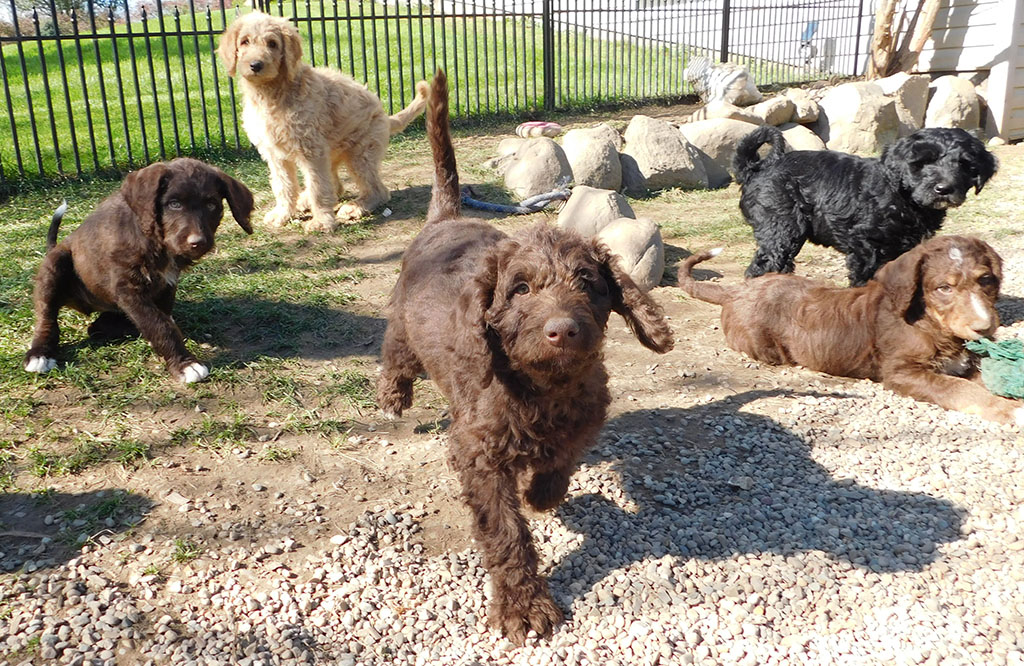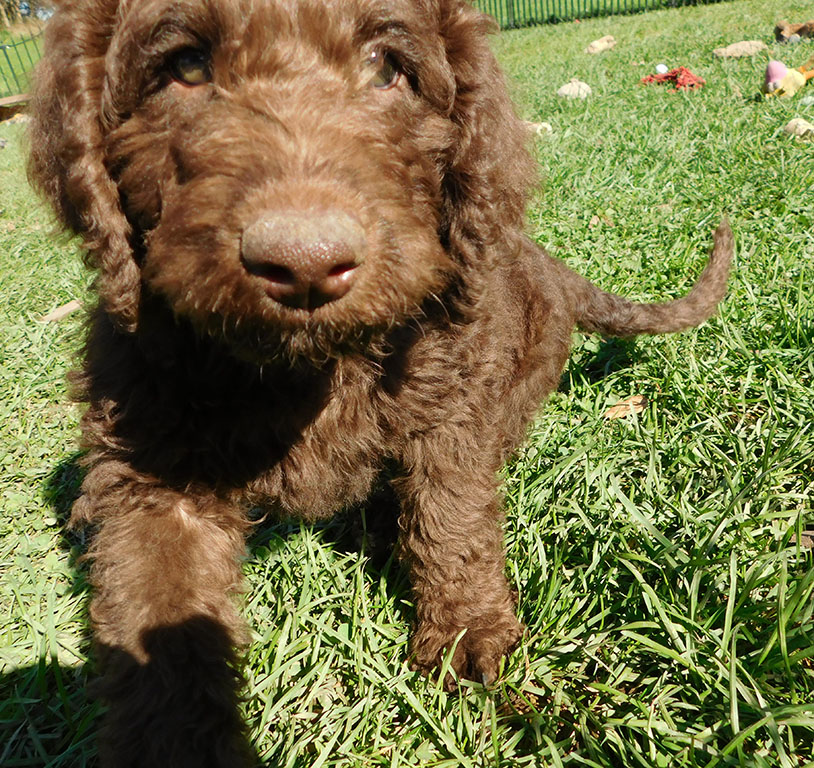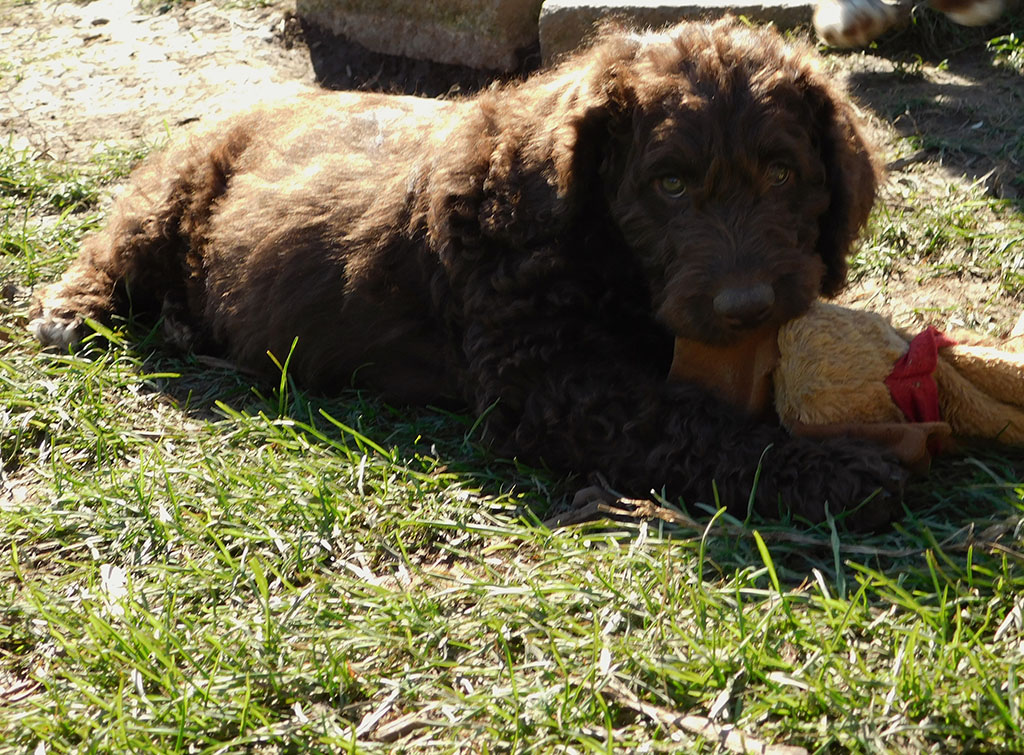 10.19.21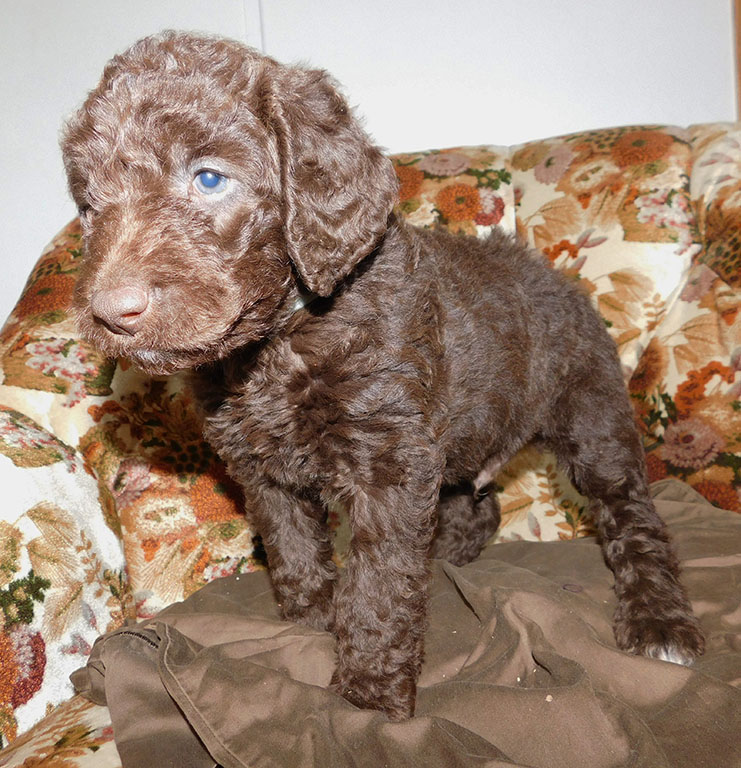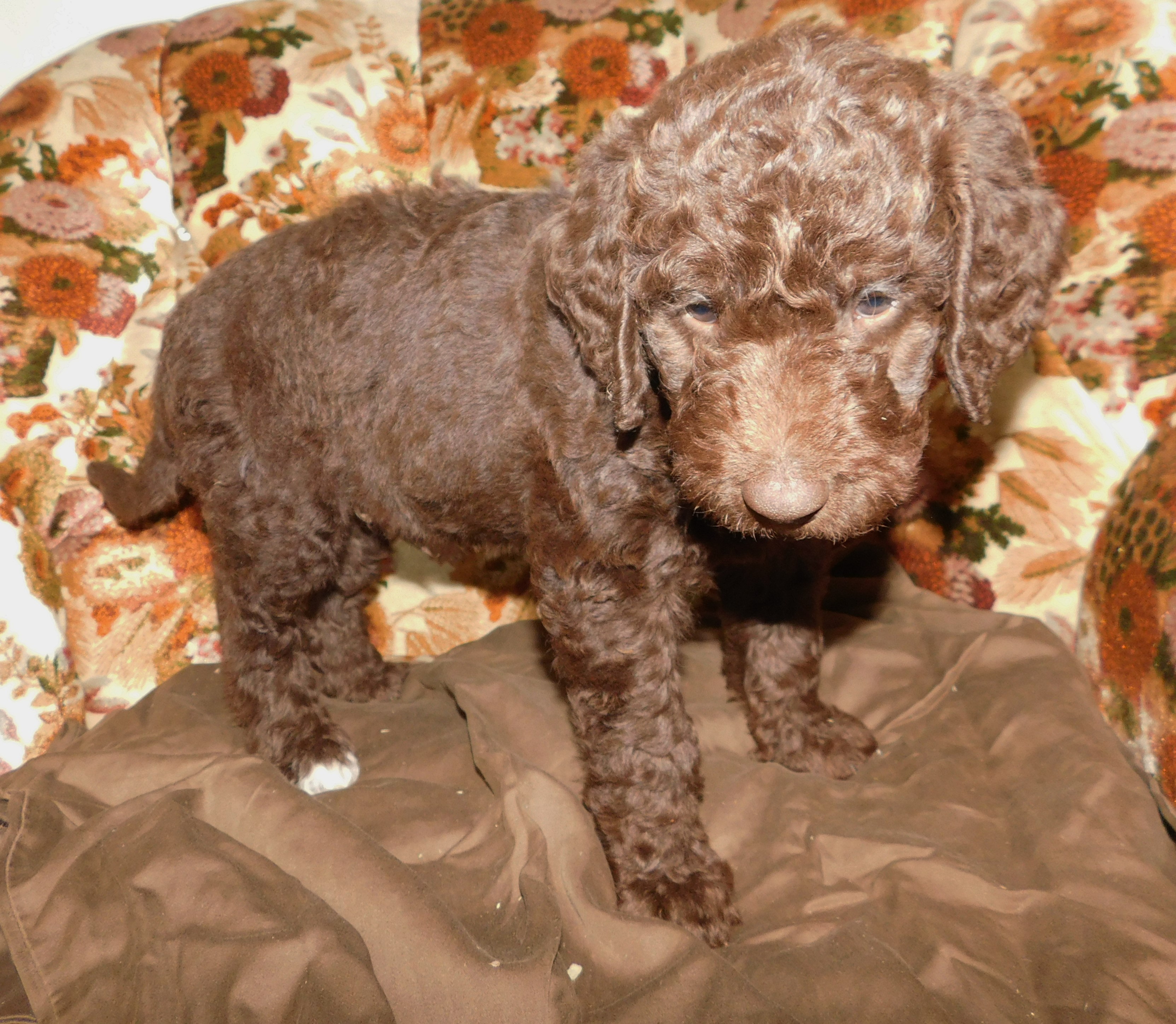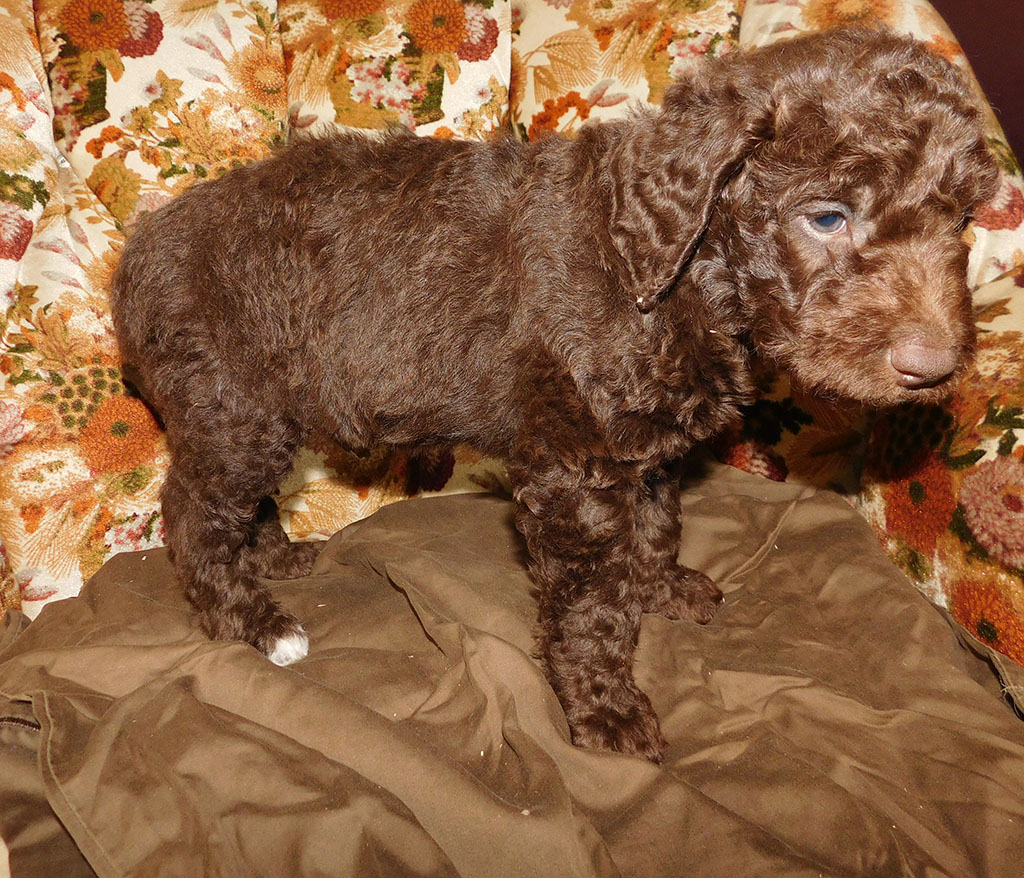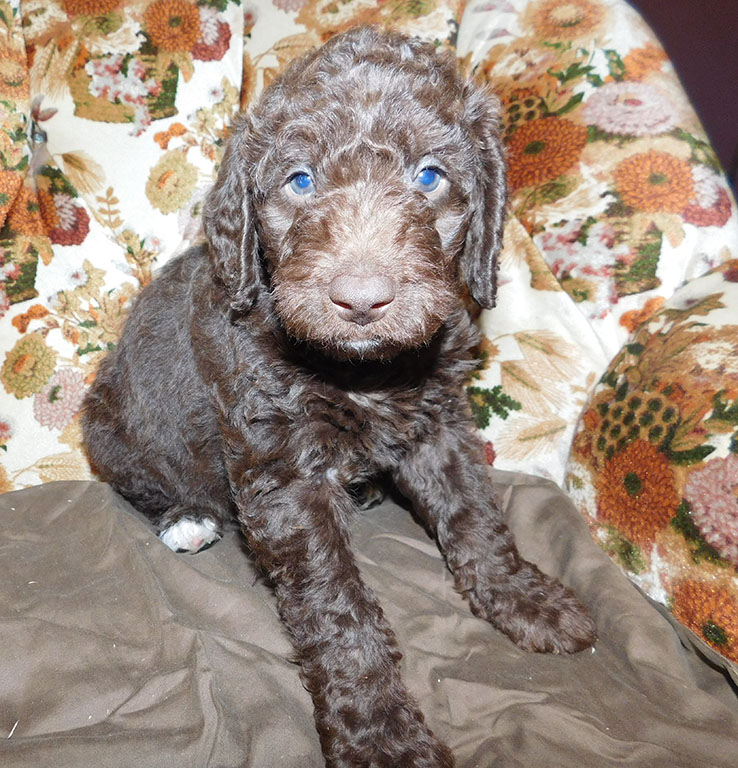 9.23.21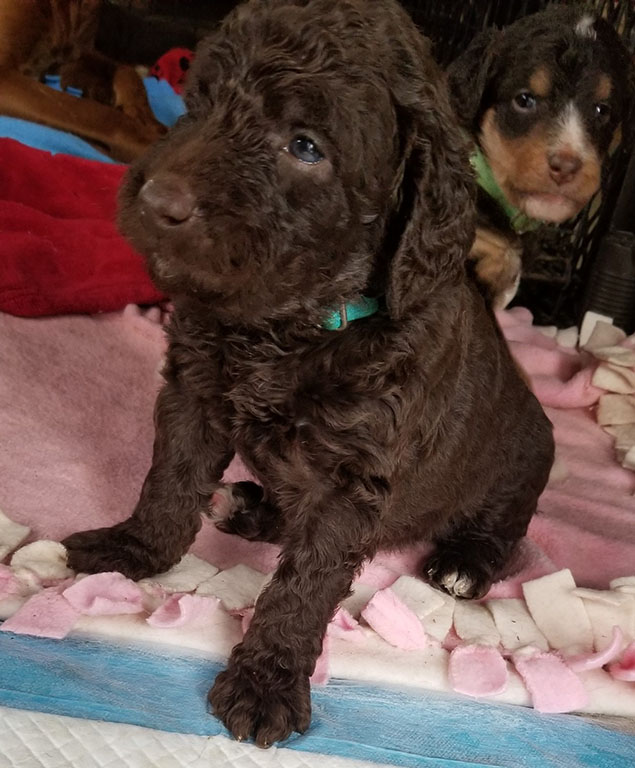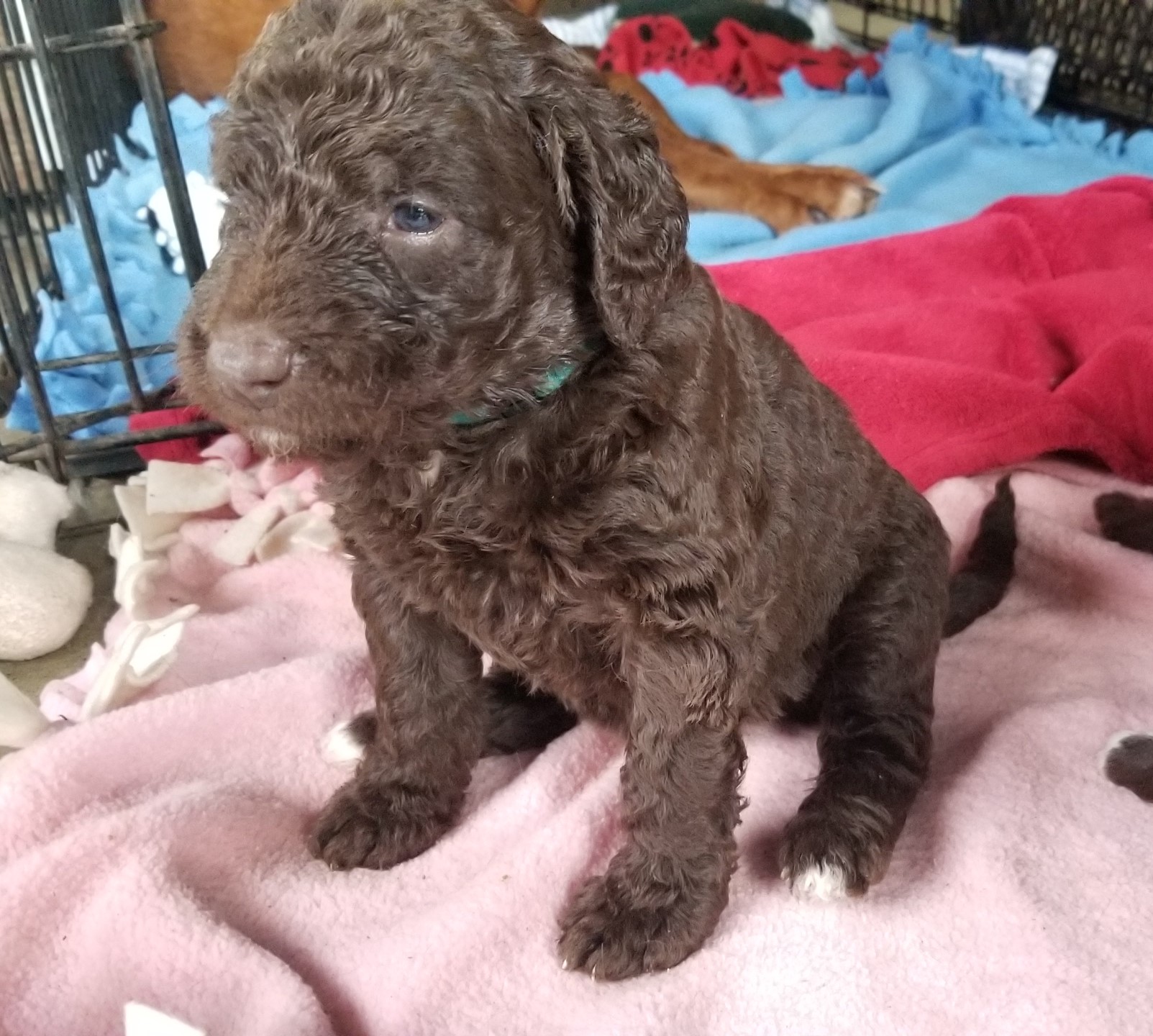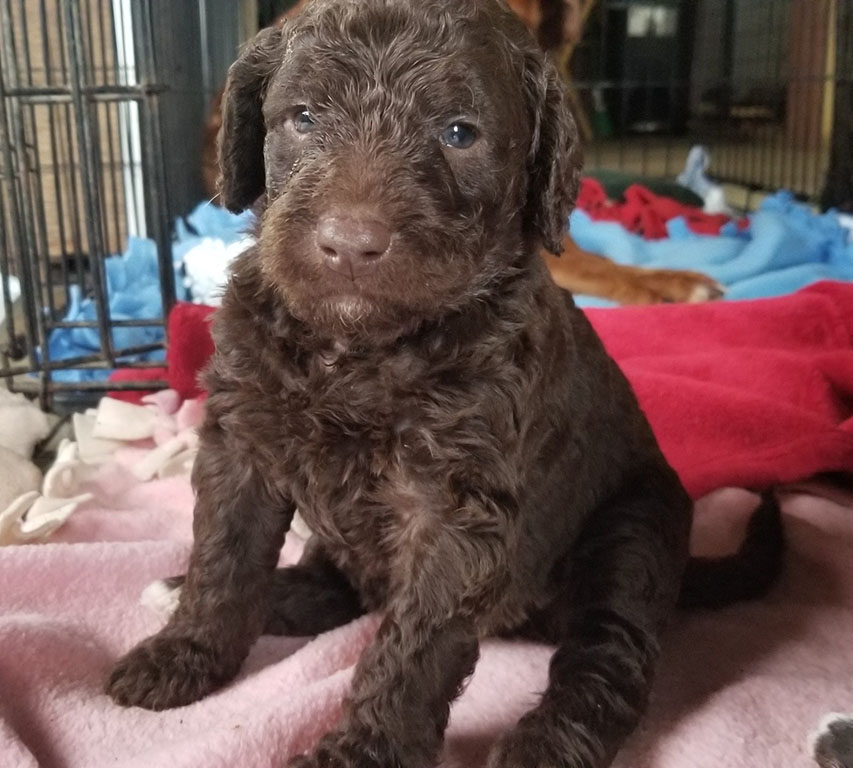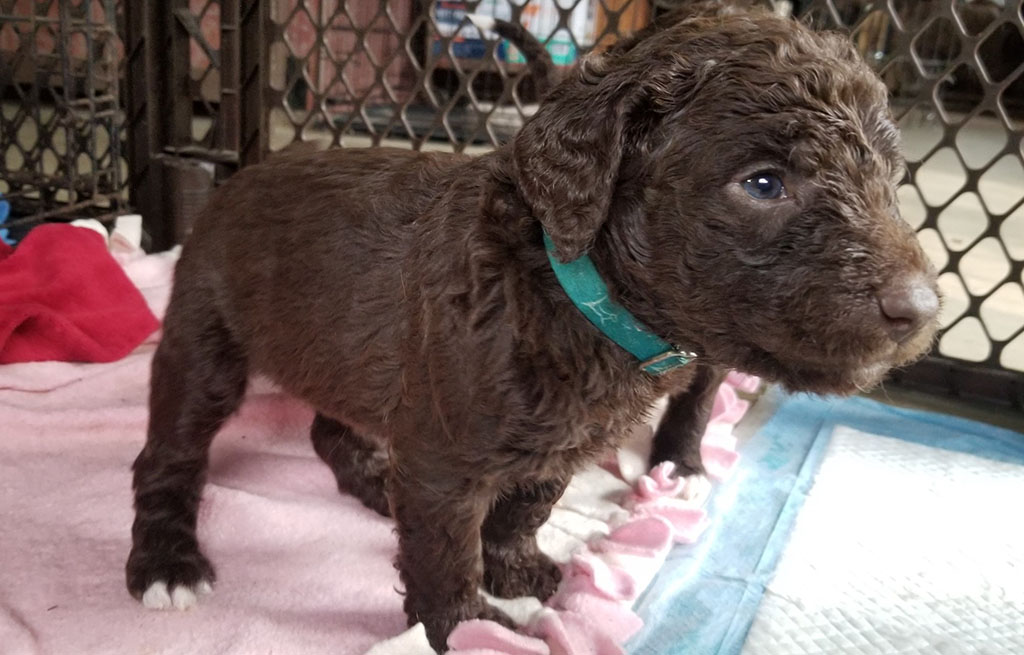 9.13.21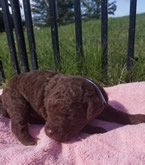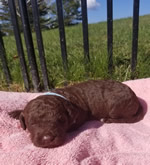 9.1.21
---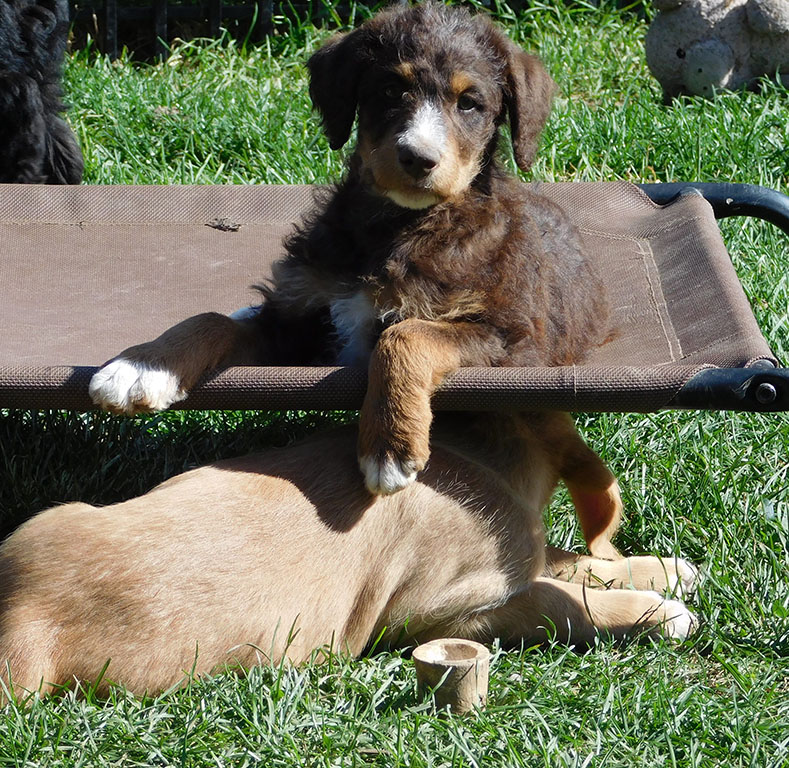 10.19.21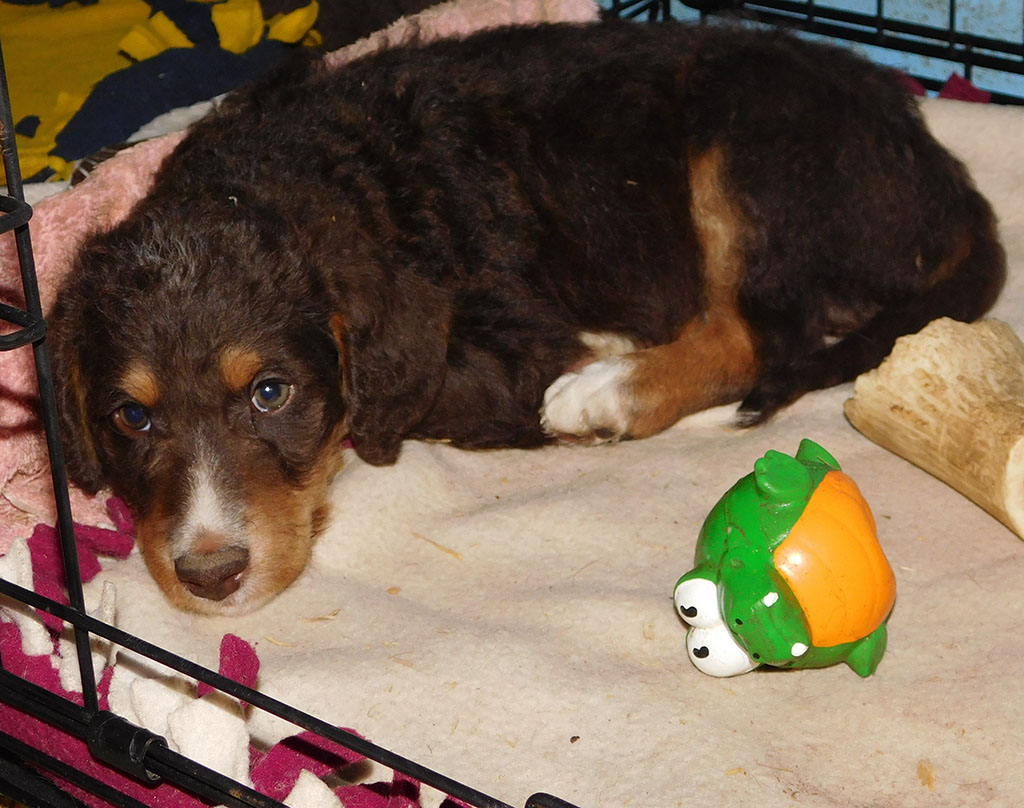 10.5.21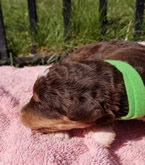 9.1.21
---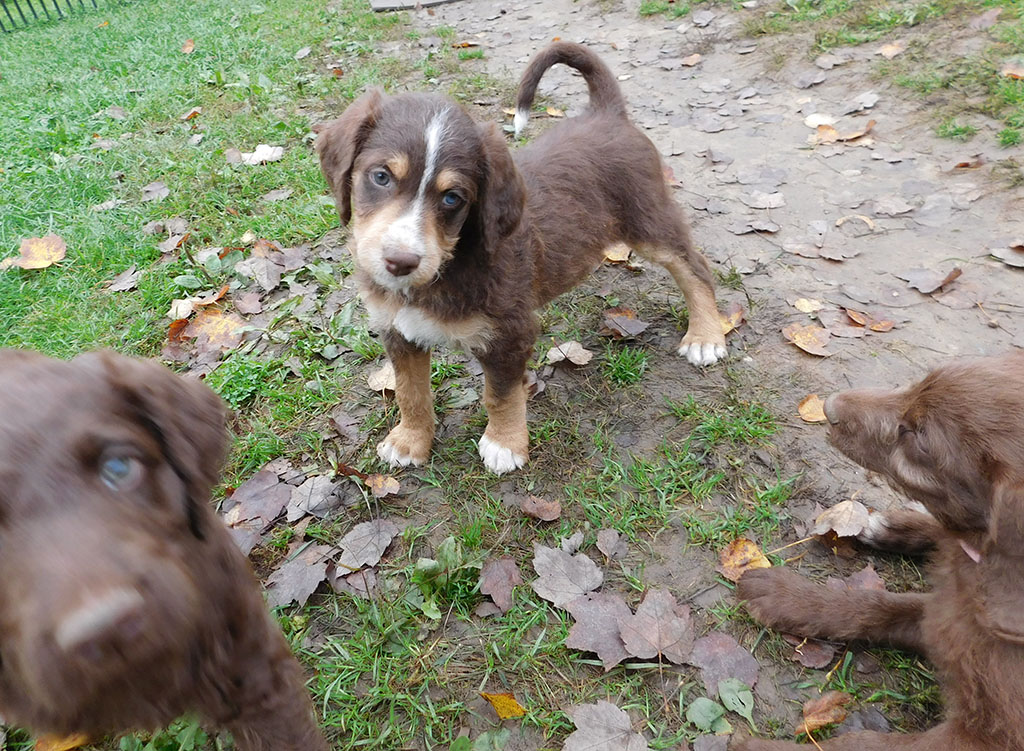 10.5.21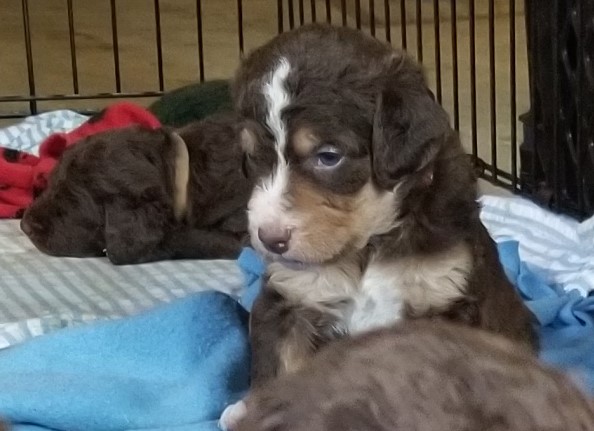 9.13.21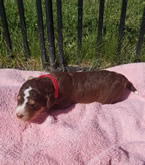 9.1.21
---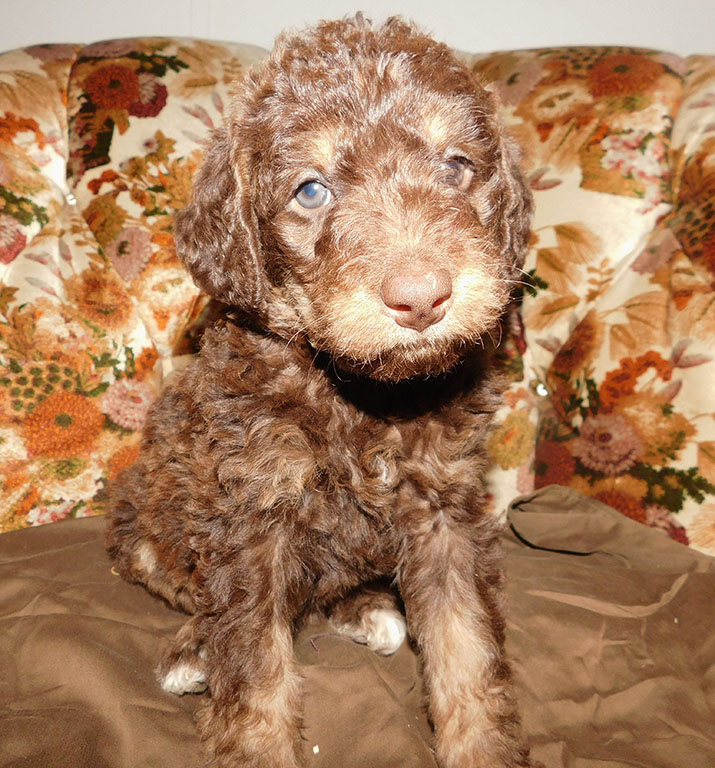 9.23.21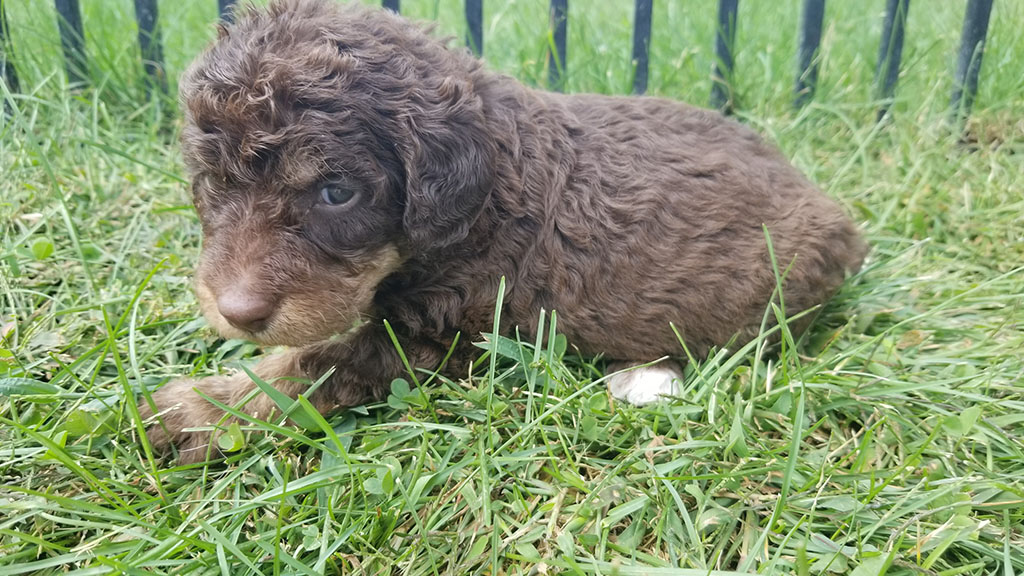 9.14.21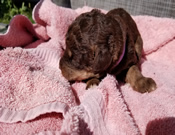 9.1.21
---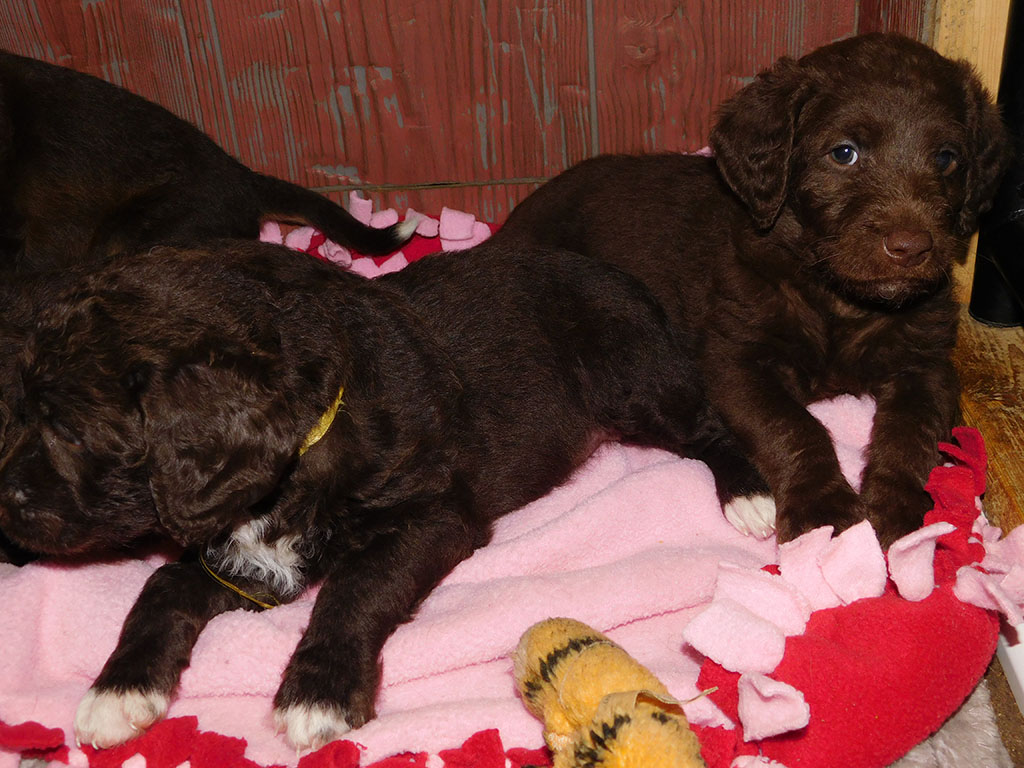 9.22.21 Eliza & Helen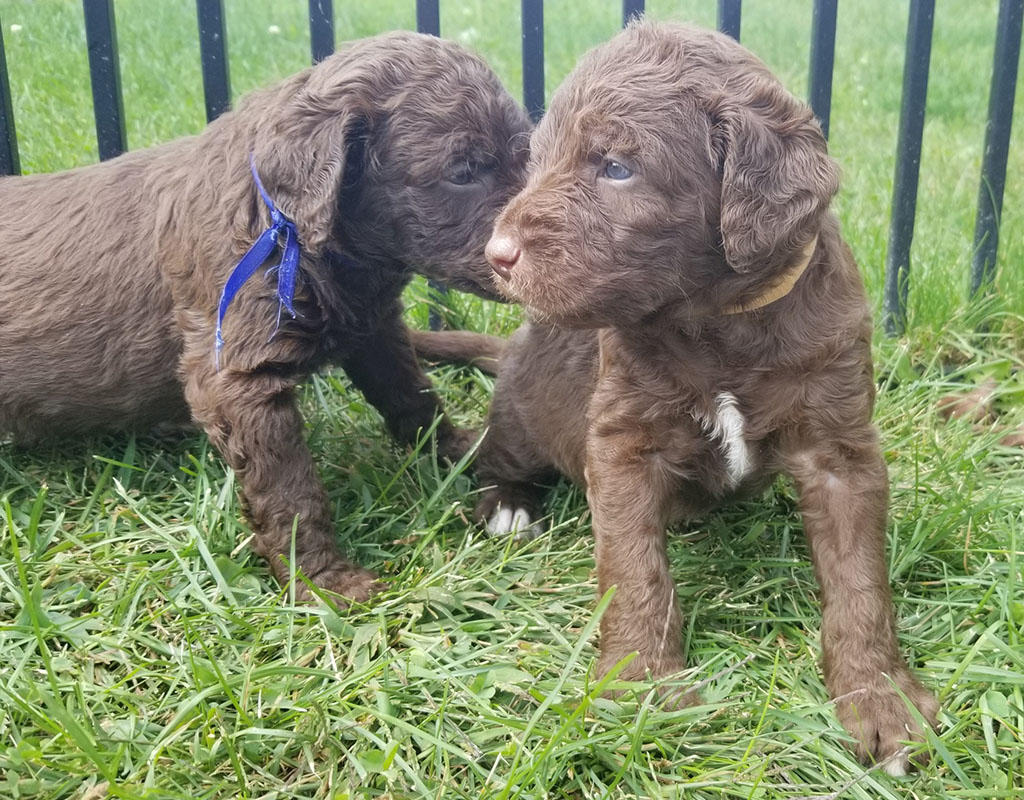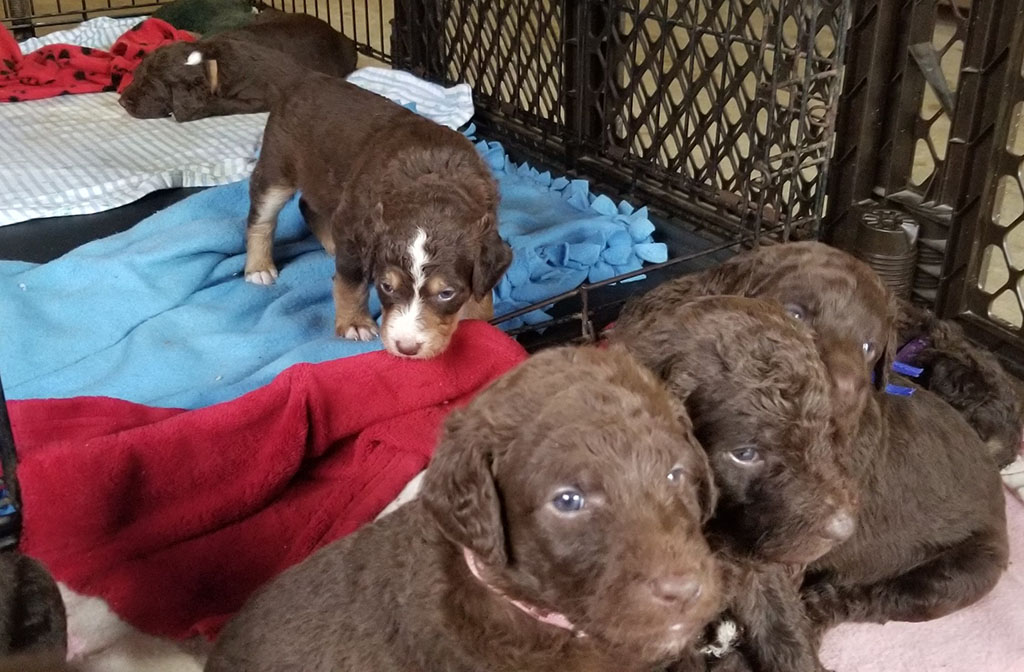 9.14.21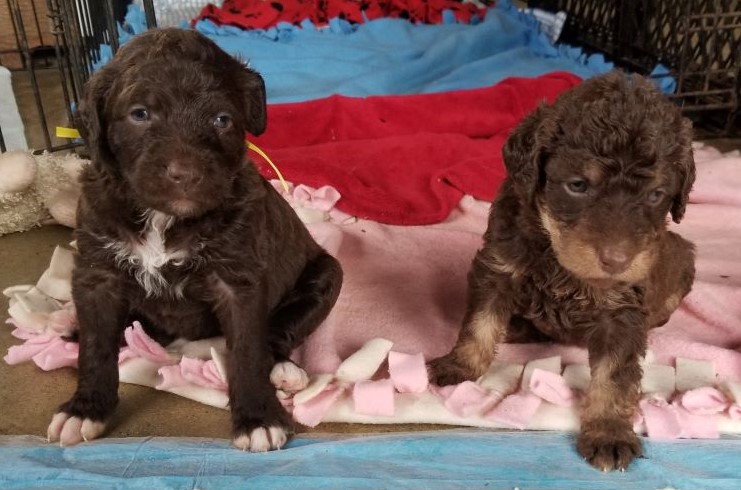 9.13.21 - Eliza & Florence
Group photo's of first playtime outside taken 9.10.21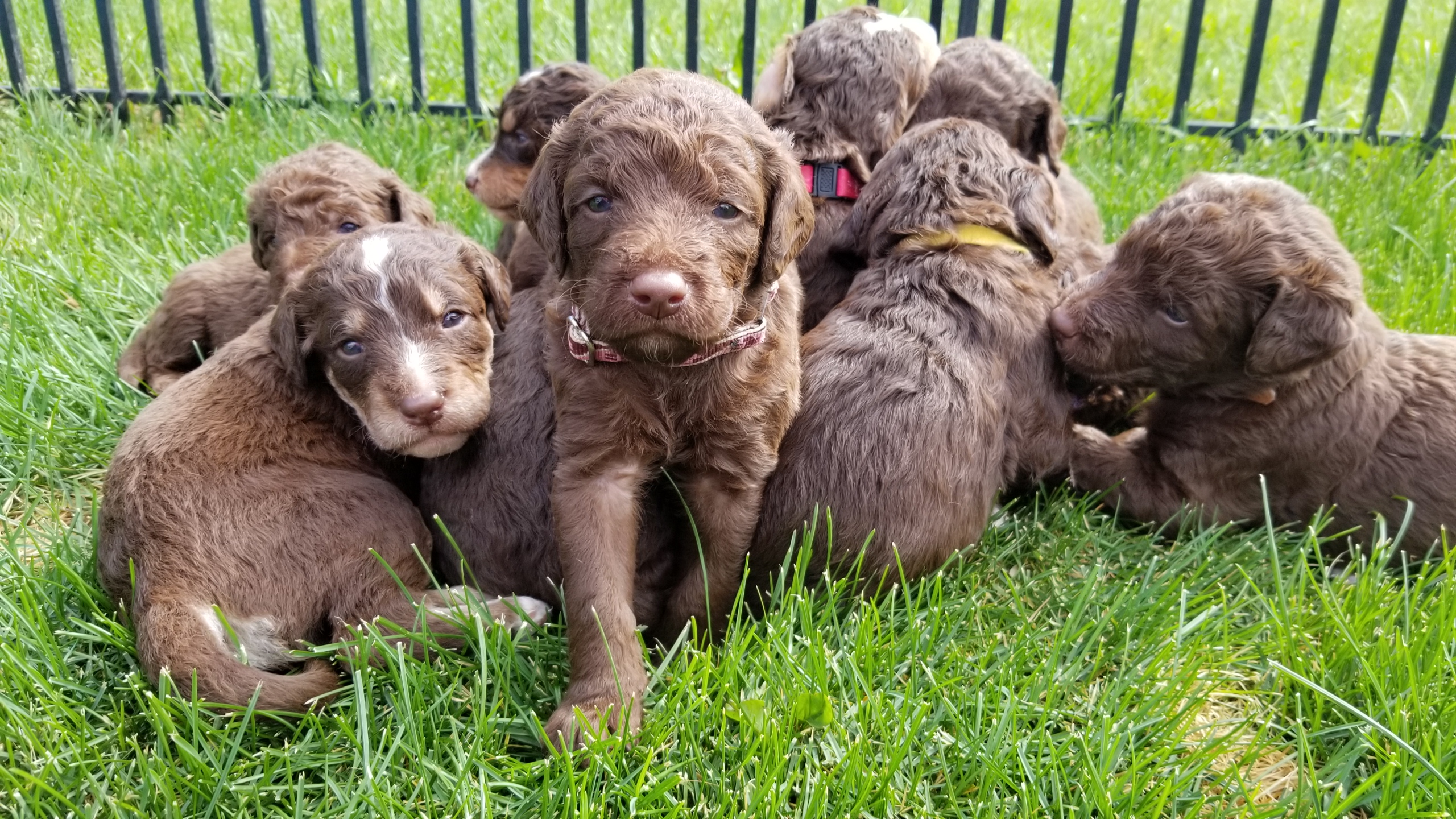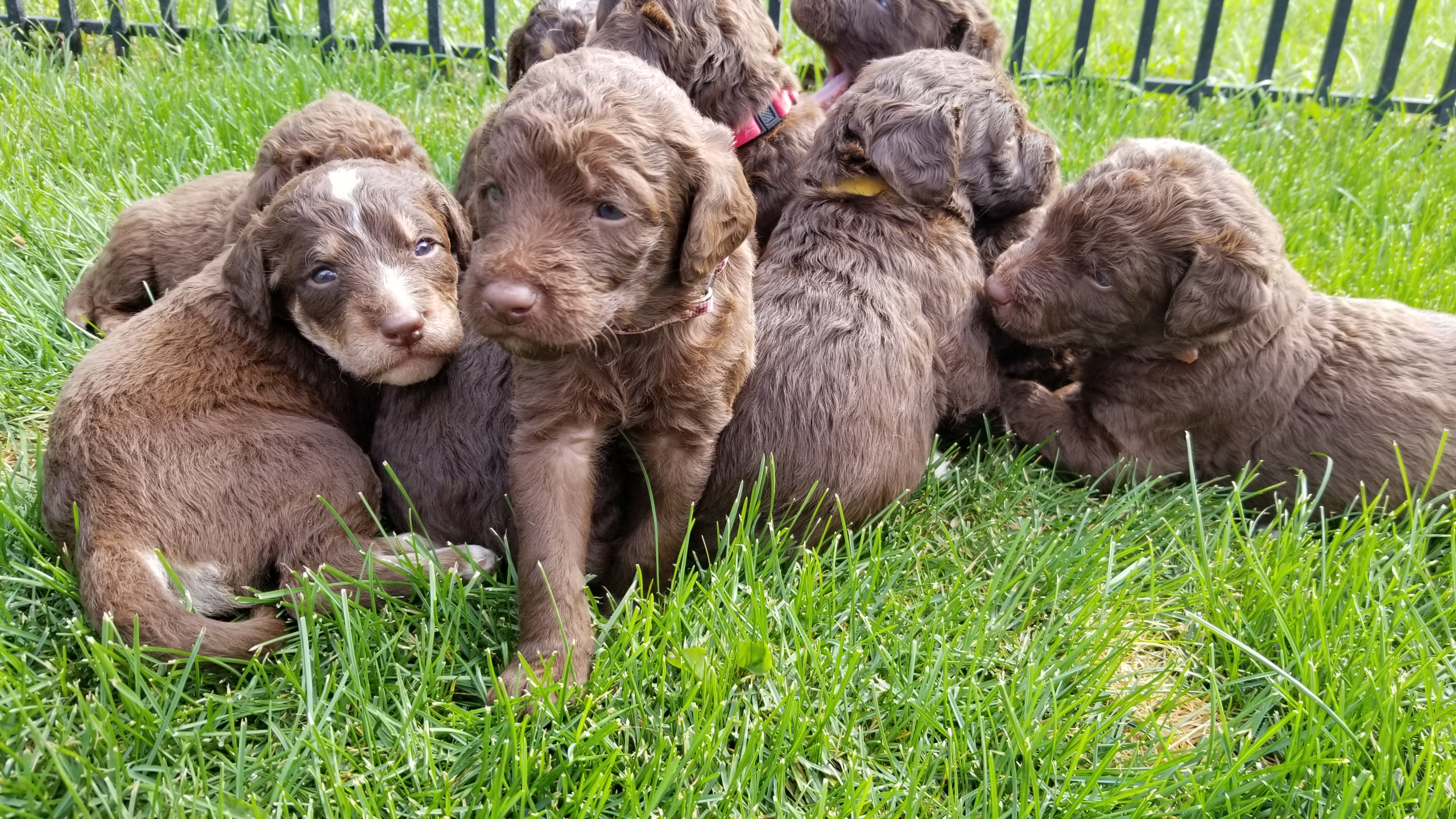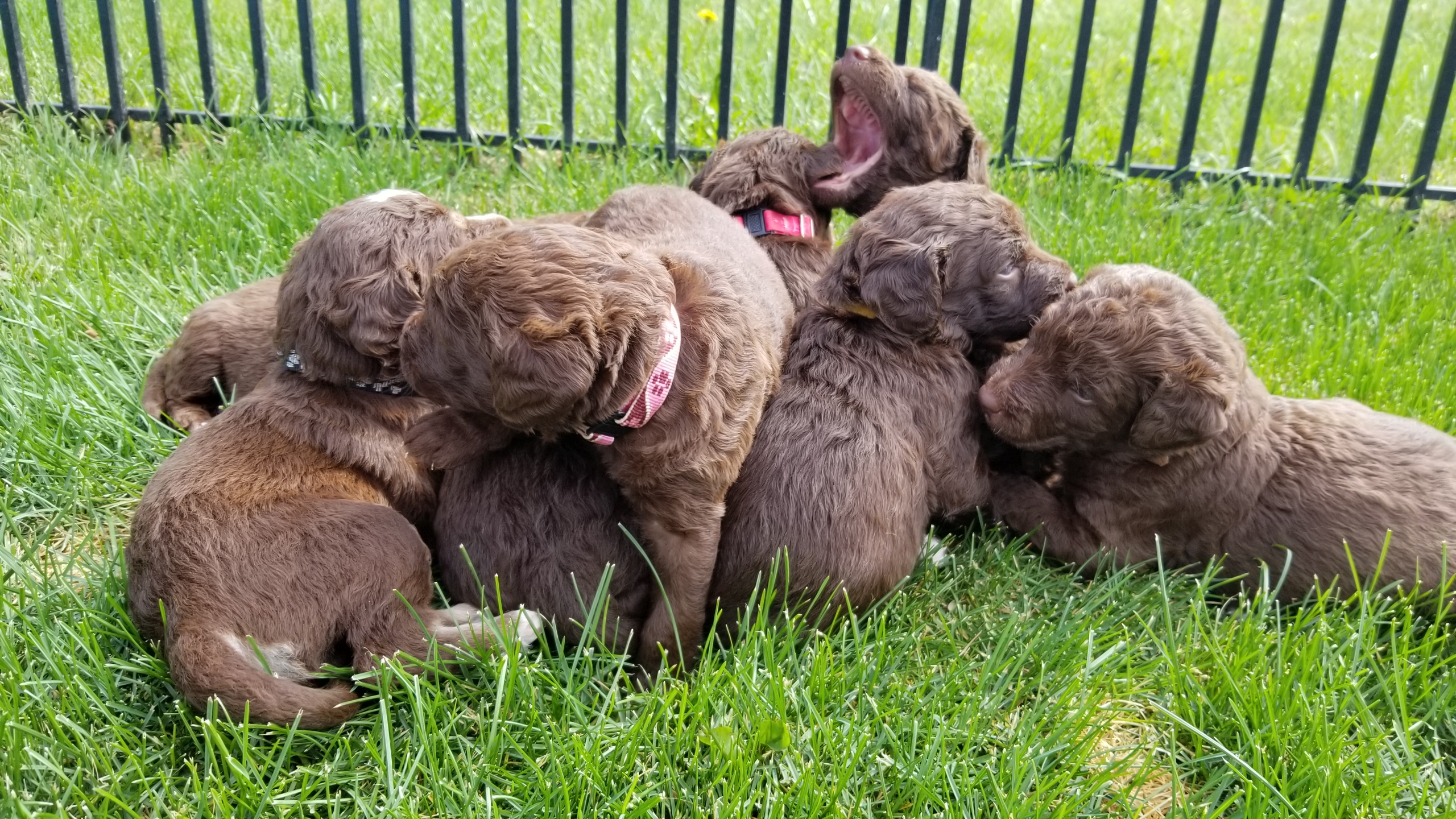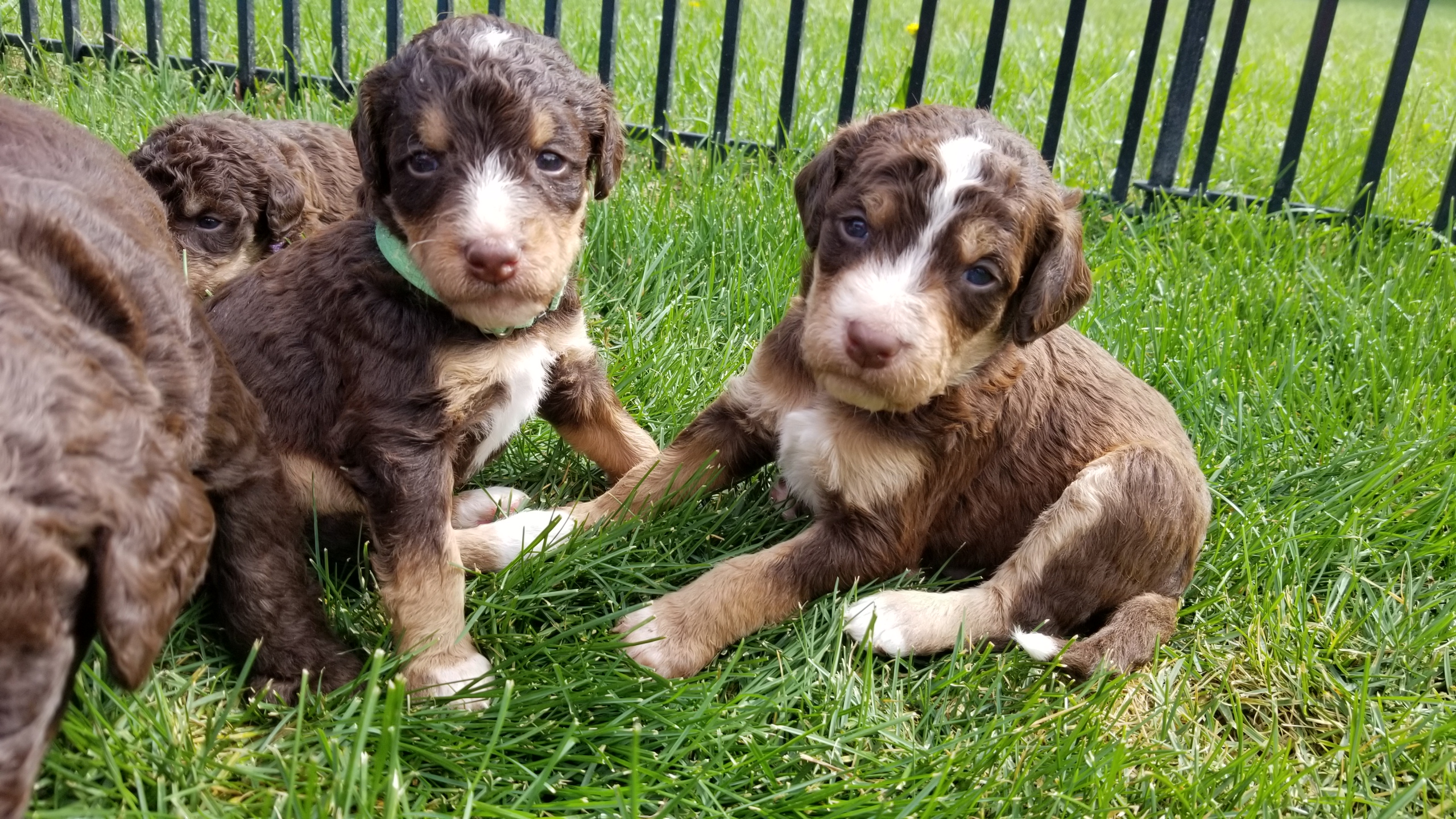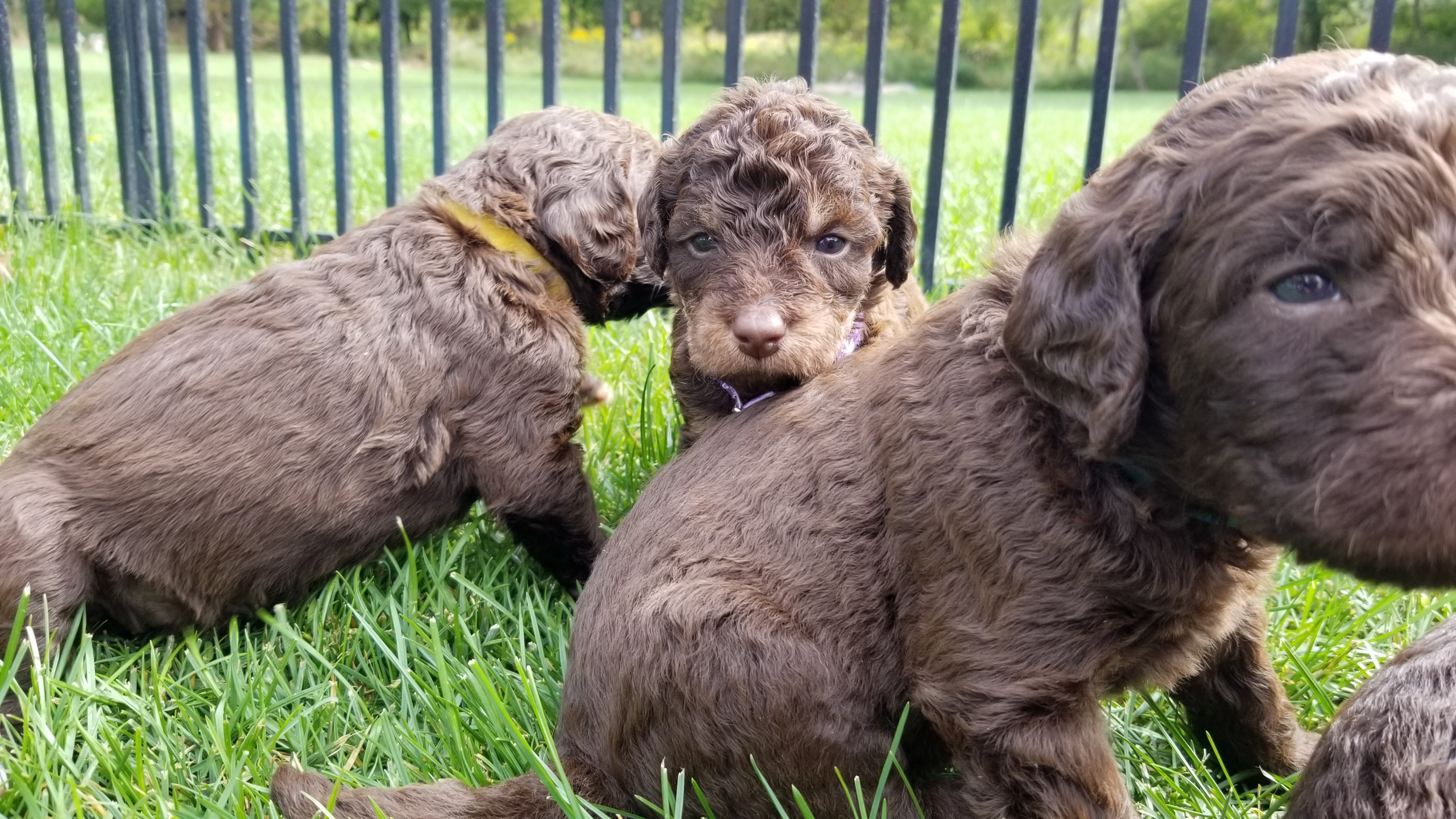 9.10.21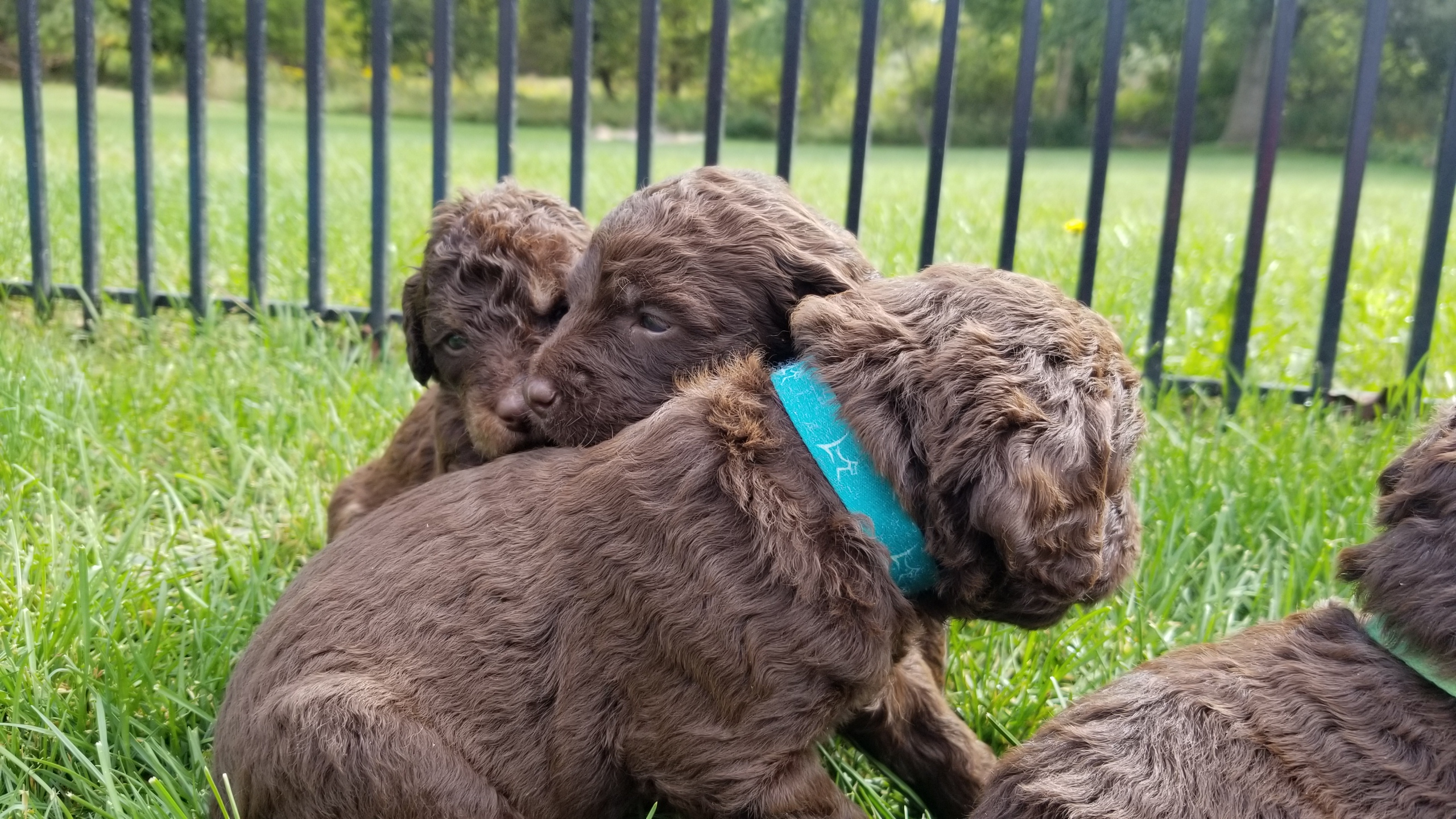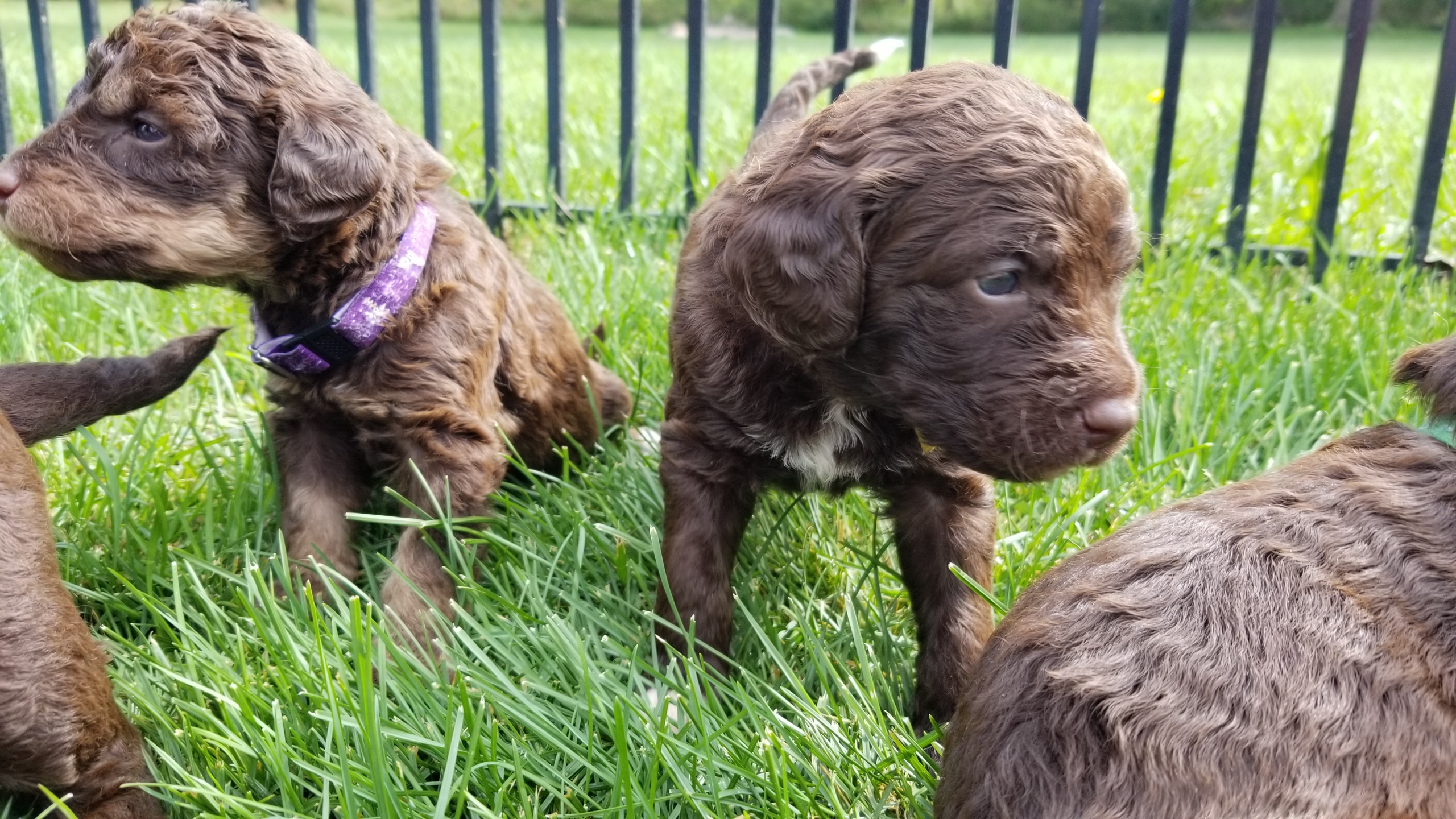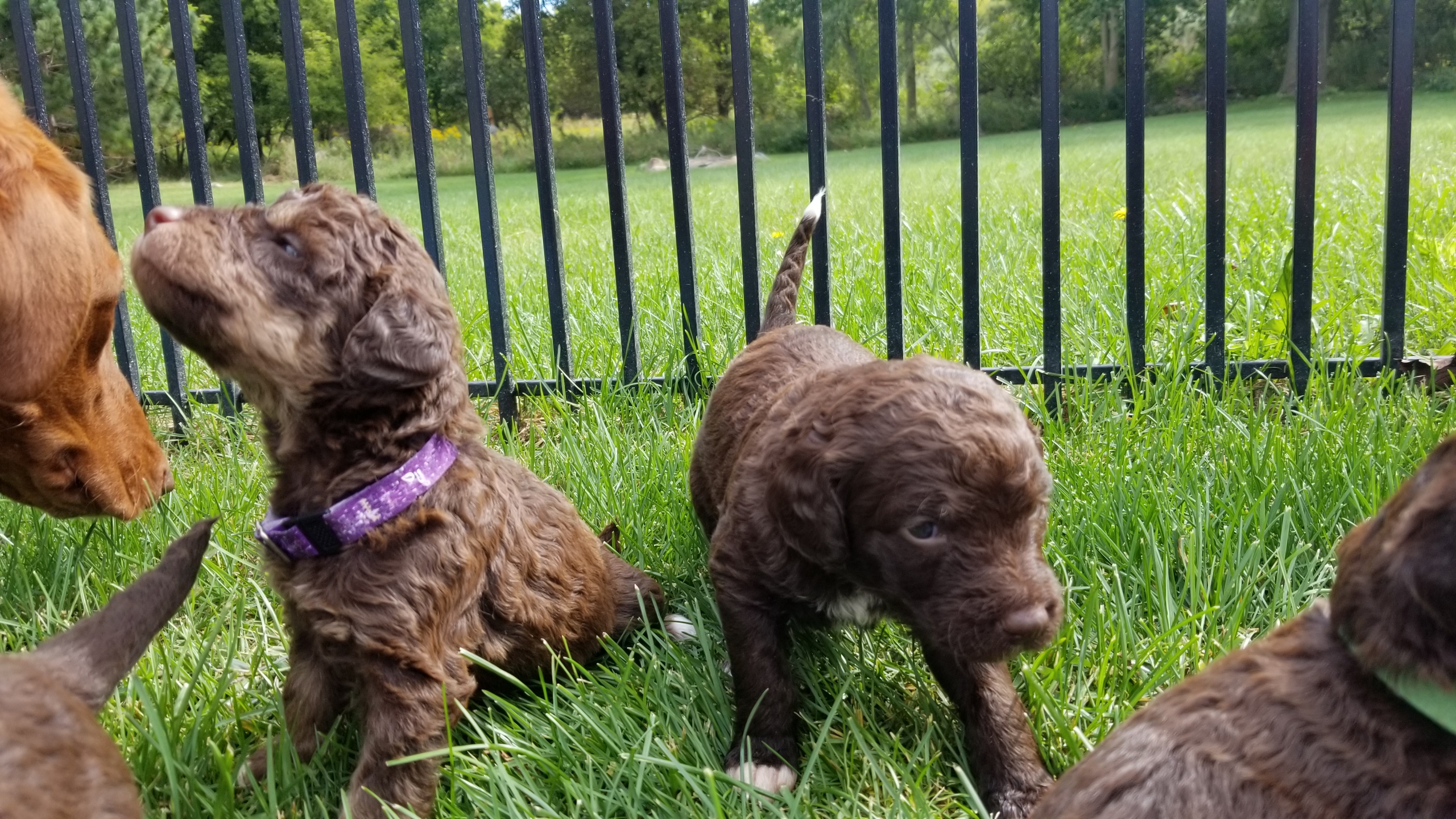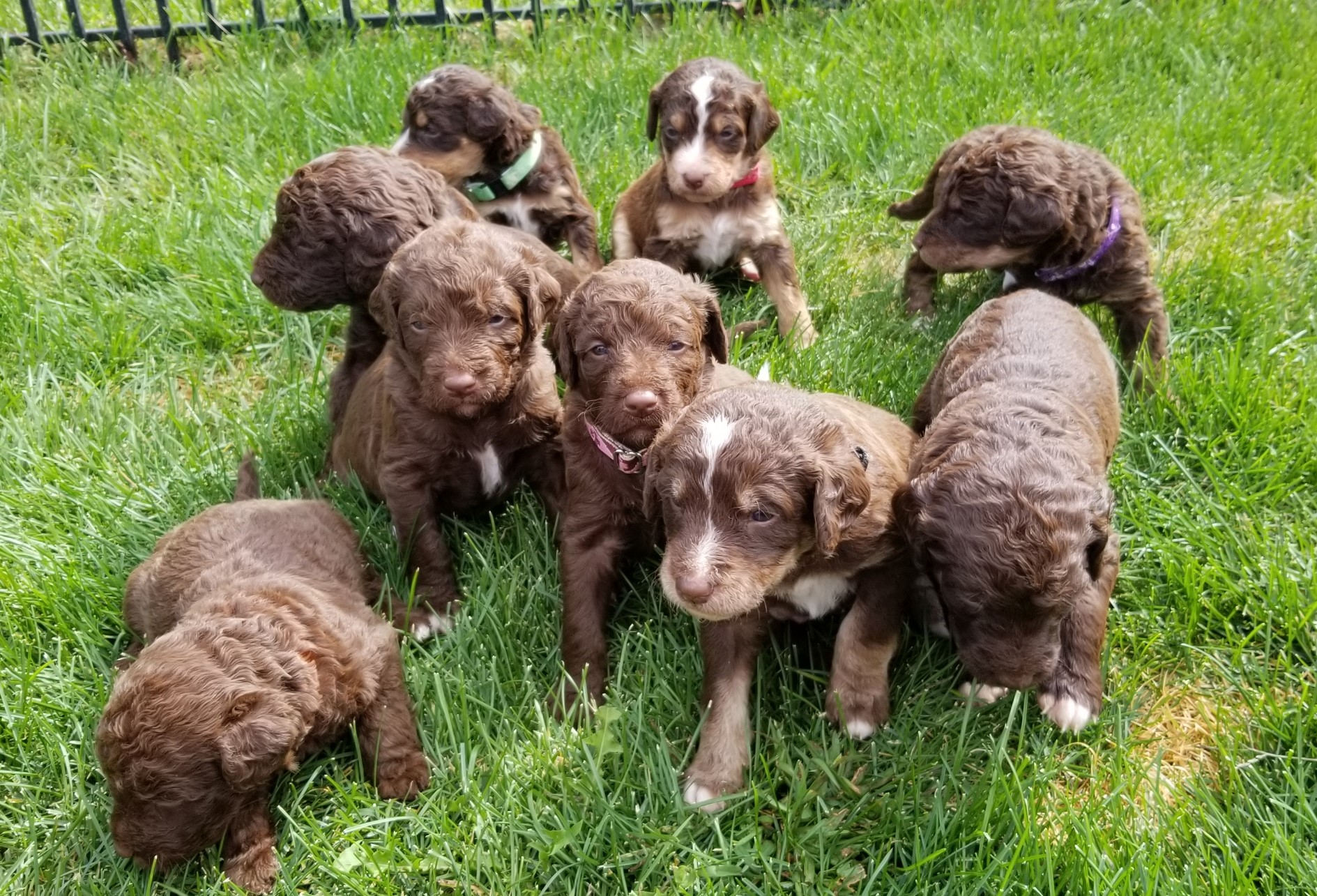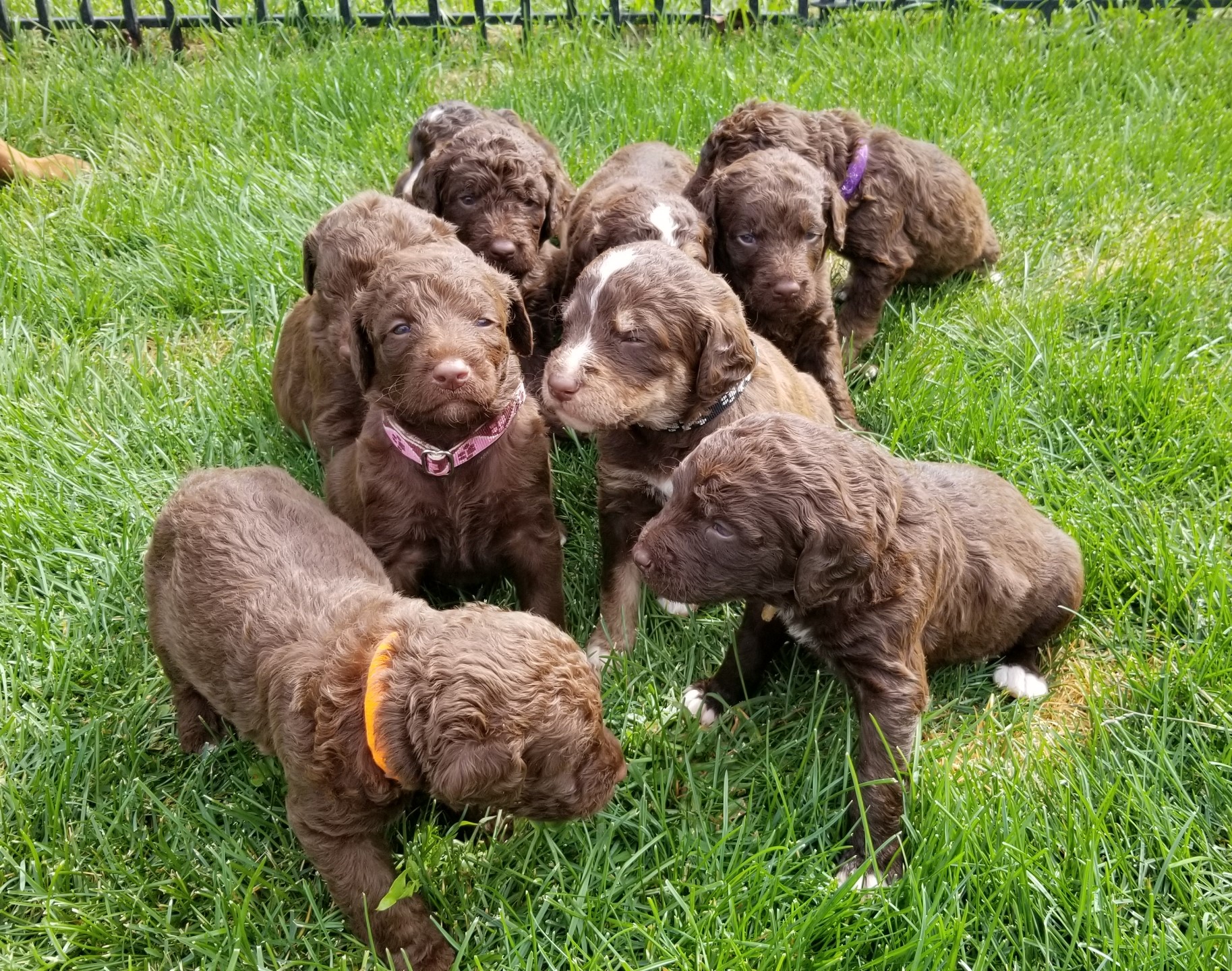 9.10.21
---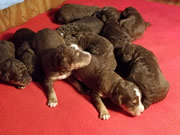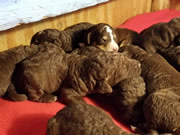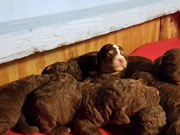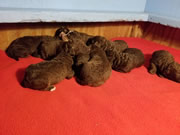 8.28.21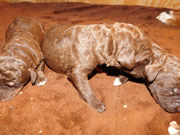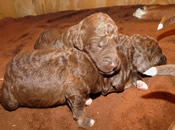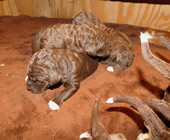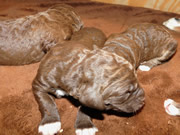 8.24.21 - These are the 3 girls, when they open their eye's next week we will take individual pictures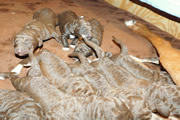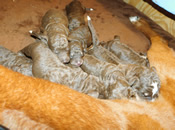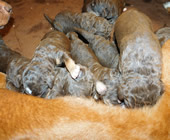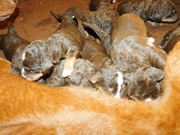 8.24.21 - Boys are in the front on these pics, the 3 girls in the back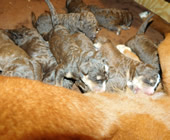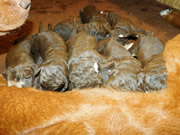 8.24.21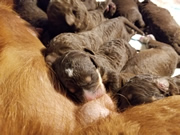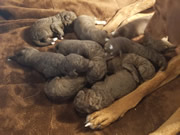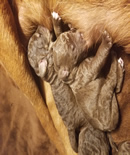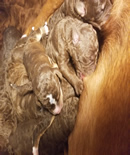 8.23.21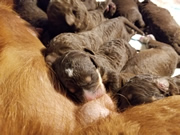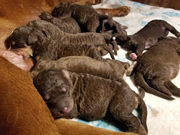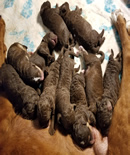 8.22.21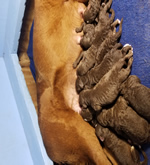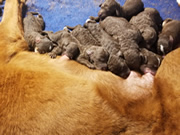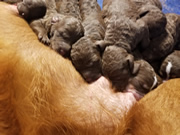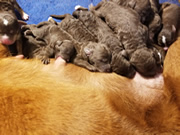 8.19.21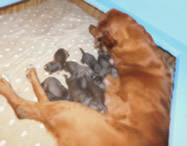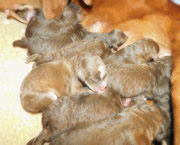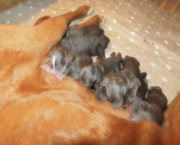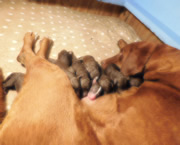 8.17.21
---
Contact me for information, or my Policy & Payment Page may answer a lot of questions. Our Family of Angels page has photo's of our parents. Please go to my puppy care page for recommended supplies and products you might need for bringing your puppy home, including what food to buy.
All of my pups are seen by the vet. Their first visit is between 3-5 days old, when they have their dew claws removed. Their next visit is at 6.5 weeks old, they go in for a check up, their first set of vaccines, and micro chipping (I use HomeAgain microchip service.) My vet administers all vaccines, and the micro chip, you will receive a medical statement from my vet. I will also provide you with CKC papers if you would like to register your puppy, but the papers are only provided under the agreement you have had your pup spayed or neutered. You will receive a Pro Plan puppy kit, your micro chip registration form, Medical Statement from my vet, and a 2 year money back Health Guarantee. I will start letting pups go to their new homes at 7 weeks old. I believe this is the perfect time to take your puppy home and start their training. They are not benefiting from staying here until 8 weeks, they only learn more "pack rules" here, and they need to learn house rules, and potty training. They are completely weaned from mom at 6 weeks old. With in the litter there is competition for everything, food from mom, toys, and attention. The more competition the more conflict you will have, and a chance for bad habits to develop, such as alpha behavior. This is why I like to see them to start going to their homes at 7 weeks old. If you need me to keep them for longer, that is fine too. The most important thing is that it is a good time for you to bring home your new family member. We welcome visitors, just contact me to schedule a day and time. Depending on the pandemic, if we are indoors, I will ask you to mask up. I am happy to plan my day around a visit, I just ask that you are PLEASE on Time! I pack allot into my days and have a tight schedule!!!